 News
Freiheit / Fantasy 2CD deluxe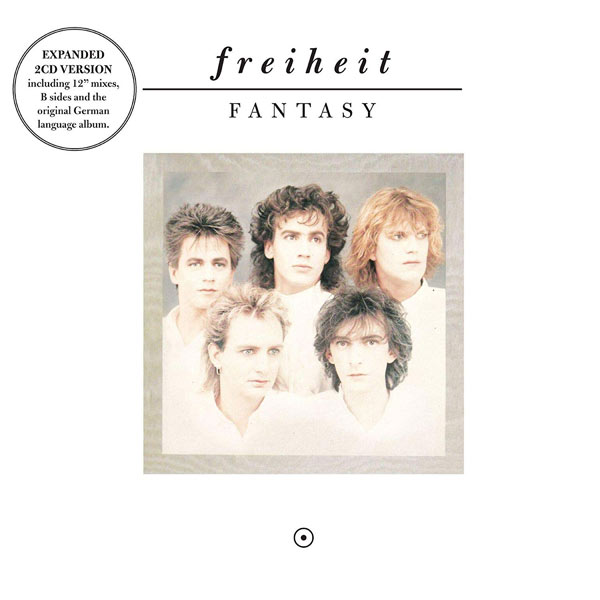 Christmas Eve isn't a bad time to tell you about a two-CD deluxe edition of German band Münchener Freiheit's 1988 album Fantasy.

It was the band's fifth studio album but only their second recorded in English (in German it was called Fantasie). The reason Christmas feels like a good time to mention this is because it was 30 years ago almost exactly that Freiheit (as they were also known) released the spectacularly McCartney-esque single 'Keeping The Dream Alive', which deserved to be a much bigger hit than its number 14 peak in December 1988.
I bought the CD single at the time, which contained the extended version of the song, the single version and album track The Land of Fantasy. I must admit I never got around to buying the album, but probably will do now that Cherry Red are preparing a reissue.
The forthcoming expanded two-CD edition features both the English Language version of the album and the original German version. There is also a selection of bonus tracks such as extended mixes including three extra versions of Keeping The Dream Alive. This set comes with a booklet featuring sleeve notes from Michael Silvester.
This Fantasy 2CD expanded edition will be released on 22 February 2019.
Compare prices and pre-order
Freiheit
Fantasy (Expanded Edition)
CD ONE:
FANTASY
1. KEEPING THE DREAM ALIVE
2. KISSED YOU IN THE RAIN
3. DIANA
4. THE LAND OF FANTASY
5. MOONLIGHT
6. TEARS ARE A GIRL'S BEST FRIEND
7. SO GOOD
8. FOREVER AND A DAY
9. POOR LITTLE BOY
10.ON THE RUN TO BE FREE
11.KEEPING THE DREAM ALIVE (U.S. SHORT INTRO VERSION)
12.KEEPING THE DREAM ALIVE (INSTRUMENTAL)
13.KISSED YOU IN THE RAIN (EXTENDED VERSION)
14.BABY IT'S YOU
15.BABY IT'S YOU (EXTENDED VERSION)
16.WHEN LOVERS CRY
17.KEEPING THE DREAM ALIVE (EXTENDED VERSION)
CD TWO:
FANTASIE (GERMAN LANGUAGE VERSION)
1. BIS WIR UNS WIEDERSEH'N
2. IN DEINEN AUGEN
3. DIANA
4. LAND DER FANTASIE
5. MONDLICHT
6. SO HEISS
7. ZUM ALLERERSTEN MAL
8. DU BIST DABEI
9. LASS ES EINFACH GESCHEH'N
10.SO LANG' MAN TRAUME NOCH LEBEN KANN (VERSION 2)
11.BIS WIR UNS WIEDERSEH'N (LANGE VERSION)
12.DIANA (LANGE VERSION)
13.SO HEISS (SINGLE REMIX)
14.SO HEISS (LANGE VERSION)
15.SO LANG' MAN TRAUME NOCH LEBEN KANN
16.SO LANG' MAN TRAUME NOCH LEBEN KANN (LANGE VERSION)