 News
Gary Crowley's Indie 90s Playback
3CD set with signed postcard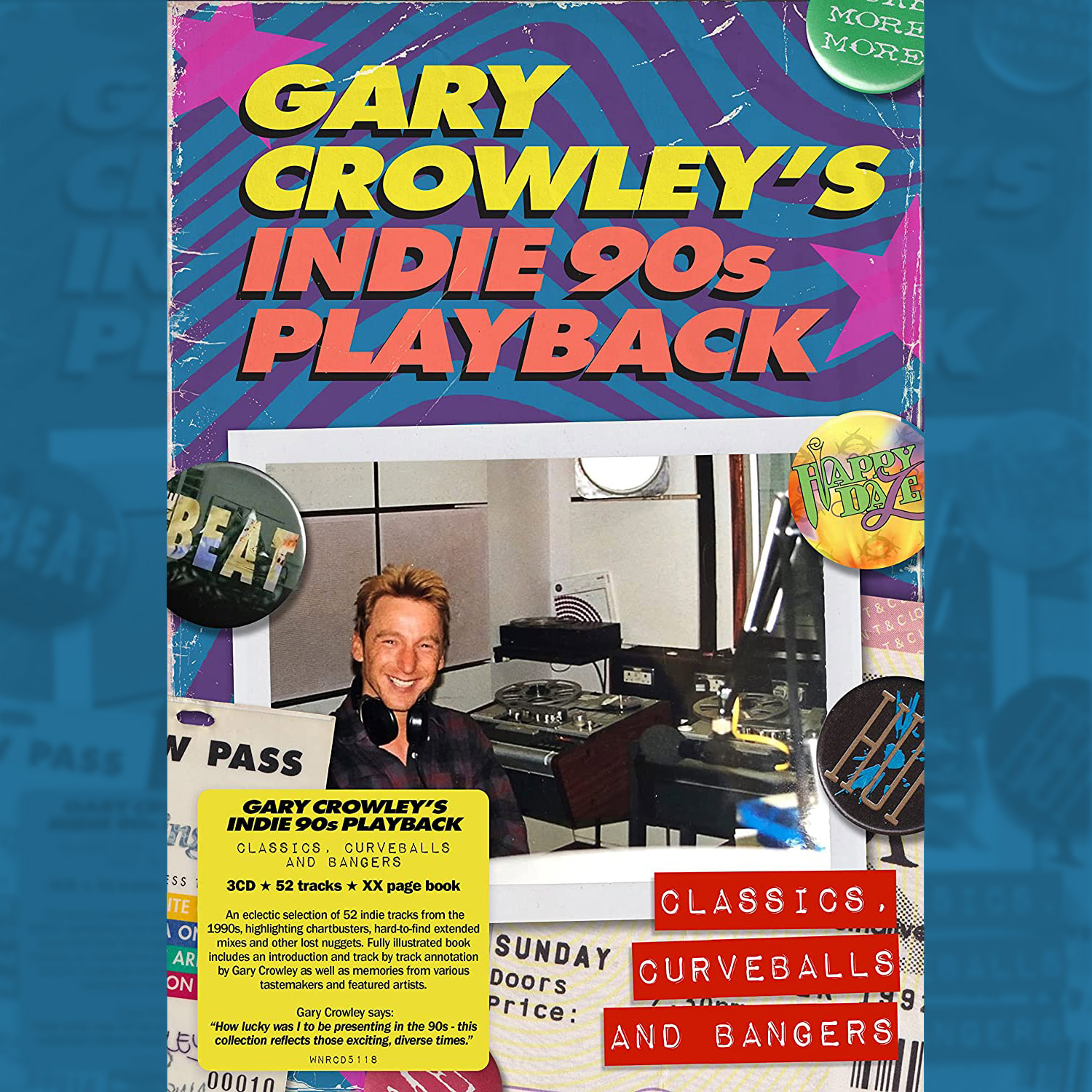 A new Gary Crowley-endorsed collection of 1990s indie is on the way in the form of a 3CD set called Gary Crowley's Indie 90s Playback.
This collection takes in various genres and sub-genres of music that were prevalent at the time including Britpop, Madchester, Baggy, Shoegazing, Alternative Rock, Trip Hop, Big Beat and the like.
Artists include The Wonderstuff, Electronic, Jesus Jones, Pulp, Saint Etienne, Gene, Primal Scream, The Fountains of Wayne, Dodgy, Supergrass, Ned's Atomic Dustbin, Definition of Sound, World of Twist, Manic Street Preachers, Paul Weller, Tricky, Fatboy Slim and many more. Things are kept interesting via many of the selections being remixed versions from the era.
This package includes a book with contributions from the likes of Paul Weller, Alan McGee, Andrew Innes of Primal Scream and Sarah Cracknell and more.
A limited edition version of this set, exclusive to Amazon UK, comes with a postcard personally signed by Gary Crowley (only 500 copies).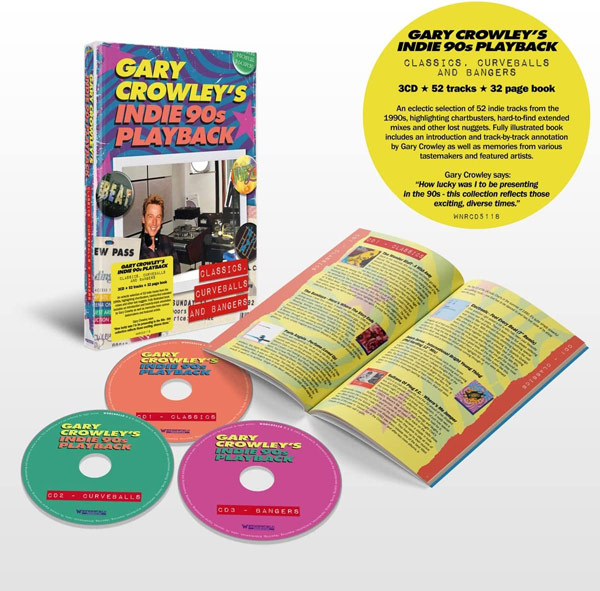 All sounds pretty good, with the only misstep surely the use of the word 'Bangers' in the subtitle of this release: "Classics, Curveballs and Bangers". Inappropriate for a '90s collection.
Gary Crowley's Indie 90s Playback is released on 28 October 2022, via Wienerworld (not Edsel!)
Compare prices and pre-order
Various
Gary Crowleys Indie 90s Playback - limited edition 3CD set with signed postcard
Compare prices and pre-order
Various
Gary Crowleys Indie 90s Playback - standard 3CD set
Tracklisting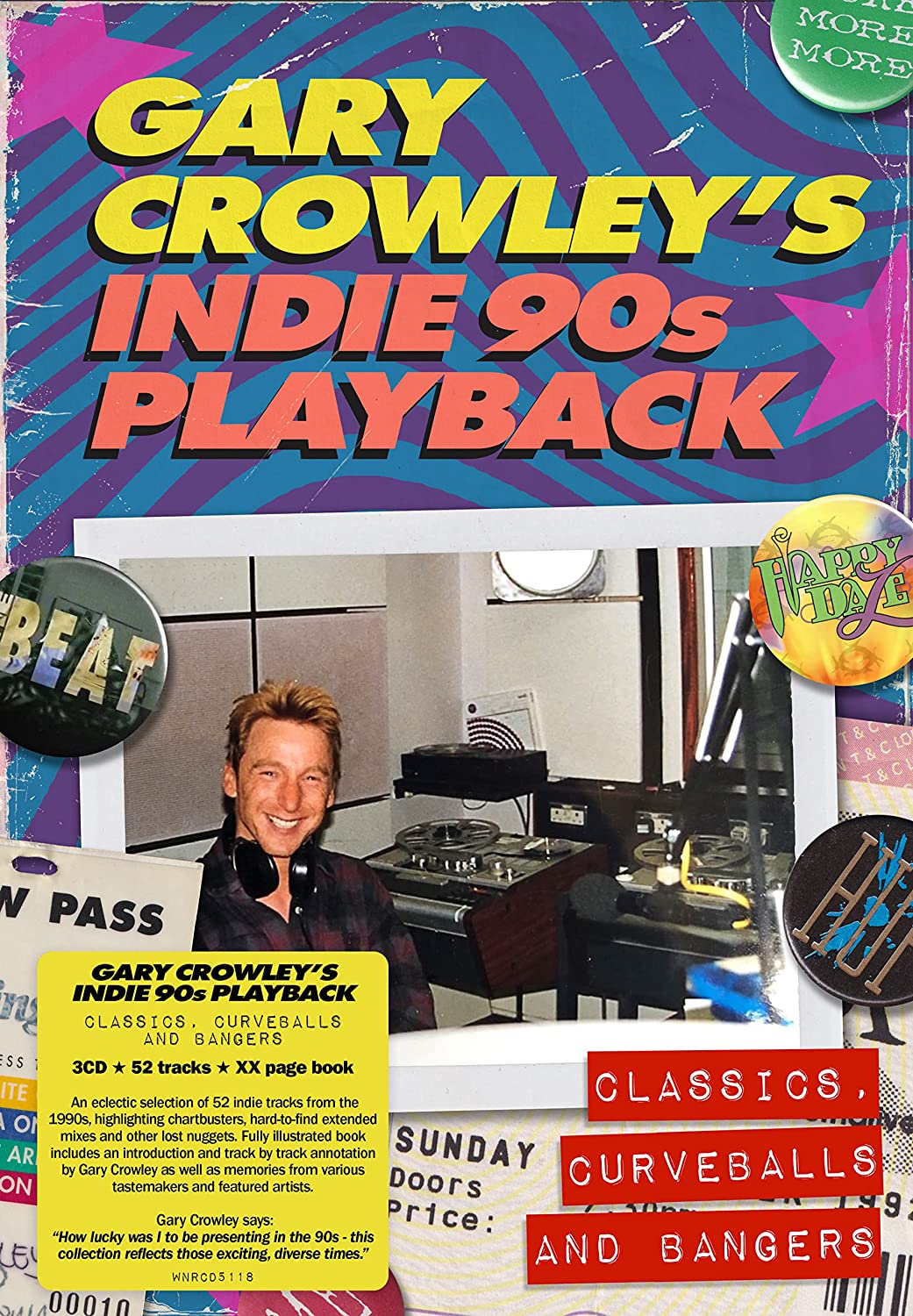 Gary Crowley's Indie 90s Playback Various Artists
/
CD 1

The Wonder Stuff – A Wish Away
The Sundays – Here's Where The Story Ends
Paris Angels – Perfume (Loved Up)
Electronic – Feel Every Beat (7″ Remix)
Jesus Jones – International Bright Young Thing (Phil Harding 12″ Mix)
Sultans of Ping F.C. – Where's Me Jumper?
The Stairs – Weed Bus
Pulp – My Legendary Girlfriend
Soul Family Sensation – I Don't Even Know If I Should Call You Baby (Marshall Jefferson Mix)
Saint Etienne – You're In A Bad Way
Gigolo Aunts – Where I Find My Heaven
Drop Nineteens – Winona
Gene – For The Dead
Primal Scream – Jailbird
Beth Orton – She Cries Your Name
Luscious Jackson – Naked Eye (Remix)
Silver Sun – Golden Skin
Fountains of Wayne – Radiation Vibe
The Soundtrack of Our Lives – Instant Repater '99

CD 2

Thousand Yard Stare – Wonderment
The Montgomery Clifts – Lovesville USA
Katydids – Lights Out (Read My Lips)
The High – Up And Down
Ocean Colour Scene – Sway (Album Version)
The Impossibles – The Drum (12″ Mix)
Poppy Factory – Stars
Adorable – Sunshine Smile
Catwalk – Little Miss Abyss
Miranda Sex Garden – Sunshine (Abrasion Mix)
Dodgy – Lovebirds
Credit To The Nation – Call It What You Want (Radio Edit)
Molly Half Head – Breaking The Ice
Tindersticks featuring Carla Torgerson – Travelling Light
Ned's Atomic Dustbin – All I Ask Of Myself Is That I Hold Together
The Weekenders – Inelegantly Wasted in Papa's Penthouse Pad in Belgravia
Supergrass – We're Not Supposed To
Bennet – Mum's Gone To Iceland

CD 3

Definition of Sound – Wear Your Love Like Heaven
The Railway Children – Music Stop (Steve Proctor Mix)
Renegade Soundwave – Probably A Robbery
Big Audio Dynamite II – Rush (Single Version)
Cola Boy – 7 Ways to Love (Straight to the Head Cola Boy 12″ Mix)
World of Twist – She's A Rainbow (Right Foot Yellow Mix)
One Dove – White Love (Radio Mix)
Manic Street Preachers – La Tristesse Durera (Scream to a Sigh) (The Chemical Brothers Remix)
Fluke – Groovy Feeling (Make Mine A 99)
Paul Weller – Kosmos – Lynch Mob Bonus Beats (Lynchmob Beats Mix)
Tricky – Black Steel (Radio Edit)
18 Wheeler – The Hours and the Times (William Orbit Porcupine Mix)
Fatboy Slim – Everybody Needs A 303 (Original 12″ Mix)
Mono – Slimcea Girl (Fat Boy Vocal)
Lo Fidelity Allstars – Battleflag (Radio Edit)