 News
Gary Crowley's Lost '80s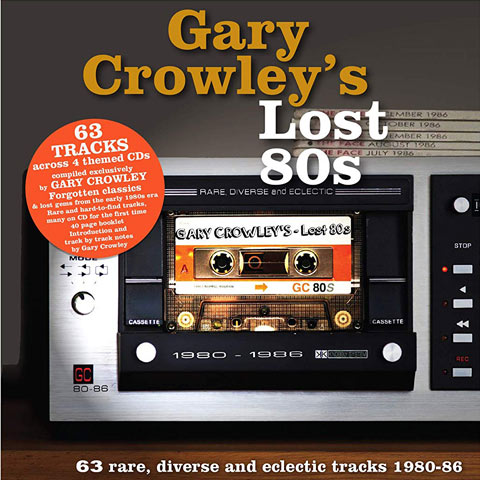 After last year's excellent Punk and New Wave box set, broadcaster and DJ Gary Crowley has turned his attention to the 1980s, by curating a new four-CD and 3LP package called Gary Crowley's Lost 80s.

As you might expect, this package isn't the normal 80s compilation with images of Rubik's Cube and Pac Man on the front, and the oh so familiar big hits, rather this is a trip through the decade via some lesser-known songs (often by some still very 'big' artists).
Alongside quirky selections from the catalogue of Wham!, Depeche Mode, Prefab Sprout, Spandau Ballet, Culture Club and Bananarama, sit artists like The Suede Crocodiles, Friends Again, Bush Tetras, Strawberry Switchblade (no, not that song) and poignantly, given yesterday's news, Lost 80s also includes the dance mix of Pete Shelley's Homosapien. Full track listings are below.
The 4CD set is a 40-page 'media book' package (with notes by Crowley) and contains 63 tracks while a 3LP vinyl edition features a cut-down selection of 30. This is a coloured vinyl pressing and the label have opted for red, green and blue (reminiscent of the early 'Now' compilations).
Gary Crowley's Lost 80s will be released on 15 February 2019 via Demon Music.
Compare prices and pre-order
Various Artists
Gary Crowley's Lost 80s - 4CD set
Compare prices and pre-order
Various Artists
Gary Crowley's Lost 80s - 3LP coloured vinyl
Gary Crowley's Lost 80's / 4CD edition
CD1
1. Vic Godard – Stop That Girl
2. The Pale Fountains – (There's Always) Something On My Mind
3. Haircut 100 – Milk Film
4. Aztec Camera – Pillar To Post
5. The Bluebells – Everybody's Somebody's Fool
6. Johnny Britton – Happy-Go-Lucky Girls
7. Prefab Sprout – Lions in My Own Garden (Exit Someone)
8. Fantastic Something – If She Doesn't Smile (It'll Rain)
9. The Suede Crocodiles – Stop The Rain
10. Friends Again – Honey At The Core
11. Strawberry Switchblade – Trees And Flowers
12. April Showers – Abandon Ship
13. A Craze – Wearing Your Jumper
14. Paul Quinn – Ain't That Always The Way
15. Hurrah! – Sweet Sanity
16. The Dream Academy – Please, Please, Please Let Me Get What I Want
CD2
1. Bush Tetras – Too Many Creeps
2. Bow Wow Wow – Mickey Put It Down
3. Theatre of Hate – Do You Believe In The West World?
4. The Apollinaires – The Feeling's Gone
5. The Redskins – Keep On Keeping On
6. Carmel – More More More
7. JoBoxers – Is This Really The First Time You've Been In Love
8. Makin' Time – Feels Like It's Love
9. Hey! Elastica- This Town
10. Fashion – Streetplayer (Mechanik)
11. The Main T Posse – Fickle Public Speakin'
12. The Associates – 18 Carat Love Affair
13. Spandau Ballet – Confused
14. Matt Fretton – It's So High
15. Depeche Mode – Shake The Disease
16. Paul Haig – Running Away
17. The Questions – Tuesday Sunshine (Jock Mix)
18. The Kane Gang – Brother Brother
19. Sunset Gun – Be Thankful For What You've Got
20. Altered Images – Love To Stay
CD3
1. Wham! – A Ray Of Sunshine
2. Grandmaster Flash – The Adventures Of Grandmaster Flash On The Wheels Of Steel
3. Tom Tom Club – Genius Of Love
4. The Jellies – Jive Baby On A Saturday Night
5. I Level – Give Me [U.S. Remix]
6. Jimmy Young – Times Are Tight
7. Whodini – Magic's Wand [Special Extended Mix]
8. Blue Rondo à la Turk – Klacto Vee Sedstein
9. Culture Club – I'm Afraid Of Me [Extended Dance Mix]
10. Pigbag – The Big Bean
11. Monyaka – Go Deh Yaka
12. 23 Skidoo – Coup
13. Funkapolitan – If Only
14. The Staple Singers – Slippery People [Club Version]
15. Matt Bianco – Matt's Mood
CD4
1. Bananarama- Aie A Mwana [Afro Tribal Version]
2. Intaferon – GetoutofLondon [Intacontinentalballisticmix]
3. Pete Shelley – Homosapien [Dance Version]
4. Quando Quango – Genius
5. Was (Not Was) – (Return To The Valley Of) Out Come The Freaks [Extended Remix]
6. Defunkt – The Razor's Edge
7. Chic – Hangin' [12 Inch]
8. Gang Of Four – I Love A Man In A Uniform [Extended]
9. Animal Magnet – Welcome To The Monkey House
10. Fun Boy Three – Faith, Hope And Charity [MM Extended Dub]
11. Brilliant – It's A Man's Man's Man's World [Extended]
12. Morgan McVey – Looking Good Diving With The Wild Bunch
Gary Crowley's Lost 80's / 3LP vinyl edition
LP1 – The Jingly Jangley LP
A1. Vic Godard – Stop That Girl
A2. The Pale Fountains – (There's Always)
Something On My Mind
A3. Haircut 100 – Milk Film
A4. Aztec Camera – Pillar To Post
A5. The Bluebells – Everybody's Somebody's Fool
A6. Prefab Sprout – Lions in My Own Garden (Exit
Someone)
B1. Fantastic Something – If She Doesn't Smile
(It'll Rain)
B2. The Suede Crocodiles – Stop The Rain
B3. Friends Again – Honey At The Core
B4. Strawberry Switchblade – Trees And Flowers
B5. April Showers – Abandon Ship
B6. Paul Quinn – Ain't That Always The Way
LP2 – F*ck Art Let's Dance
C1. Bush Tetras – Too Many Creeps
C2. Bow Wow Wow – Mickey Put It Down
C3. The Apollinaires – The Feeling's Gone
C4. The Redskins – Keep On Keeping On
C5. JoBoxers – Is This Really The First Time
You've Been In Love
D1. Hey! Elastica- This Town
D2. Spandau Ballet – Confused
D3. Depeche Mode – Shake The Disease
D4. Paul Haig – Running Away
D5. Altered Images – Love To Stay
LP3 – Dance This Mess Around
E1. Wham! – A Ray Of Sunshine
E2. Grandmaster Flash – The Adventures Of
Grandmaster Flash On The Wheels Of Steel
E3. Tom Tom Club – Genius Of Love
E4. Whodini – Magic's Wand [Special Extended Mix]
F1. Blue Rondo à la Turk – Klacto Vee Sedstein
F2. Pigbag – The Big Bean
F3. Funkapolitan – If Only
F4. The Staple Singers – Slippery People [Club
Version]