 News
Gary Numan / 40th anniversary reissues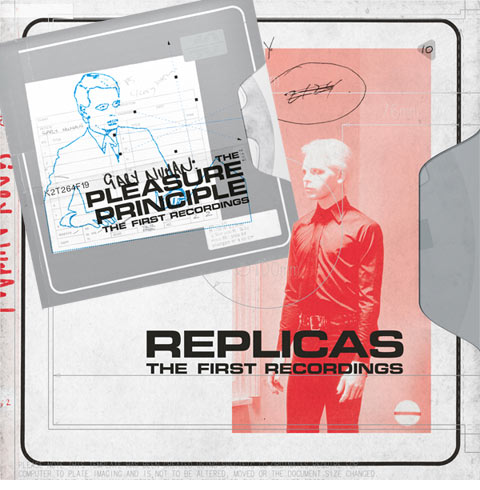 2LP coloured vinyl and 2CD sets of 'First Recordings' (demos/outtakes)
Beggars Banquet are releasing two special titles to commemorate the legendary albums Gary Numan/Tubeway Army issued in 1979. These editions are titled Replicas – The First Recordings, and the debut under his own name, The Pleasure Principle – The First Recordings.

These releases are available on 2LP coloured vinyl and two-CD. They concentrate on the early recordings made prior to the completed albums and present the evolution of the albums. The tracks have been sequenced as they appeared on the original tapes and the audio has been taken from the high resolution digital transfers made by John Dent in 2007.
Replicas was recorded in late 1978 in London's Chinatown. Two stereo master tapes were compiled of eleven tracks. A month later they again went to Gooseberry Studio and recorded an additional three tracks, including 'Are 'Friends' Electric?' and 'Replicas'. At the same time, the band recorded a session for the BBC's John Peel show, taping alternate versions of three songs from the December recordings. In Feb 1979 overdubs and mixes were carried out and Replicas was issued in April. 'Are Friends' Electric?' would go to number one in the UK charts and two early versions are included in this First Recordings package. Only one alternative outtake still exists ('Down In The Park') which is included in this release.
In a massively productive period, Numan recruited a permanent drummer and keyboard player and in early April demoed an album's worth of new material before "Are Friends' Electric?' had even been released! More sessions followed in the summer. From the surviving tapes there are six mixes marked as outtakes and these have been included in the CD package of The Pleasure Principle: The First Recordings (but don't feature on the vinyl). The discs have been sequenced with the stronger, second Freerange studio demo preceding the first session (ie back-to-front) but all tracks are in the order of the tapes.
The label say that one of the Freerange studio tapes suffered irreparable print through damage on two tracks so they were not used in the 30th anniversary releases. However an alternative source has been located so the tapes can now be presented as complete for these 40th anniversary editions.
All the track listings are below. These are released on 11 October 2019 via Beggars Banquet. As you will see below we have the 2CD sets at the SDE shop and a specially-priced vinyl bundle available for your attention.
Replicas: The First Recordings 2LP coloured vinyl
A1. You Are In My Vision (Early Version)
A2. The Machmen (Early Version)
A3. Down In The Park (Early Version)
A4. Do You Need The Service? (Early Version)
A5. The Crazies
A6. When The Machines Rock (Early Version)
B1. Me! I Disconnect From You (Early Version)
B2. Praying To The Aliens (Early Version)
B3. It Must Have Been Years (Early Version)
B4. Only A Downstat
B5. I Nearly Married A Human 3 (Early Version)
C1. Replicas (Early Version)
C2. Are 'Friends' Electric? (Early Version)
C3. We Have A Technical
C4. Down In The Park (Outtake mix)
D1. Are 'Friends' Electric? (Early Version 2)
D2. Replicas (Early Version 2)
D3. Me, I Disconnect From You (BBC Peel Session)
D4. Down In The Park (BBC Peel Session)
D5. I Nearly Married a Human (BBC Peel Session)
Replicas: The First Recordings 2CD edition
CD 1
You Are In My Vision (Early Version)
The Machmen (Early Version)
Down In The Park (Early Version)
Do You Need The Service? (Early Version)
The Crazies
When The Machines Rock (Early Version)
Me! I Disconnect From You (Early Version)
Praying To The Aliens (Early Version)
It Must Have Been Years (Early Version)
Only A Downstat
I Nearly Married A Human 3 (Early Version)
Replicas (Early Version)
Are 'Friends' Electric? (Early Version)
CD 2
Replicas (Early Version 2)
Down In The Park (Early Version 2)
Are 'Friends' Electric? (Early Version 2)
We Have A Technical
Replicas (Early Version 3)
Me, I Disconnect From You (BBC Peel Session)
Down In The Park (BBC Peel Session)
I Nearly Married a Human (BBC Peel Session)
The Pleasure Principle: The First Recordings 2LP coloured vinyl
A1. Cars (Demo Version)
A2. Films (Demo Version)
A3. Complex (Demo Version)
A4. Random (remastered 2009)
A5. M.E. (demo version)
B1. Conversation (Demo Version 2)
B2. Tracks (Demo Version 1)*
B3. Cars (Demo Version 1)*
B4. Metal (Demo Version)
B5. Airlane (Demo Version)
C1. Trois Gymnopédies No.1 (Remastered 2009)
C2. Observer (Demo Version)
C3. Conversation (Demo Version 1)
C4. Engineers (Demo Version)
C5. Asylum (Remastered 2009
C6. Oceans (Remastered 2009)
C7. Photograph (Remastered 2009)
D1. Airlane (BBC Peel Session)
D2. Cars (BBC Peel Session)
D3. Films (BBC Peel Session)
D4. Conversation (BBC Peel Session)
* previously unreleased
The Pleasure Principle: The First Recordings 2CD edition
CD 1
Cars (Demo Version 2)
Films (Demo Version)
Complex (Demo Version)
Random (Remastered 2009)
M.E. (Demo Version)
Conversation (Demo Version 2)
Tracks (Demo Version 1)*
Cars (Demo Version 1)*
Metal (Demo Version)
Airlane (Demo Version)
Trois Gymnopédies No.1 (Demo)
Observer (Demo Version)
Conversation (Demo Version 1)
Engineers (Demo Version)
Asylum (Remastered 2009
Oceans (Remastered 2009)
Photograph (Remastered 2009)
CD 2
Airlane (BBC Peel Session)
Cars (BBC Peel Session)
Films (BBC Peel Session)
Conversation (BBC Peel Session)
Tracks (Outtake mix)
Complex (Outtake mix)*
M.E. (Outtake mix)
Engineers (Outtake mix)*
Airlane (Outtake mix)*
Cars (Outtake mix)*
* previously unreleased