 News
Gene Clark / 'No Other' deluxe box set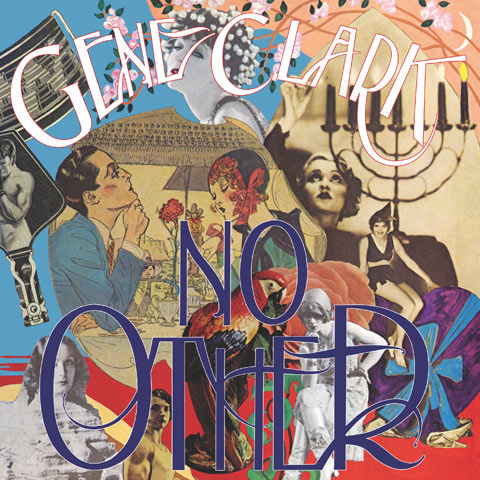 LP + 3 x SACD + blu-ray + 7″ single + hardcover book
American singer-songwriter and Byrds founding member Gene Clark's 1974 solo album No Other is to be reissued by 4AD in November as a lavish box set which features no fewer than three SACDs, a blu-ray and an 80-page hardcover book!

Originally released on Asylum Records, a year after the Byrds shortlived reunion, Clark's psychedelic rock, folk, country and soul record cost a small fortune to make and despite being well received critically, it was a flop. It is said that Clark never really recovered from this blow.
Since then, the album has gained greater prominence via a few reissues and has become recognised as a great album of its era.

Gene Clark 'No Other' box set. Click image to enlarge
4AD have remastered the eight-track album at Abbey Road and are reissuing it on CD and vinyl, but of interest to SDE readers will be an 'extremely limited' deluxe box set which contains the album on silver-coloured vinyl, three SACDs, an exclusive seven-inch single, and a blu-ray disc – which includes HD versions of all tracks, a 5.1 surround mix of the album, the original 1974 vinyl master and an exclusive documentary by Paul Kendall (the director of the 2013 film, The Byrd Who Flew Alone: The Triumphs and Tragedy of Gene Clark) – and a hardbound 80 page book which features essays, extensive liner notes and previously unseen photos.
All the SACDs are hybrid, meaning you can play the stereo audio on normal CD players. The first (multi-layer) SACD is presented in an exclusive Japanese vinyl replica sleeve and features the eight-track album and the 5.1 surround mix, while two further SACDs offer 18 session tracks and a couple of seven-inch edits. Amongst the sessions is a recording of 'Train Leaves Here This Morning,' an Eagles hit in 1972, written by Gene and Eagles founding member Bernie Leadon.
As well as being home to the documentary, the blu-ray offers all the stereo content on the three SACDs, plus the 5.1 mix, the 1974 'vinyl master' of the album and an exclusive 2019 stereo remix. The 5.1 and stereo remix is by Neil Wilkes and B.J. Cole at Opus Productions (everything is 24/96).
All the studio takes have been worked on and mixed by the duo of Gene Clark aficionado, author and Long Ryders frontman Sid Griffin and John Wood, the producer famed for his work with the likes of Fairport Convention, Nick Drake & Sandy Denny. No track has been edited or composited in any way so what you hear is exactly what went down in the studio before any overdubbing took place.
As well as the box set there's a special 2CD hardcover book edition (with a selection of sessions) and a black vinyl LP version. All three formats can be pre-ordered via the SDE shop, using this link or the buttons below.
No Other is released on 8 November 2019.
Compare prices and pre-order
Gene Clark
No Other - box set
Compare prices and pre-order
Gene Clark
No Other - vinyl LP
Compare prices and pre-order
Gene Clark
No Other - 2CD edition
No Other deluxe boxset
SACD 1: No Other (Remastered) + 5.1 surround mix
1. Life's Greatest Fool
2. Silver Raven
3. No Other
4. Strength Of Strings
5. From A Silver Phial
6. Some Misunderstanding
7. The True One
8. Lady Of The North
SACD 2: No Other (Sessions 1)
1. From A Silver Phial (Version 4)
2. Silver Raven (Version 2)
3. Some Misunderstanding (Version 3)
4. Life's Greatest Fool (Version 2)
5. Train Leaves Here This Morning (Version 2)
6. Lady Of The North (Version 2)
7. The True One (Version 2)
8. Strength Of Strings (Version 2)
9. No Other (Version 2)
SACD 3: No Other (Sessions 2)
1. From A Silver Phial (Version 1)
2. Life's Greatest Fool (Version 1)
3. No Other (Version 1)
4. Lady Of The North (Version 1)
5. Some Misunderstanding (Version 1)
6. Silver Raven (Version 1)
7. Train Leaves Here This Morning (Version 1)
8. The True One (Version 1)
9. Strength Of Strings (Version 1)
10. Life's Greatest Fool (Single Version)
11. Silver Raven (Single Edit)
Exclusive 7"
A. Life's Greatest Fool (Single Version)
AA. Train Leaves Here This Morning (Version 1)
Blu-ray
Documentary: The Byrd Who Flew Alone: The Making of No Other by Paul Kendall
No Other (Alternate Audio Versions)
No Other (HD Audio Remaster)
No Other (5.1 Surround Mix)
No Other (1974 Vinyl Master)
No Other (2019 Stereo Remix)
80 Page Hardbound Book
Extensive Liner Notes
Lyrics
Previously Unpublished Photographs
Essays by Andrew Perry, Jon Einarson, Johnny Rogan, Martin Aston & Sid Griffin
No Other 2CD edition
CD 1 / No Other (Remastered)
Life's Greatest Fool
Silver Raven
No Other
Strength Of Strings
From A Silver Phial
Some Misunderstanding
The True One
Lady Of The North
CD 2 / No Other (Sessions 1)
From A Silver Phial (Version 4)
Silver Raven (Version 2)
Some Misunderstanding (Version 3)
Life's Greatest Fool (Version 2)
Train Leaves Here This Morning (Version 2)
Lady Of The North (Version 2)
The True One (Version 2)
Strength Of Strings (Version 2)
No Other (Version 2)
Vinyl LP
No Other (Remastered)
Life's Greatest Fool
Silver Raven
No Other
Strength Of Strings
From A Silver Phial
Some Misunderstanding
The True One
Lady Of The North