 News
Generation X deluxe edition
2CD deluxe & 3LP vinyl sets  • Remastered • Bonus tracks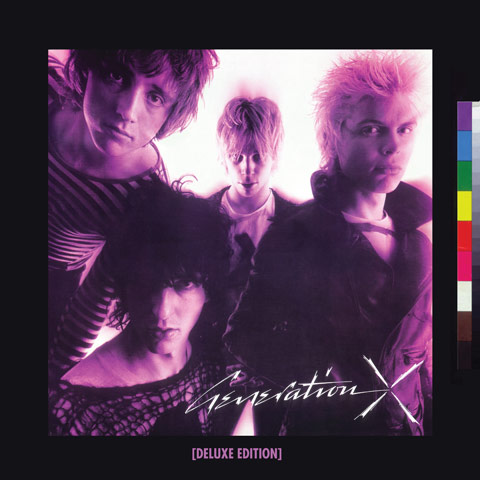 Chrysalis are set to release a deluxe edition of Generation X, the self-titled 1978 debut album by one the British punk band that featured a young Billy Idol.

As well as Idol, the band featured Tony James (bass), Bob 'Derwood' Andrews (guitar) and Mark Laff (drums). Two non-album singles ('Your Generation' and 'Wild Youth') preceded the album, while a third, 'Ready Steady Go', was included when the long-player was released in March '78.



The new deluxe edition has been remastered from the original production tapes and is available as both a two-CD and a 3LP vinyl set. Both include all the A-sides and B-sides from this era, along with  11 previously unreleased recordings including some unheard mixes created a the time by Alan Winstanley, prior to producer Martin Rushent completing his final mix of the album.

This deluxe edition comes with previously unseen photos and newly commissioned sleeve notes from Adrian Thrills and is released on vinyl and CD on 26 April 2019.

As well as the usual channels below, there is an official Generation X shop which offers some exclusive bundles (although no actual exclusive versions of the product).


Compare prices and pre-order
Generation X
Generation X - 3LP vinyl deluxe
Compare prices and pre-order
Generation X
Generation X - 2CD deluxe
Generation X
2CD deluxe edition
CD1 – The Original Album [2019 Remaster]
1 – From The Heart
2 – One Hundred Punks
3 – Listen
4 – Ready Steady Go
5 – Kleenex
6 – Promises Promises
7 – Day By Day
8 – The Invisible Man
9 – Kiss Me Deadly
10 – Too Personal
11 – Youth Youth Youth
Produced by Martin Rushent, engineered by Alan Winstanley
CD2 – A-Side, B-Side and Outtakes [2019 Remaster]
A & B-sides
1 – Your Generation [Non-Album Single]
2 – Day By Day (B-side Version) [B-side to Your Generation]
3 – Wild Youth [Non-Album Single]
4 – Wild Dub [B-side to Wild Youth]
5 – No No No [B-side to Ready Steady Go]
6 – Trying For Kicks (1977 Outtake) [B-side to Friday's Angels from 1979]
7 – This Heat (1977 Outtake) [B-side to Friday's Angels from 1979]
Outtakes and Rough Mixes
8 – Ready Steady Go (Phil Wainman Version)*
9 – No No No (Phil Wainman Version)*
10 – Gimme Some Truth (Outtake) [Released on the US version of the album]
11 – Rock On Dub (Outtake)*
12 – Promises Promises (Previously Unreleased Single Version)*
13 – From the Heart (Winstanley Mix)*
14 – The Invisible Man (Winstanley Mix)*
15 – Kleenex (Winstanley Mix)*
16 – Day By Day (Winstanley Mix)*
17 – One Hundred Punks (Winstanley Mix)*
18 – Too Personal (Winstanley Mix)*
19 – Youth Youth Youth (Winstanley Mix)*
Generation X
3LP deluxe edition
LP 1
Side 1
1. From The Heart (2019 Remaster)
2. One Hundred Punks (2019 Remaster)
3. Listen (2019 Remaster)
4. Ready Steady Go (2019 Remaster)
5. Kleenex (2019 Remaster)
6. Promises Promises (2019 Remaster)
Side 2
1. Day By Day (Alt. Version / 2019 Remaster)
2. The Invisible Man (2019 Remaster)
3. Kiss Me Deadly (2019 Remaster)
4. Too Personal (2019 Remaster)
5. Youth Youth Youth (2019 Remaster)
LP 2 – A & B-sides


Side 1
1. Your Generation (2019 Remaster)
2. Day By Day (2019 Remaster)
3. Wild Youth (2019 Remaster)
4. Wild Dub (Version / 2019 Remaster)
Side 2
1. No No No (2019 Remaster)
2. Trying For Kicks (2019 Remaster)
3. This Heat (2019 Remaster)
LP 3 – Outtakes and Rough Mixes
Side 1
1. Ready Steady Go (Phil Wainman Version / 2019 Remaster)
2. No No No (Phil Wainman Version / 2019 Remaster)
3. Gimme Some Truth (Outtake / 2019 Remaster)
4. Rock On Dub (Outtake / 2019 Remaster)
5. Promises Promises (Single Version / 2019 Remaster)
Side 2
1. From The Heart (Winstanley Mix / 2019 Remaster)
2. Invisible Man (Winstanley Mix / 2019 Remaster)
3. Kleenex (Winstanley Mix / 2019 Remaster)
4. Day By Day (Winstanley Mix / 2019 Remaster)
5. One Hundred Punks (Winstanley Mix / 2019 Remaster)
6. Too Personal (Winstanley Mix / 2019 Remaster)
7. Youth Youth Youth (Winstanley Mix / 2019 Remaster)