 News
George Harrison / All Things Must Pass 50th anniversary editions
Details of all seven physical formats!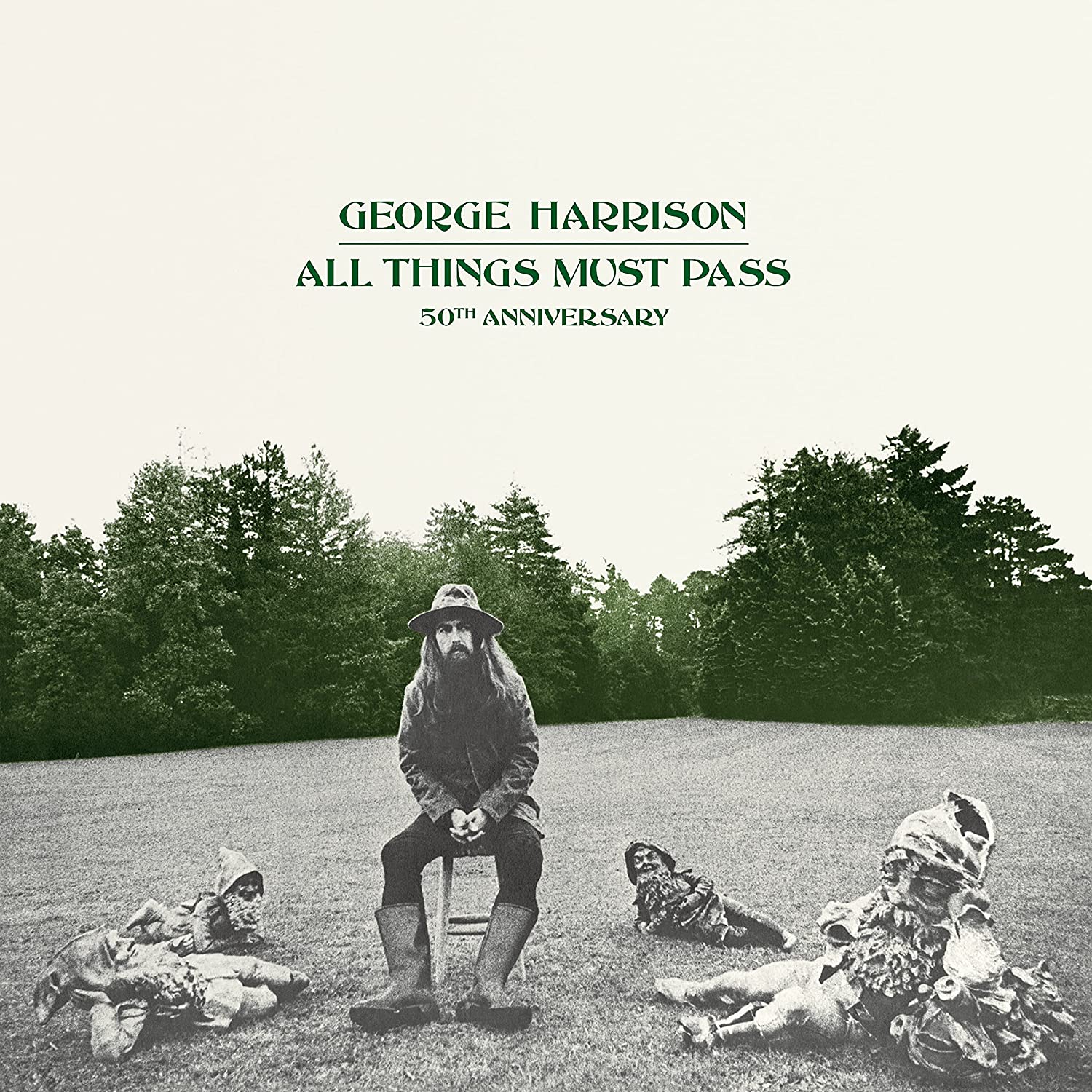 George Harrison's 1970 album All Things Must Pass will be reissued in August for a belated 50th anniversary edition and will be available in SEVEN different physical editions including an 'Uber Deluxe Edition' which comes in wooden crate and contains everything…and more!
Paul Hicks – the mixer/engineer who has worked on the Lennon reissues – has created a new mix of All Things Must Pass, overseen by George's son Dhani, who is executive producer on this project. There is a new stereo mix, a surround mix and a Dolby Atmos mix of the album. The new stereo mix replaces the original album mix on every format. Speaking of which here are the formats:
Uber Deluxe Edition: 8LP+5CD+blu-ray. Comes in a wooden crate with books, figurines, Klaus Voorman illustration and more.
Super Deluxe Edition (CD): 5CD+blu-ray. Original album, plus 3CDs of demos and outtakes, plus a blu-ray with the surround mixes
Super Deluxe Edition (vinyl): 8LP. Original album plus 5LPs of outtakes/demos
Deluxe Edition (vinyl): 5LP. Original album plus 2LPs of outtakes (no demos)
Deluxe Edition (CD): 3CDs. Original album plus an extra discs of outtakes. Comes in a little box.
Standard Edition (vinyl): 3LP set featuring the new mix of the album. This is available on black vinyl and green splatter coloured vinyl
Standard Edition (CD): 2CD set featuring new mix of the album. Gatefold card sleeve presentation.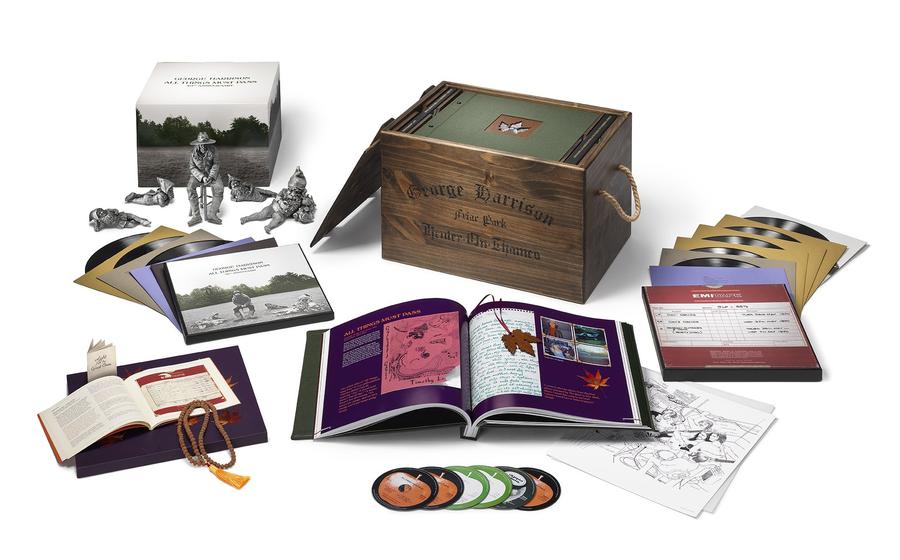 The Uber Deluxe and both 8LP vinyl and 5CD+blu-ray Super Deluxe Editions contain 70 audio tracks. There are 23 tracks on the original album, so that leaves 47 demo recordings, session outtakes and studio jams, of which 42 are previously unreleased. On the CD edition the three bonus discs are split into two discs of demos ('day 1' and 'day 2') and a third disc of outtakes.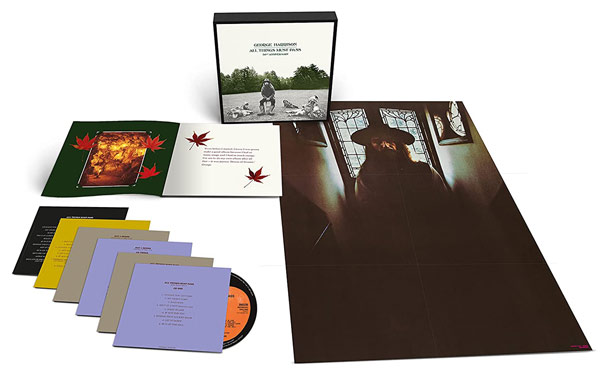 The 5CD+blu-ray super deluxe edition comes in a slipcase with a 56-page scrapbook curated by Olivia Harrison, with unseen imagery and memorabilia from the era, handwritten lyrics, diary entries, studio notes, tape box images, a comprehensive track-by-track and more. It also includes a replica of the original album poster (all formats have the poster).
The 8LP super deluxe has all the tracks from the 5CD set and a 60-page scrapbook with the same contents as above.
The 5LP deluxe edition is the remixed album with two bonus LPs which are the Session Outtakes & Jams. In other words, CD 5 from the super deluxe, or LPs 7 & 8 from the 8LP vinyl super deluxe.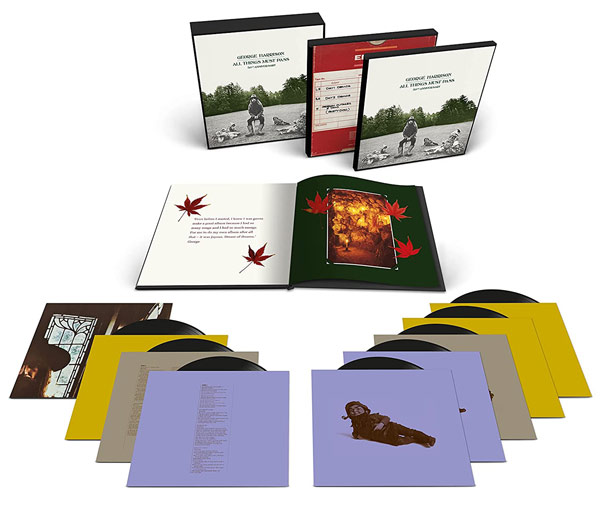 The 'uber deluxe' has an "elaborate and expanded" version of the scrapbook and includes a second book (44 pages) chronicling the making of All Things Must Pass through extensive archival interviews with notes. This also comes with a wooden bookmark made from a felled Oak tree (Quercus Robur) in George's Friar Park, the 1/6 scale replica figurines of Harrison and the gnomes featured on the album cover, a limited edition illustration by musician and artist Klaus Voorman, a copy of Paramahansa Yogananda's "Light from the Great Ones", Rudraksha beads contained in individual custom-made boxes and the poster.
All Things Must Pass 50th anniversary edition will be released on 6 August 2021. The SDE widgets below cover all seven physical editions except for the 'Uber Deluxe' which is available via the official George Harrison store in the UK or the official store in the USA.
Compare prices and pre-order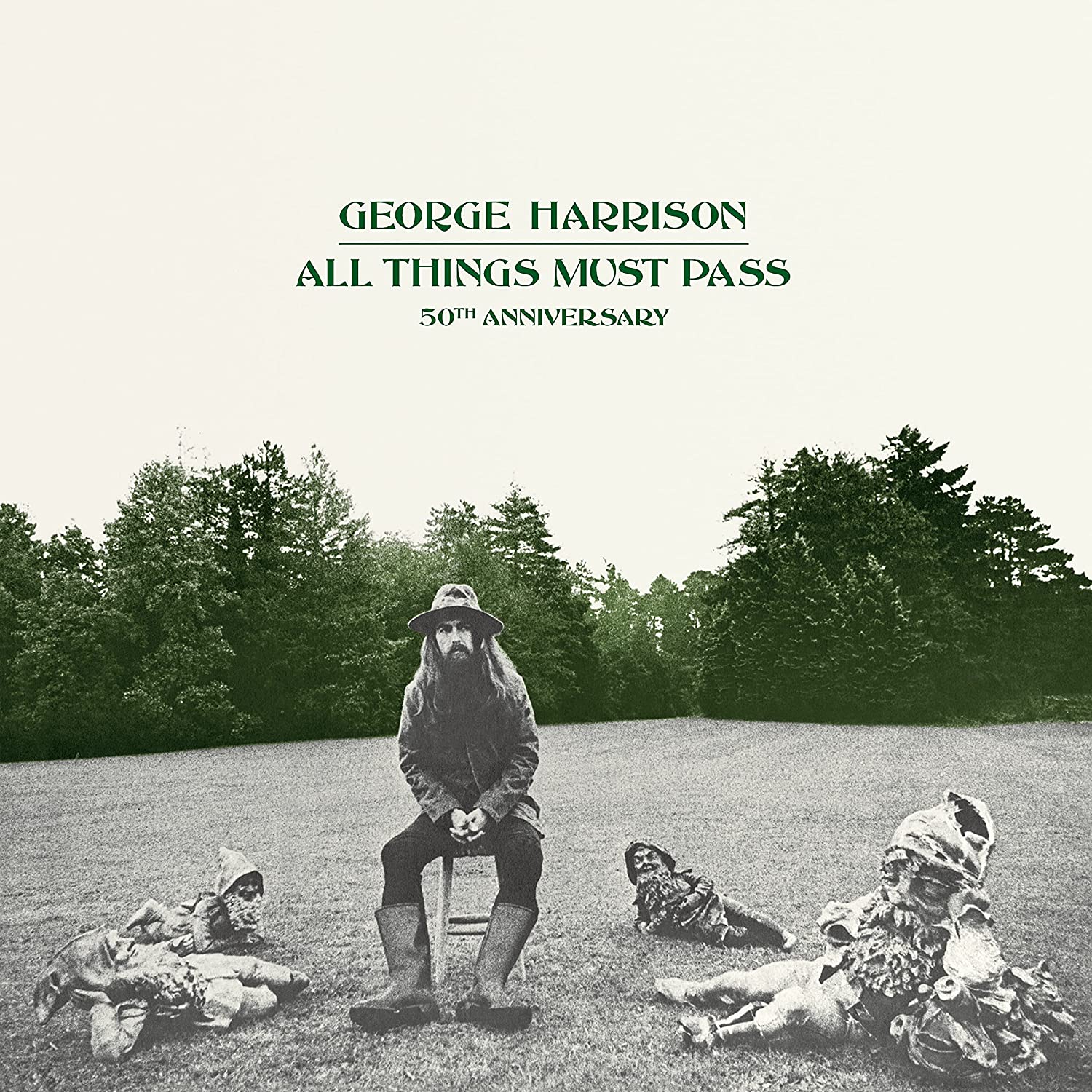 George Harrison
All Things Must Pass - 5CD+blu-ray super deluxe
Compare prices and pre-order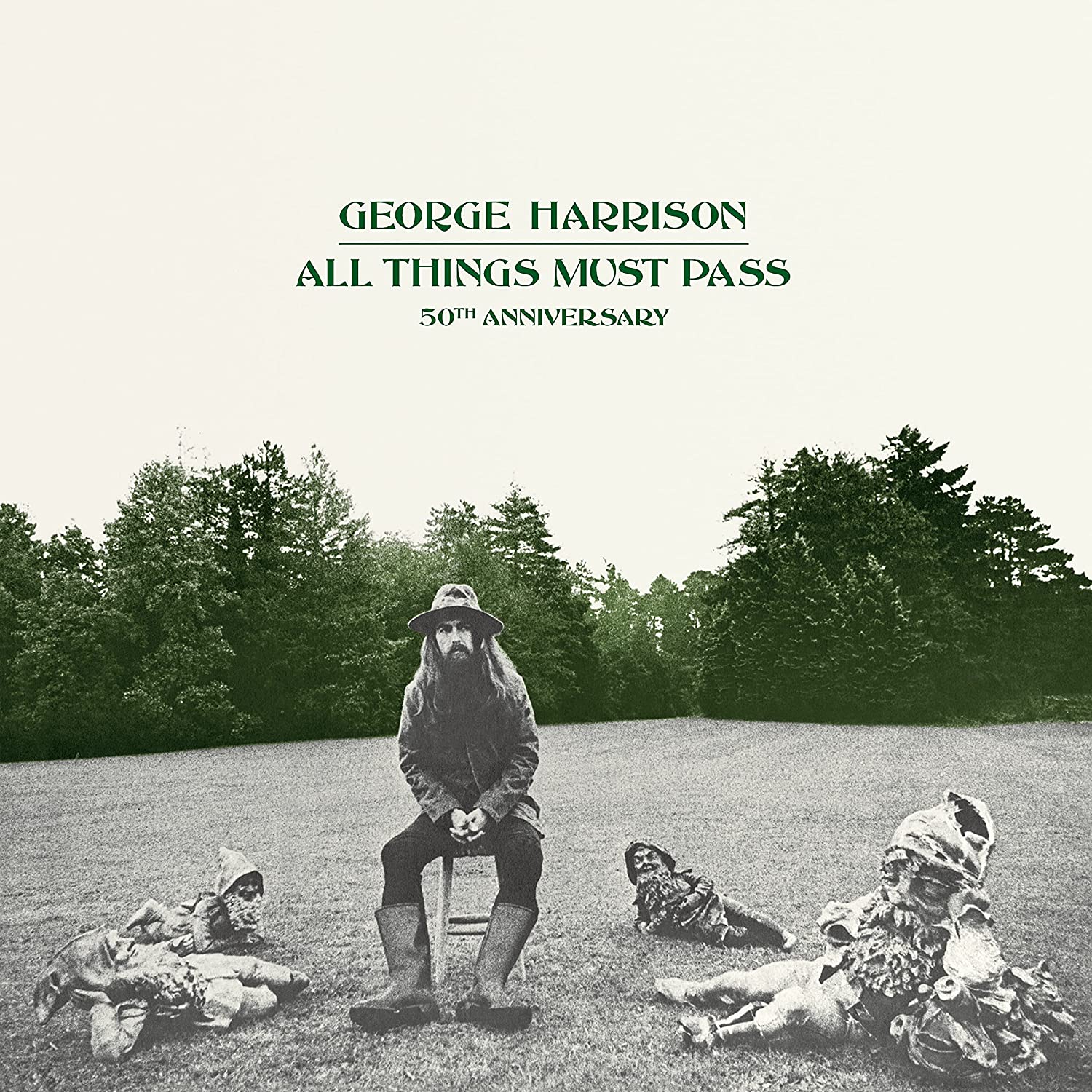 George Harrison
All Things Must Pass - 8LP super deluxe edition
Compare prices and pre-order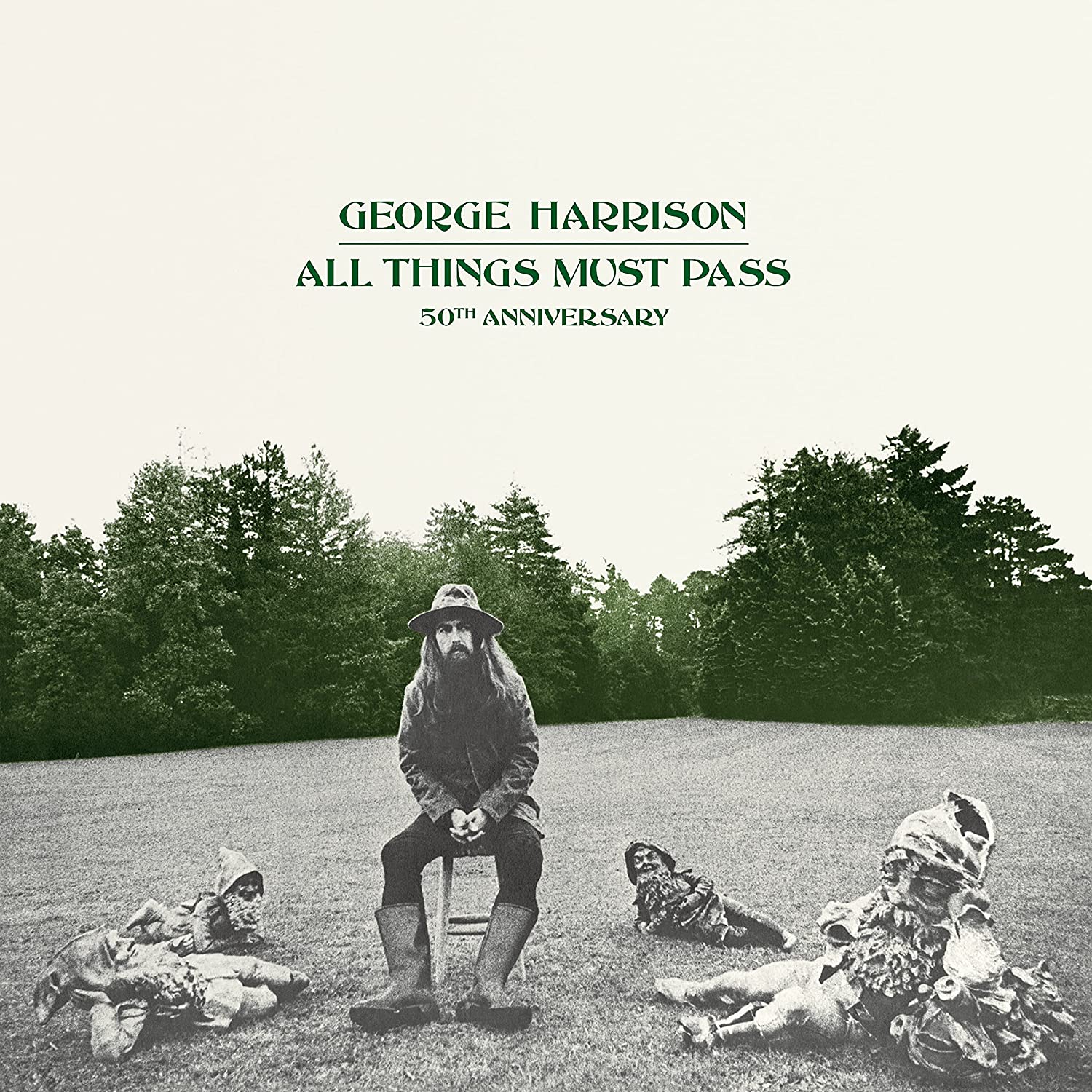 George Harrison
All Things Must Pass - 5LP deluxe edition
Compare prices and pre-order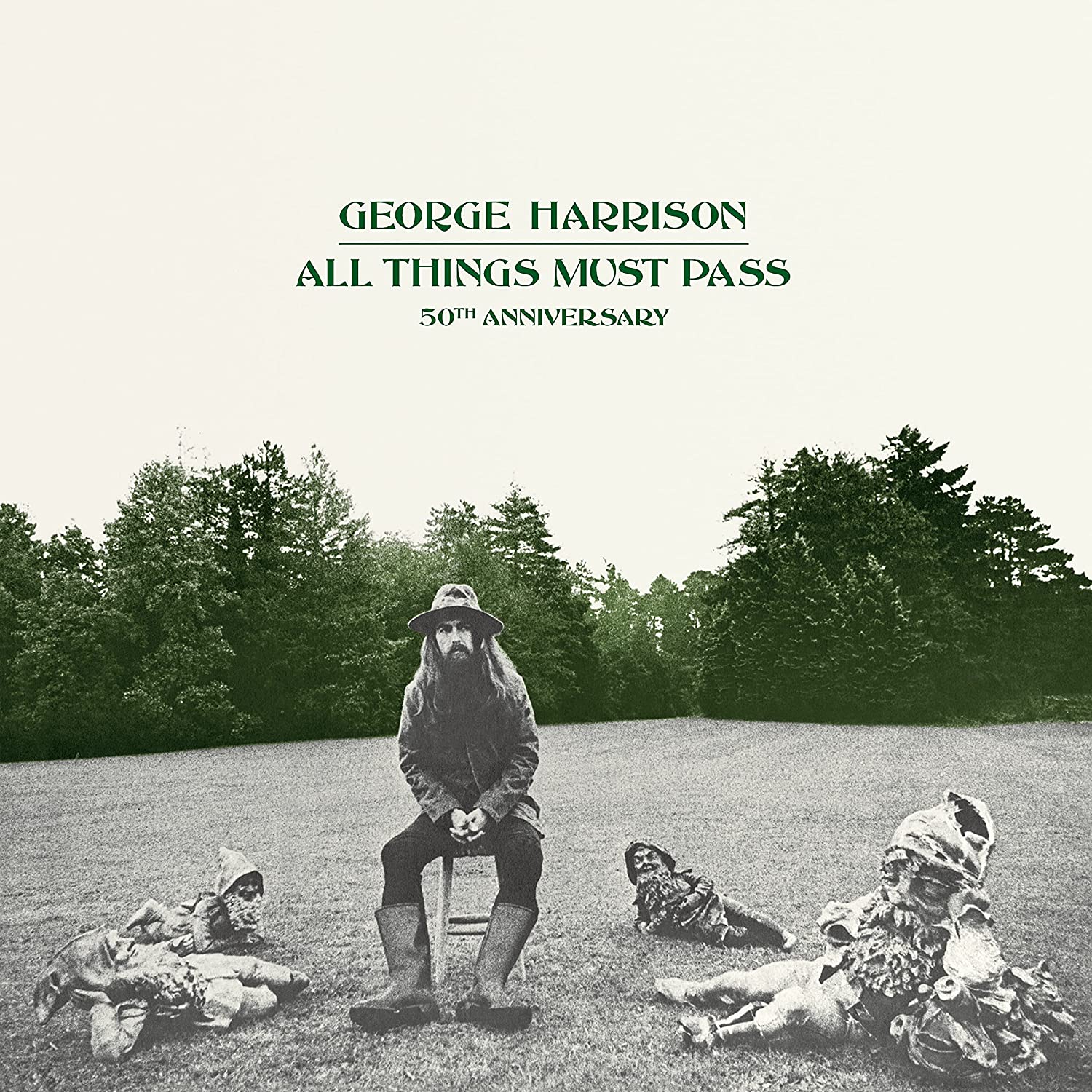 George Harrison
All Things Must Pass - 3LP vinyl standard edition
Compare prices and pre-order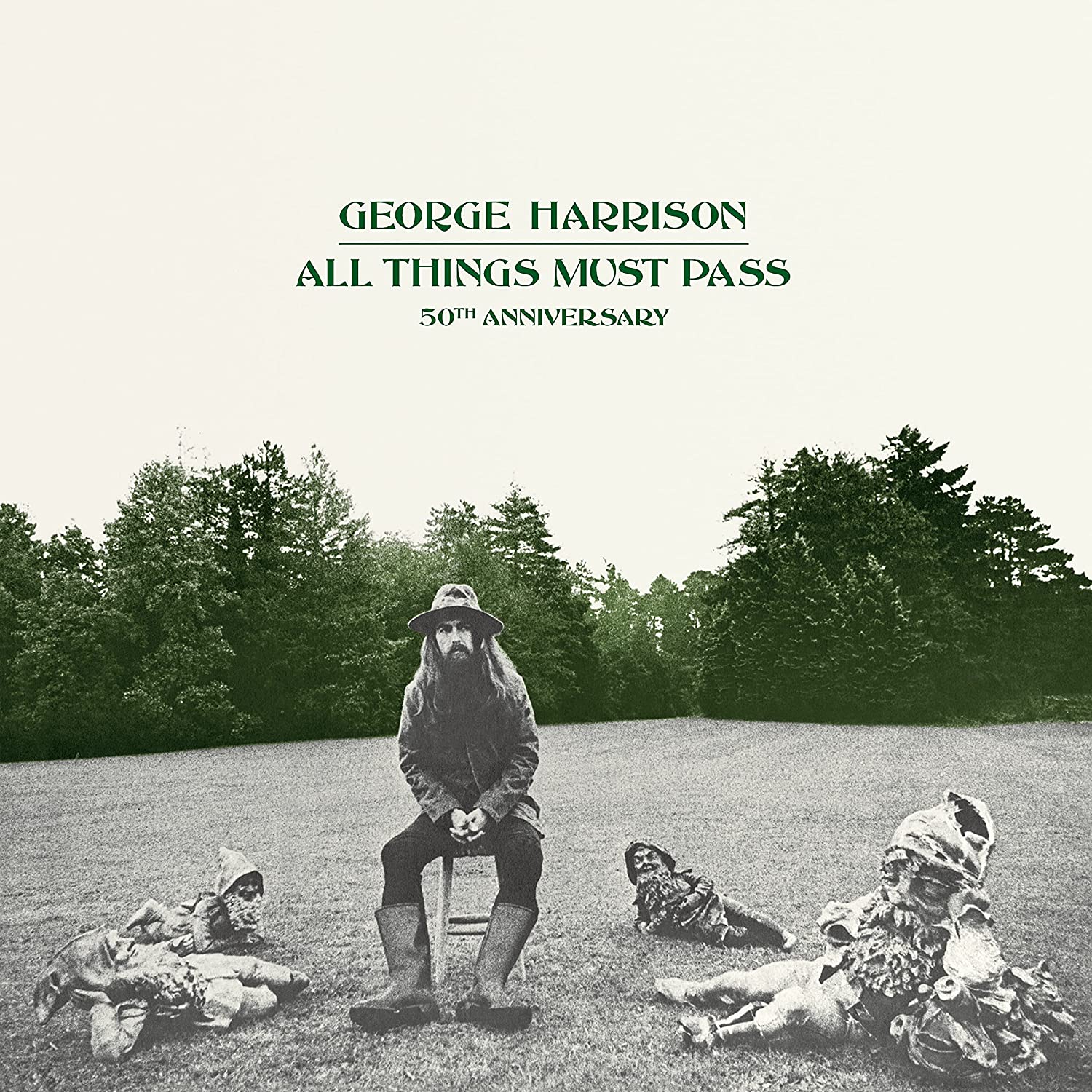 George Harrison
All Things Must Pass - 3CD deluxe edition
Compare prices and pre-order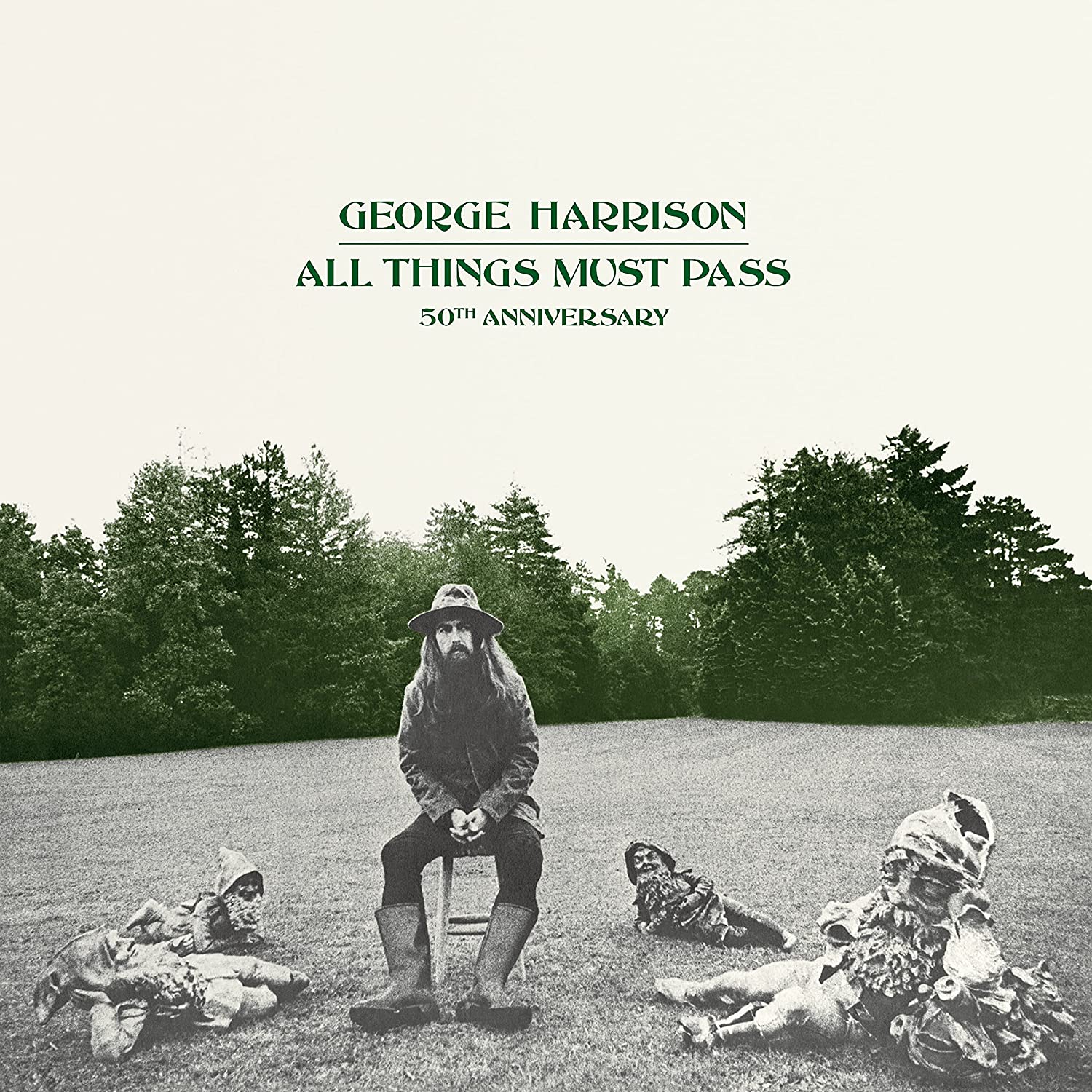 George Harrison
All Things Must Pass - 2CD standard edition
Tracklisting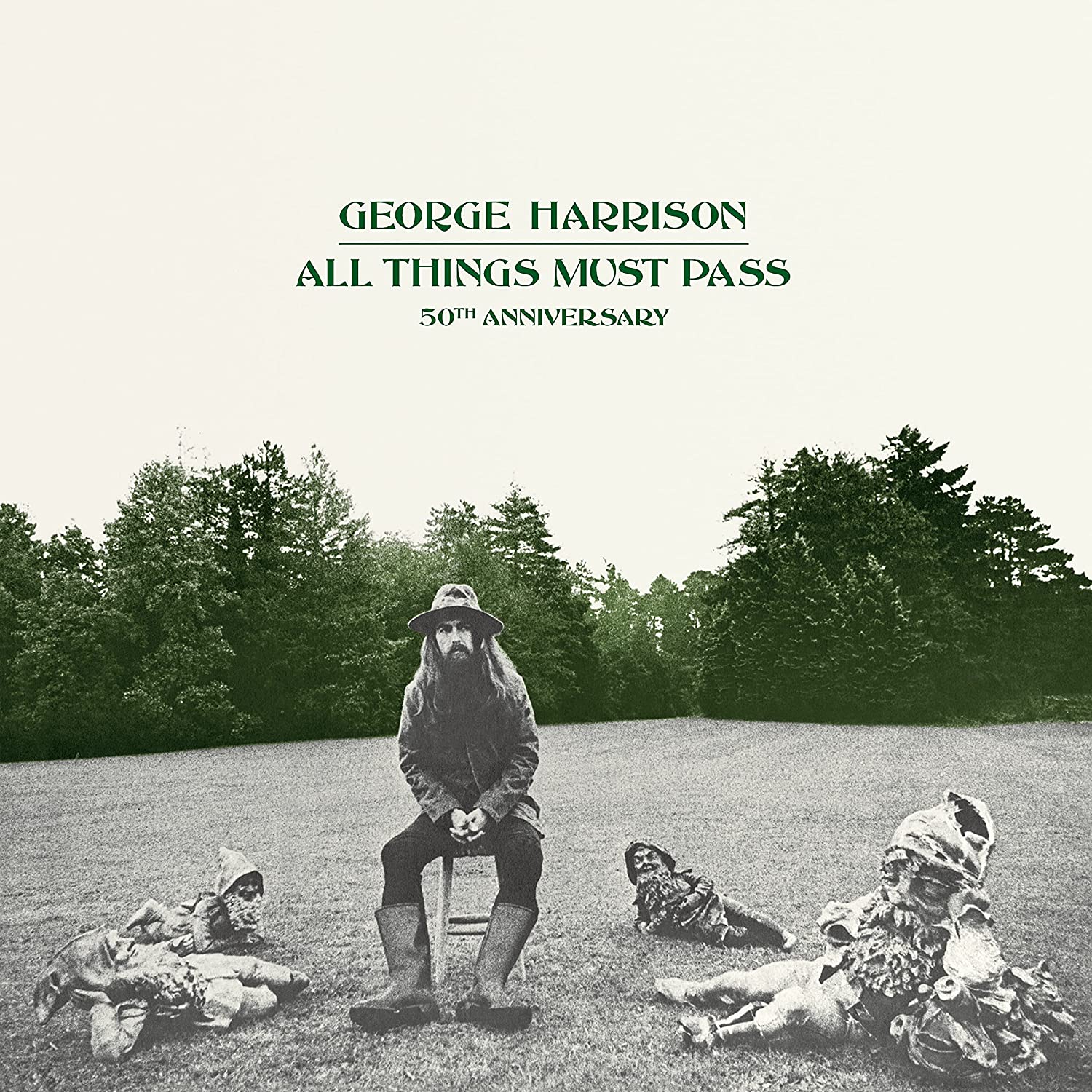 All Things Must Pass 50th anniversary George Harrison
/
5CD+blu-ray super deluxe
CD 1 – Main Album

I'd Have You Anytime
My Sweet Lord
Wah-Wah
Isn't It A Pity (Version One)
What Is Life
If Not For You
Behind That Locked Door
Let It Down
Run Of The Mill

CD 2 – Main Album

Beware Of Darkness
Apple Scruffs
Ballad Of Sir Frankie Crisp (Let It Roll)
Awaiting On You All
All Things Must Pass
I Dig Love
Art Of Dying
Isn't It A Pity (Version Two)
Hear Me Lord
Out Of The Blue *
It's Johnny's Birthday *
Plug Me In *
I Remember Jeep *
Thanks For The Pepperoni

* Newly Remastered/Original Mix

CD 3 – Day 1 Demos 26th May 1970

All Things Must Pass (Take 1) †
Behind That Locked Door (Take 2)
I Live For You (Take 1)
Apple Scruffs (Take 1)
What Is Life (Take 3)
Awaiting On You All (Take 1) †
Isn't It A Pity (Take 2)
I'd Have You Anytime (Take 1)
I Dig Love (Take 1)
Going Down To Golders Green (Take 1)
Dehra Dun (Take 2)
Om Hare Om (Gopala Krishna) (Take 1)
Ballad Of Sir Frankie Crisp (Let It Roll) (Take 2)
My Sweet Lord (Take 1) †
Sour Milk Sea (Take 1)

† Previously Released

CD 4 – Day 2 Demos 27th May 1970

Run Of The Mill (Take 1) †
Art Of Dying (Take 1)
Everybody/Nobody (Take 1)
Wah-Wah (Take 1)
Window Window (Take 1)
Beautiful Girl (Take 1)
Beware Of Darkness (Take 1)
Let It Down (Take 1)
Tell Me What Has Happened To You (Take 1)
Hear Me Lord (Take 1)
Nowhere To Go (Take 1)
Cosmic Empire (Take 1)
Mother Divine (Take 1)
I Don't Want To Do It (Take 1)
If Not For You (Take 1)

† Previously Released

CD 5 – Session Outtakes & Jams

Isn't It A Pity (Take 14)
Wah-Wah (Take 1)
I'd Have You Anytime (Take 5)
Art Of Dying (Take 1)
Isn't It A Pity (Take 27)
If Not For You (Take 2)
Wedding Bells (Are Breaking Up That Old Gang Of Mine) (Take 1)
What Is Life (Take 1)
Beware Of Darkness (Take 8)
Hear Me Lord (Take 5)
Let It Down (Take 1)
Run Of The Mill (Take 36)
Down To the River (Rocking Chair Jam) (Take 1)
Get Back (Take 1)
Almost 12 Bar Honky Tonk (Take 1)
It's Johnny's Birthday (Take 1)
Woman Don't You Cry For Me (Take 5)

Blu-ray – Main Album in surround, Atmos, hi-res stereo

I'd Have You Anytime
My Sweet Lord
Wah-Wah
Isn't It A Pity (Version One)
What Is Life
If Not For You
Behind That Locked Door
Let It Down
Run Of The Mill
Beware Of Darkness
Apple Scruffs
Ballad Of Sir Frankie Crisp (Let It Roll)
Awaiting On You All
All Things Must Pass
I Dig Love
Art Of Dying
Isn't It A Pity (Version Two)
Hear Me Lord
Out Of The Blue
It's Johnny's Birthday
Plug Me In
I Remember Jeep
Thanks For The Pepperoni