 News
Get On Board The Soul Train: 8CD Philadelphia International box set
Remastered from the original tapes • 50th anniversary • Vol 1 of 'The Complete Studio Albums Collection' • Limited to 2500 units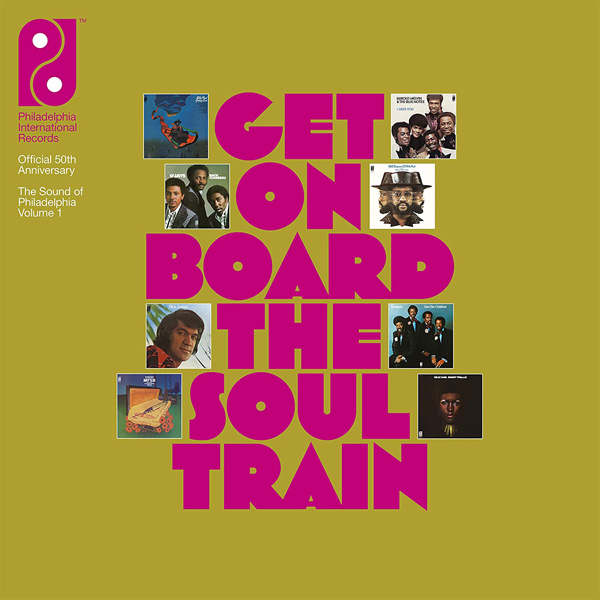 United Souls, in conjunction with Sony Legacy Recordings will celebrate the 50th anniversary of Philadelphia International Records with an 8CD box set: Get On Board The Soul Train – The Sound Of Philadelphia International Records Vol 1.

This is the first volume in a limited edition series which covers the first eight studio albums released by the label from 1971-1973. This series will offer all album remastered from the original tapes and will map the history of Philadelphia International Records chronologically.
The eight classic albums included in Volume 1 comprise: Billy Paul: Going East, Harold Melvin & The Blue Notes: I Miss You, The O'Jays – Back Stabbers, Billy Paul: 360 Degrees of Billy Paul, Dick Jensen: Dick Jensen, The Intruders: Save the Children, MFSB: MFSB and Billy Paul: Ebony Woman.
The eight CDs come housed in a 48-page slipcased book which includes sleeve notes by Tony Cummings (author of The Sound of Philadelphia) and a foreword by Ralph Tee. The large format packaging includes an exclusive bonus 12-inch single and a poster and certificate of authenticity. This edition is strictly limited to 2500 copies.
Get On Board The Soul Train: The Sound of Philadelphia International Records Vol 1 will be released on 28 May 2021 via Snapper imprint, United Souls.
This box set is available to pre-order via the SDE shop using this link or the button below. (European customers should remember that additional fees may apply, thanks to Brexit!).
---
CD 1: Billy Paul – Going East
East [06:21]
(If You Let Me Make Love To You Then) Why Can`t I Touch You? [02:42]
This Is Your Life [04:16]
Jesus Boy (You Only Look Like A Man) [04:17]
Magic Carpet Ride [05:19]
I Wish It Were Yesterday [03:50]
Compared To What [05:20]
Love Buddies [03:39]
There`s A Small Hotel [04:27]
CD 2: Harold Melvin & The Blue Notes – I Miss You
I Miss You [08:36]
Ebony Woman [03:40]
Yesterday I Had the Blues [07:32]
If You Don`t Know Me By Now [03:26]
Be For Real [07:29]
Let Me Into Your World [02:40]
Let It Be You [03:32]
CD 3: The O'Jays – Back Stabbers
When the World`s at Peace [05:18]
Back Stabbers [03:06]
Who Am I [05:11]
(They Call Me) Mr. Lucky [03:19]
Time To Get Down [02:52]
992 Arguments [06:06]
Listen To The Clock On The Wall [03:46]
Shiftless, Shady, Jealous Kind of People [03:36]
Sunshine [03:42] 10. Love Train [02:58]
CD 4: Billy Paul – 360 Degrees Of Billy Paul
Brown Baby [04:36]
I`m Just a Prisoner [08:05]
It`s Too Late [04:33]
Me and Mrs. Jones [04:45]
Am I Black Enough for You? [05:18]
Let`s Stay Together [06:27]
Your Song [06:32]
I`m Gonna Make It This Time [04:24]
CD 5: Dick Jensen – Dick Jensen
A Penny for Your Thoughts [03:02]
I Don`t Want to Cry [02:49]
Three Cheers to Love [03:27]
Fat Mama [02:14]
New York City`s a Lonely Town [03:07]
32nd Street [02:59]
Going Up On The Mountain [02:53]
Peace of Mind [02:47]
Shall We Gather by the Water [02:32]
Tamika (Come Back Later) [02:57]
CD 6: The Intruders – Save The Children
Save the Children [06:58]
Mother and Child Reunion [04:04]
I Wanna Know Your Name [05:50]
To Be Happy Is the Real Thing [03:28]
I`ll Always Love My Mama [06:37]
Memories Are Here to Stay [03:15]
Teardrops [05:07]
Hang On In There [03:21]
CD 7: MFSB – MFSB
Freddie`s Dead [07:09]
Family Affair [04:21]
Something For Nothing [03:00]
Back Stabbers [06:30]
Lay In Low [03:44]
Poinciana [05:57]
CD 8: Billy Paul – Ebony Woman
Ebony Woman [02:50]
Mrs. Robinson [04:30]
The Windmills Of Your Mind [08:00]
Everyday People [03:55]
Let`s Fall In Love All Over Again [03:50]
Windy [03:50] 7. Psychedelic Sally [02:58]
Traces [04:01] 9. Proud Mary [02:23]
Bonus 12-inch vinyl
A-side: Back Stabbers [03:07]
B-side: Back Stabbers [04:53