 News
Pre-order Polly Samson's new paperback with a David Gilmour signed CD
Back in stock (for now)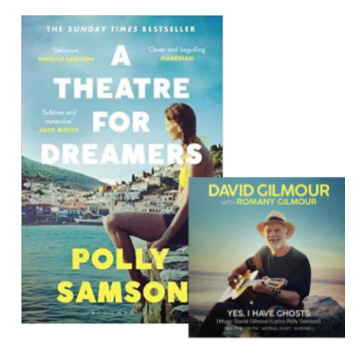 You can acquire a David Gilmour-signed CD by purchasing Polly Samson's new book A Theatre For Dreamers from Rough Trade.

A Theatre for Dreamers Samson's Sunday Times bestselling novel, which was a 2020 book of the year in a number of publications.
This new paperback edition comes with an exclusive signed CD, featuring four songs inspired by the book. The four tracks were written by Samson and David Gilmour, and performed by Gilmour and the couple's daughter Romany. The limited edition CD is signed by Polly Samson and David Gilmour.
Gilmour doesn't really 'do' signed items, so this is a rare opportunity and a book and a signed CD for less than £9 seems like a great deal! These will ship on 15 April 2021.
Tracklisting
David Gilmour and Romany Gilmour
Yes, I Have Ghosts
Tell The Truth
Astral Dust
Kokineli