 News
Glen Campbell / The Legacy 1961-2017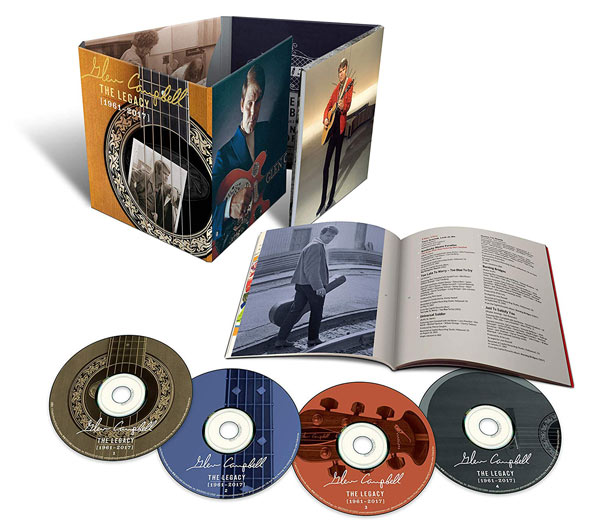 4CD revised edition features tracks from his later albums
A box set celebrating the career of the legendary Glen Campbell is set to be released next month.

Glen Campbell – The Legacy (1961-2017) is a revised edition of the 2003 set, with 78 tracks across four CDs containing all the Glen you could want from debut single 'Turn Around, Look At Me', via his duets with Bobbie Gentry, Anne Murray and Rita Coolidge, his mid seventies comeback through to Adiós, the title track from his chart-topping final – and 64th – album from 2017, released two months before his death on 8 August of that year.
The newer tracks now added to the set hail from his later albums, 2008's Meet Glen Campbell, 2011's Ghost On The Canvas, 2014's soundtrack to his documentary, Glen Campbell: I'll Be Me, and 2017's Adiós. This package and includes a 60-page booklet and updated liner notes by Joel Selvin.
Campbell had an amazing career, concurrently starting out as a solo turn while playing as a session musician for the likes of Frank Sinatra, Elvis Presley, Simon & Garfunkel and many more as part of The Wrecking Crew, even touring with The Beach Boys as a replacement for Brian Wilson. By the late 1960s, he was having his own hits with iconic numbers such as the Jimmy Webb-written 'Witchita Lineman', 'By The Time I Get To Phoenix' and 'Galveston'. He also acted, most notably alongside John Wayne in True Grit, had his own TV show and hoovered up Grammys in the process, including a Grammy Lifetime Achievement Award in 2012.
His lean years in the early seventies came to an end with the international hit 'Rhinestone Cowboy' and cheery country pop of 'Southern Nights'. After his Alzheimer's diagnosis in 2010, he embarked on a farewell tour in 2012, and then began work on Adiós soon after.
Glen Campbell – The Legacy (1961-2017) is released 21 June 2019 via Capitol/UMe.
Compare prices and pre-order
Glen Campbell
The Legacy (1961-2017)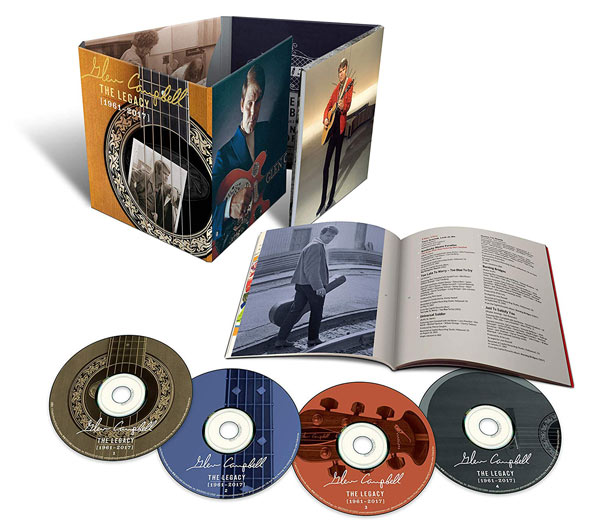 Glen Campbell / The Legacy (1961-2017)
CD ONE
Turn Around, Look At Me
Kentucky Means Paradise (The Green River Boys featuring Glen Campbell)
Too Late To Worry – Too Blue To Cry
Universal Soldier
Guess I'm Dumb
Burning Bridges
Just To Satisfy You
Less Of Me
Gentle On My Mind
Cryin'
By The Time I Get To Phoenix
Tomorrow Never Comes
Hey, Little One
I Wanna Live
Turn Around And Look At Me (New Version)
The Legend Of Bonnie And Clyde
Let It Be Me (Glen Campbell & Bobbie Gentry)
Scarborough Fair / Canticle (Glen Campbell & Bobbie Gentry)
Wichita Lineman
Dreams Of The Everyday Housewife
Reason To Believe
CD TWO
Galveston
Where's The Playground Susie
If This Is Love
True Grit
Try A Little Kindness
Honey, Come Back
One Pair Of Hands
All I Have To Do Is Dream (Glen Campbell & Bobbie Gentry)
Everything A Man Could Ever Need
It's Only Make Believe
Pave Your Way Into Tomorrow
MacArthur Park
Dream Baby (How Long Must I Dream)
The Last Time I Saw Her
I Say A Little Prayer / By The Time I Get To Phoenix (Medley) (Glen Campbell & Anne Murray)
The Last Thing On My Mind
I Knew Jesus (Before He Was A Star)
I'm So Lonesome I Could Cry
Houston (I'm Comin' To See You)
Bonaparte's Retreat
The Moon's A Harsh Mistress
CD THREE
Rhinestone Cowboy
Country Boy (You Got Your Feet In L.A.)
Arkansas
Don't Pull Your Love / Then You Can Tell Me Goodbye (Medley)
Southern Nights
Sunflower
God Only Knows
I'm Gonna Love You
Can You Fool
Highwayman
Somethin' 'Bout You Baby I Like (Glen Campbell With Rita Coolidge)
Any Which Way You Can
I Was Too Busy Loving You
Faithless Love
A Lady Like You
The Hand That Rocks The Cradle (Glen Campbell With Steve Wariner)
I Have You
If These Walls Could Speak
Unconditional Love
She's Gone, Gone, Gone
Show Me Your Way (Glen Campbell & Anne Murray)
Only One Life
Somebody Like That
CD FOUR
You'll Never Walk Alone
People Get Ready
Amazing Grace
Lean On Me
Times Like These
These Days
Good Riddance (Time Of Your Life)
Ghost On The Canvas
Waiting On The Comin' Of My Lord
I'm Not Gonna Miss You
Everybody's Talkin'
It Won't Bring Her Back
Adiós