 News
Golden Earring / Alive… Through The Years / 11CD box set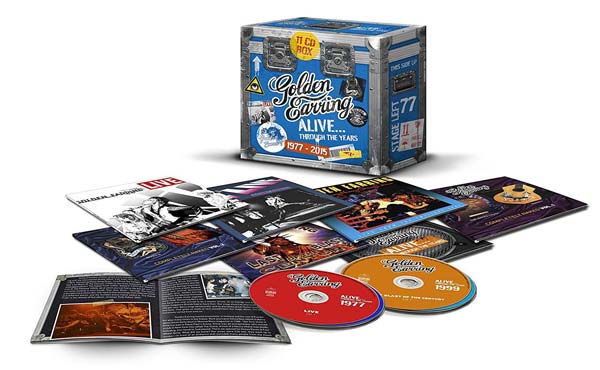 Universal Music will release follow up 2016's Complete Studio Recordings with Alive… Through The Years, an 11CD box set of live music from Dutch rockers Golden Earring.

This collection brings together live albums such as Live (1977), Something Heavy Going Down (1984) and The Naked Truth (1992) and includes a bonus CD with live rarities.
The box also contains a 32-page booklet with liner notes from Tjerk Lammers, who also recently interviewed lead singer Barry Hay for this box set (Lammers also published a book about Golden Earring in 2015).
Alive…Through The Years is released on 28 September 2018.
Compare prices and pre-order
Golden Earring
Alive... Through The Years
You might also like…
Compare prices and pre-order
Golden Earring
Complete Studio Recording
Live (1977)
Disc: 1
1. Candy's Going Bad
2. She Flies On Strange Wings
3. Mad Lover's Coming
4. Eight Miles High
5. Vanilla Queen
Disc: 2
1. To The Hill
2. Fighting Windmills
3. Con Man
4. Radar Love
5. Just Like Vince Taylor
2nd Live (1981)
Disc: 3
1. Don't Stop The Show
2. My Town
3. No For Answer
4. Heartbeat
5. Save Your Skin
6. I Don't Wanna Be Nobody Else
7. Long Blond Animal
8. Prisoner Of The Night
9. Weekend Love
10. Sleepwalkin'
11. I Do Rock 'n Roll
12. Slow Down
13. Buddy Joe
14. Back Home
Something Heavy Going Down (1984)
Disc: 4
1. Long Blond Animal
2. Twilight Zone
3. When The Lady Smiles
4. Future
5. Something Heavy Going Down
6. Enough Is Enough
7. Mission Impossible
8. Clear Night Moonlight
The Naked Truth (1992)
Disc: 5
1. Introduction
2. Jangalene
3. Another 45 Miles
4. Mad Love's Comin'
5. Why Do I
6. I Can't Sleep Without You
7. Weekend Love
8. Vanilla Quee
9. Twilight Zone
10. One Shot Away From Paradise
11. Long Blond Animal
12. Pouring My Heart Out Again
13. Radar Love
14. Eight Miles High
15. The Naked Truth
Naked II (1997)
Disc: 6
1. Who Do You Love
2. Buddy Joe
3. She Flies On Strange Wings
4. Quiet Eyes
5. Going To The Run
6. Bombay
7. Burning Stuntman
8. Mood Indigo
9. Where Will I Be
10. This Wheel's On Fire
11. Johnny Make Believe
12. When The Lady Smiles
13. The Devil Made Me Do
Naked III (2005)
Disc: 7
1. Angel
2. Turn The World Around
3. Just Like Vince Taylor
4. I've Just Lost Somebody
5. Sleepwalking
6. Need Her
7. The Thief
8. I Need Love
9. Kill Me (Ce Soir)
10. Paradise In Distress
11. Albino Moon
12. Lost And Found
13. Hold Me Now
14. Colour Blind
15. Will & Mercy
16. No For An Answer
17. Last Frontier Hotel
18. Holy Holy Life
Disc: 8
1. In A Bad Mood (Live at Leidsekade Live 1991)
2. Back Home (Live Naked)
3. Just A Little Bit Of Peace In My Heart (Live Naked)
4. Jangalene (Live Naked)
5. Don't Stop The Show (Live Naked)
6. As Long As The Wind Blows (Live Veronica Beachtour 1983)
7. Please Go / Sound Of The Screaming Day (Live Veronica Beachtour 1983)
8. Murdock 9 6182 (Live Veronica Beachtour 1983)
9. Save Your Skin (Naked Live)
Last Blast Of The Century (2000)
Disc: 9
1. Just Like Vince Taylor
2. Heartbeat
3. Another 45 Miles
4. Long Blond Animal
5. Liquid Soul
6. The Fighter
7. Hold Me Now
8. Gambler's Blues
9. Twilight Zone
10. Evil Love Chain
11. Take My Hand, Close My Eyes
12. One Night Without You
13. Paradise In Distress
Disc: 10
1. In A Bad Mood
2. Making Love To Yourself
3. Whisper In A Crowd
4. Going To The Run~
5. Distant Love
6. She Flies On Strange Wings
7. Burning Stuntman
8. The Devil Made Me Do It
9. Johnny Make Believe
10. When The Lady Smiles
11. Legalize Telepathy
12. Radar Love
13. I Can't Sleep Without You
Bonus Live CD
Disc: 11
1. Back Home (Live At Campusfestival 1991)
2. Yellow And Blue (Live Face It Tour 1994)
3. When I Was Young (Live At Paradiso 1996)
4. This Wheel's On Fire (Live At Paradiso 1996)
5. Leather (Live Arnhem 1996)
6. Are You Receiving Me (Live Arnhem 1996)
7. The Hammer Of Love (Live Evers Staat Op)
8. Lost And Found (Live Tros Gouden Uren)
9. Albino Moon (Live Evers Staat Op)
10. Smoking Cigarettes (Live in Ahoy, 2006)
11. Just A Little Bit Of Peace In My Heart (Live in Ahoy, 2006)
12. Kill Me (Ce Soir) (Live in Ahoy, 2006)
13. Identical (Five Zero at the Ziggo Dome 2015)~
14. Je Regrette (Five Zero at the Ziggo Dome 2015)