 News
Gomez / Liquid Skin anniversary reissue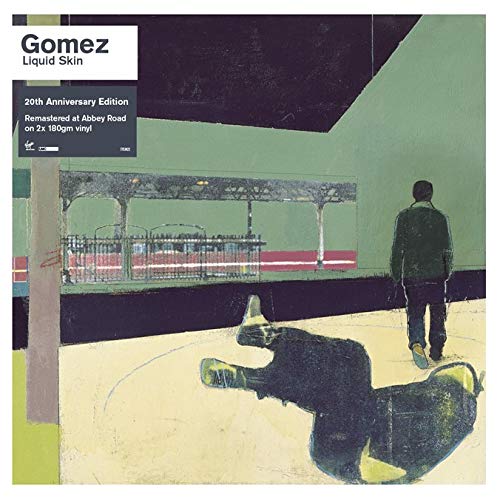 • Southport quintet announce details of second reissue
• Formats: 2CD deluxe & 2LP vinyl • Remastered audio • Unheard demos
Gomez continue on from their reformation with the announcement of the release of an upgraded 20th anniversary version of their second album Liquid Skin.

Originally released in 1999, the album reached number two in the UK album charts, following up their Mercury-winning debut Bring It On. The band produced the album themselves while visiting America, an ill-fated English stately home and at some of the finest recording studios in the world between 1998 and 1999.
The album also gave them a trio of top 40 hits with 'Bring It On', 'Rhythm & Blues Alibi' and 'We Haven't Turned Around.' The band have released a previously unheard track from the Liquid Skin sessions, called 'Throwin' Myself Away', experience it here:
There was no pause between Bring It On and Liquid Skin, with the albums released just 518 days apart. "The first album and this one merge into one in a lot of ways. A lot of the tracks were written at the same time" reckons singer/guitarist Ben Ottowell. "There's a song called 'Bring It On' on Liquid Skin, which says it all really. They were made very closely together, so it seemed like part of the same process. We were constantly making records".
Abbey Road's Frank Arkwright has delved into the archives to remaster Liquid Skin from the original tapes and the standard physical reissue formats are 2CD deluxe with demos, alternates and live tracks and a 2LP vinyl (album only).
Liquid Skin 20th Anniversary Edition is released 12 July 2019
Compare prices and pre-order
Gomez
liquid skin - remastered 2CD deluxe
Compare prices and pre-order
Gomez
Liquid Skin - remastered 2LP black vinyl
Liquid Skin REMASTERED 2CD deluxe
CD1

1 Hangover
2 Revolutionary Kind
3 Bring It On
4 Blue Moon Rising
5 Las Vegas Dealer
6 We Haven't Turned Around
7 Fill My Cup
8 Rhythm & Blues Alibi
9 Rosalita
10 California
11 Devil Will Ride
Previously unreleased demos
12 Throwin' Myself Away
13 Nobody's Girl
14 Someday
15 Brother Lead
16 Summer
CD2
Previously unreleased alternate versions
1 High On Liquid Skin (Demo)
2 We Haven't Turned Around (No Orchestra)
3 Rosalita (Kit Version)
4 Las Vegas Dealer (Ben Vocal)
Live at The Fillmore, San Francisco, 2000
5 Hangover
6 Blue Moon Rising
7 Rhythm & Blues Alibi
8 Rosemary
9 Do's & Don'ts
10 Las Vegas Dealer
11 We Haven't Turned Around
12 Devil Will Ride
13 Bring It On
14 Gomez In A Bucket
Liquid Skin REMASTERED 2LP Vinyl:
1 Hangover
2 Revolutionary Kind
3 Bring It On
4 Blue Moon Rising
5 Las Vegas Dealer
6 We Haven't Turned Around
7 Fill My Cup
8 Rhythm & Blues Alibi
9 Rosalita
10 California
11 Devil Will Ride