 News
Gong / Love From The Planet Gong: The Virgin Years 1973-1975 / 13-disc box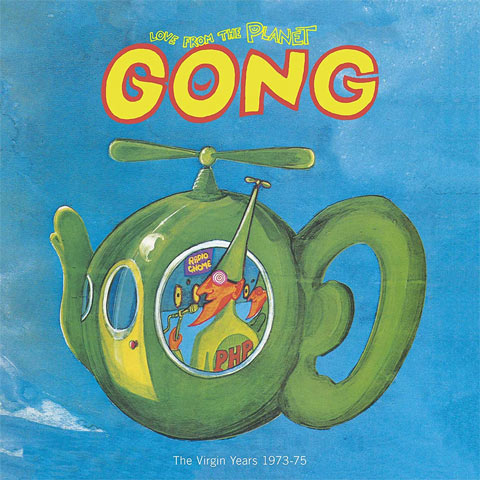 50th anniversary box • 12CD+DVD • Surround sound • Remastered
Curated by Steve Hillage and released with the full involvement of original members, legendary psychedelic surrealists Gong are the subject of a new box set with the release of Love From Planet Gong: The Virgin Years 1973-75.

This 13-disc package includes the band's first four Virgin studio albums, with bonus tracks; previously unreleased, multi-tracked full gigs, the complete John Peel Sessions from 1973 and 1974; previously unreleased quad Pye and Westlake mixes of 1974's You (re-formatted to 5.1 surround-sound), and artwork including rare and previously unseen work by the late Daevid Allen.
Audio is re-mastered by original engineer Simon Heyworth and while live recordings are mixed by Gong Bassist Mike Howlett. This set comes with a 64-page illustrated lyric booklet that includes Angel's Egg's famously quirky and informative 'Blue Book' and a new companion to Flying Teapot 'Green Book'.
Love From The Planet Gong: The Virgin Years 1973-75 will be released on 27 September 2019. This set is available to pre-order via the SDE shop.
Compare prices and pre-order
Gong
Love From Planet Gong
CD 1 / Flying Teapot
1.     Radio Gnome Invisible – Remastered 2018
2.     Flying Teapot – Remastered 2018
3.     The Pothead Pixies – Remastered 2018
4.     The Octave Doctors And The Crystal Machine – Remastered 2018
5.     Zero The Hero And The Witch's Spell – Remastered 2018
6.     Witches Song / I Am Your Pussy – Remastered 2018
7.     Radio Gnome Invisible – Rough Mix
8.     Radio Gnome Premix – Story Narration
9.     Flying Teapot – Mix 21
10.   The Pothead Pixies – Second To Last Mix
11.   Flying Teapot – Rough Mix
CD 2 / Angel's Egg
1.     Other Side Of The Sky
2.     Sold To The Highest Buddha
3.     Castle In The Clouds
4.     Prostitute Poem
5.     Givin' My Luv To You
6.     Selene
7.     Flute Salad
8.     Oily Way
9.     Outer Temple
10.   Inner Temple
11.   Percolations
12.   Love Is How Y Make It
13.   I Never Glid Before
14.   Eat That Phone Book Coda
15.   Other Side Of The Sky
16.   Ooby-Scooby Doomsday Or The D-Day DJ's Got The D.D.T. Blues
17.   Love Is How Y Make It
18.   Eat That Phone Book Coda
CD 3 / You
1.     Thoughts For Naught
2.     A P.H.P.'s Advice
3.     Magick Mother Invocation
4.     Master Builder
5.     A Sprinkling Of Clouds
6.     Perfect Mystery
7.     The Isle Of Everywhere
8.     You Never Blow Yr Trip Forever
9.     A P.H.P.'s Advice
10.   Where Have All The Flowers Gone
CD 4 / Shamal
1.     Wingful Of Eyes
2.     Chandra
3.     Bambooji
4.     Cat In Clark's Shoes
5.     Mandrake
6.     Shamal
7.     Bambooji
8.     Chandra
9.     Wingful Of Eyes
CD 5 / BBC Radio 1 Sessions And Edinburgh Live
1.     You Can't Kill Me
2.     Radio Gnome Direct Broadcast
3.     Other Side Of The Sky
4.     Zero The Hero And The Witch's Spell
5.     Flute Salad
6.     Oily Way
7.     Outer Temple
8.     Inner Temple
9.     Castle In The Clouds
10.   6/8 Tune
11.   Radio Gnome Invisible
12.   Zero The Hero And The Witch's Spell
13.   Flying Teapot
CD 6 / Paris Bataclan Live, 20th May 1973, Pt.1
1.     Other Side Of The Sky
2.     Dynamite / I Am Your Animal
3.     6/8 Tune
4.     I Never Glid Before
5.     Zero The Hero And The Witch's Spell
6.     Ooby-Scooby Doomsday Or The D-Day DJ's Got The D.D.T. Blues
7.     Est-ce Que Je Suis?
8.     I've Bin Stone Before
9.     Mr Longshanks / Oh Mother
10.   I Am Your Fantasy
11.   You Can't Kill Me
CD 7 / Paris Bataclan Live, 20th May 1973, Pt.2
1.     Flute Salad
2.     Oily Way
3.     Outer Temple
4.     Flying Teapot
5.     Dynamite
6.     You Can't Kill Me
7.     I Never Glid Before
CD 8 / Roanne – Club Arc En Ciel Live, 17th Aug 1973, Pt.1
1.     Other Side Of The Sky
2.     Dynamite / I Am Your Animal
3.     6/8 Tune
4.     I Never Glid Before
5.     Zero The Hero And The Witch's Spell
6.     I Am Your Pussy
CD 9 / Roanne – Club Arc En Ciel Live, 17th Aug 1973, Pt.2
1.     I Am Your Pussy
2.     You Can't Kill Me
3.     Ooby-Scooby Doomsday Or The D-Day DJ's Got The D.D.T. Blues
4.     Flute Salad
5.     Oily Way
6.     Outer Temple
7.     Inner Temple
8.     Radio Gnome Invisible
CD 10 / London – Hyde Park Live, 28th June 1974
1.     A Sprinkling Of Clouds
2.     I Never Glid Before
3.     I've Bin Stone Before
4.     Mr Longshanks / Oh Mother
5.     The Isle Of Everywhere
6.     I Am Your Fantasy
7.     Master Builder
CD 11 / London – The Marquee Club Live, 9th & 10th Sept 1975, Pt.1
1.     Aftaglid
2.     Flute Salad
3.     Oily Way
4.     6/8 Tune
5.     Solar Musick Suite
6.     Bambooji
CD 12 / London – The Marquee Club Live, 9th & 10th Sept 1975, Pt.2
1.     Bambooji
2.     The Isle Of Everywhere
3.     Wingful Of Eyes
4.     The Salmon Song
5.     Master Builder
6.     Drum Solo
7.     Flying Teapot
8.     I Never Glid Before
DVD / You Quad Surround Sound
1.     Thoughts For Naught
2.     A P.H.P.'s Advice
3.     Magick Mother Invocation
4.     Master Builder
5.     A Sprinkling Of Clouds
6.     Thoughts For Naught
7.     A P.H.P.'s Advice
8.     Magick Mother Invocation
9.     Master Builder
10.   A Sprinkling Of Clouds
11.   Perfect Mystery
12.   The Isle Of Everywhere
13.   You Never Blow Yr Trip Forever