 News
Happy Mondays vinyl reissues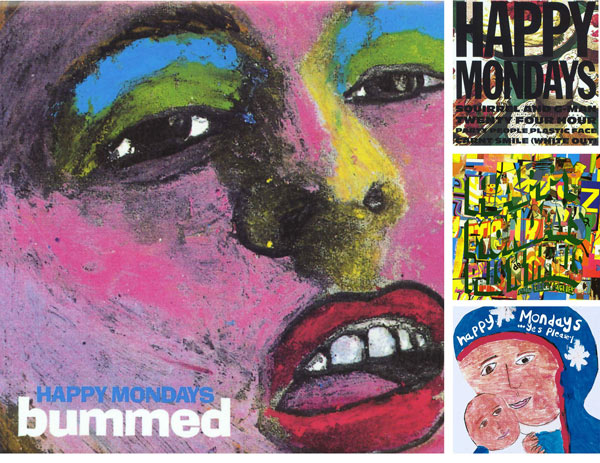 Black vinyl pressings • Redrawn artwork • New sleeve notes
The Happy Mondays' four albums for Factory records are being reissued on vinyl.

The albums are the John Cale-produced debut Squirrel and G-Man Twenty Four Hour Party People Plastic Face Carnt Smile (White Out) (1987), Bummed (1988), Pills 'n' Thrills and Bellyaches (1990) and Yes Please (produced by Tina Weymouth and Chris Frantz in 1992).
These new records have been cut from Factory Records lacquers and have been pressed on 180 gram vinyl. The artwork from each album has been redrawn by the original designers, Central Station Design, so expect some pin-sharp reproductions rather than blurry scans!
Each album also comes with new sleeve notes, with John Robb handling the debut, Andrew Perry on Bummed, Sylvia Patterson (Pills 'N' Thrills and Bellyaches) and Miranda Sawyer (Yes Please). These also come with  a download code.
All four will be released on 31 January 2020. If you are thinking of buying a complete set then the Happy Mondays online store has a special money saving bundle.
Compare prices and pre-order
Happy Mondays
G Man Twenty Four Hour Party People - vinyl LP
Compare prices and pre-order
Happy Mondays
bummed - vinyl LP
Compare prices and pre-order
Happy Mondays
Pills n Thrills and Bellyaches
Compare prices and pre-order
Happy Mondays
Yes Please - vinyl LP
Squirrel and G-Man Twenty Four Hour Party People Plastic Face Carnt Smile (White Out) vinyl LP
1. Kuff Dam
2. Tart Tart
3. 'Enery
4. Russell
5. Olive Oil
6. Weekend S
7. Little Matchstick Owen
8. Oasis
9. 24 Hour Party People
10. Cob 20
Bummed vinyl LP
1. Country Song
2. Moving in With
3. Mad Cyril
4. Fat Lady Wrestlers
5. Performance
6. Brain Dead
7. Wrote for Luck
8. Bring a Friend
9. Do It Better
10. Lazyitis
Pills N' Thrills and Bellyaches vinyl LP
1. Kinky Afro
2. God's Cop
3. Donovan
4. Grandbag's Funeral
5. Loose Fit
6. Dennis and Lois
7. Bob's Yer Uncle
8. Step On
9. Holiday
10. Harmony
Yes Please vinyl LP
1 Stinkin' Thinkin'
2 Monkey in the Family
3 Sunshine and Love
4 Dustman
5 Angel
6 Cut 'em Loose Bruce
7 Theme From Netto
8 Lovechild
9 Total Ringo
10 Cowboy Dave