 News
Heaven 17 / Exclusive signed SDE 'keepsake' interview booklet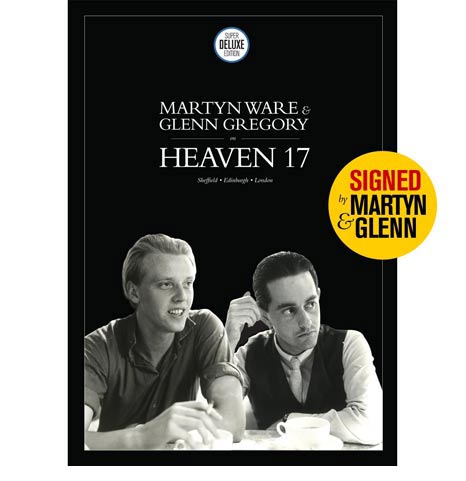 Marytn Ware and Glenn Gregory's recent filmed interview with SDE, where the pair entertainingly discuss Heaven 17's 'Virgin Years,' is to be made available as a special SIGNED 'keepsake' printed booklet edition.

Following similar publications (now mostly out-of-print) in 2017 and 2018 about Paul McCartney, Roxy Music and Pete Burns, this is the fourth in a series of occasional printed SDE interviews and the second to be signed/endorsed by the artists themselves.
This saddle-stitched (or staple-bound) document is a professionally printed and designed 20-page A4-sized booklet and is limited edition to just 450. Each one comes personally signed by both Martyn Ware and Glenn Gregory of Heaven 17.
The style of presentation is designed to be consistent with the previous booklets and features an outer gloss-laminated card cover and inner pages printed on 160gsm uncoated stock. It will be a great companion to either the CD or vinyl 'Play to Win' box sets.
This is available exclusively via the SDE shop and once this limited run is sold out, no further copies will be produced. These will ship worldwide on 29 March 2019.
Order your copy by visiting the SDE shop or use the button below.