 News
Hootie & The Blowfish debut set for anniversary reissue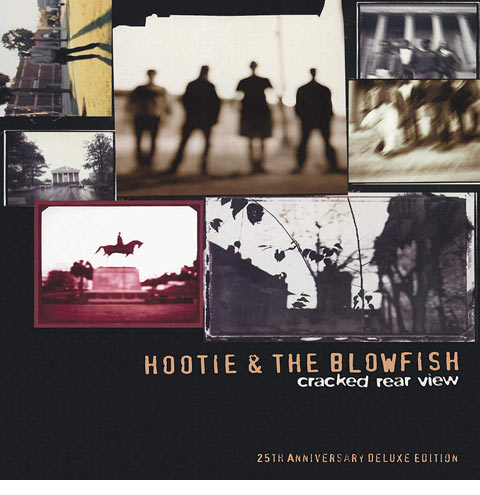 Blowfish blowout with 3CD+DVD deluxe package
Hootie & The Blowfish celebrate the 25th anniversary of their debut album Cracked Rear View with a new lavish deluxe edition set.

While it's their most popular album in the UK, reaching number 12 on it's British release in March 1995 and managing a respectable six months in the Top 100, over in their native US Cracked Rear View is one of the biggest selling debuts of all time, clocking up over 14 million sales since July 1994.
The Don Gehman-produced album generated four singles, again, nothing scratching the top 50 here, but massive deals on the Billboard lists: the David Crosby-featuring 'Hold My Hand', 'Only Wanna Be With You', 'Time' and the Grammy-winning 'Let Her Cry.' That same year they were also crowned Best New Pop Group.
The Rhino-issued 3CD+DVD package includes a newly remastered version of the original album, rare and unreleased studio and live recordings, plus a DVD with 5.1 surround sound mix of the album, a 24/96 stereo mix, five bonus tracks (stereo only) and the original music videos.
Among the unreleased and rare material, there's also early versions recorded in 1990 and 1991 which were previously on available on cassettes sold at their live shows as well as the band's five track 1992 Kootchypop EP.
This anniversary reissue also features a live recording of the band's 3 February 1995 concert at Nick's Fat City in Pittsburgh, PA. Recorded just a few weeks after Cracked Rear View was starting to happen. There's also the bonus of extensive liner notes written by Tim Sommer, who signed the band to Atlantic Records in 1993.
This deluxe edition of Cracked Rear View is released 31 May 2019. A two-CD version will also be released the same day, minus the live disc.
Compare prices and pre-order
Hootie & The Blowfish
Cracked Rear View - 3CD+DVD deluxe
Compare prices and pre-order
Hootie & The Blowfish
Cracked Rear View - 2CD edition
CRACKED REAR VIEW: 25TH ANNIVERSARY DELUXE EDITION
3-CD/DVD Track Listing:
Disc One: Original Album Remastered
Hannah Jane
Hold My Hand
Let Her Cry
Only Wanna Be With You
Running From An Angel
I'm Goin' Home
Drowning
Time
Look Away
Not Even The Trees
Goodbye
Disc Two: B-sides, Outtakes, Pre-LP Independent Recordings
All That I Believe*
I Go Blind
Almost Home
Fine Line
Where Were You
Hey, Hey What Can I Do
The Old Man And Me – Kootchypop Version
Hold My Hand – Kootchypop Version
If You're Going My Way – Kootchypop Version
Sorry's Not Enough – Kootchypop Version
Only Wanna Be With You – Kootchypop Version
Running From An Angel – 1991 Version
Time – 1991 Version
Let Her Cry – 1991 Version
Drowning – 1991 Version
I Don't Understand
Little Girl
Look Away – 1990 Version
Let My People Go
Hold My Hand – 1990 Version
Disc Three: Live at Nick's Fat City, Pittsburgh, PA, February 3, 1995 (deluxe only)
Hannah Jane
I Go Blind *
Not Even The Trees *
If You're Going My Way *
Look Away *
Fine Line *
Let Her Cry *
Motherless Child *
I'm Goin' Home *
Use Me
Running From An Angel *
Sorry's Not Enough *
Drowning *
The Old Man and Me *
Only Wanna Be With You *
Time *
Goodbye *
The Ballad of John and Yoko
Hold My Hand *
Love The One You're With *
DVD (deluxe only)
5.1 Surround Sound Mix of the Original Album
Hi-Res 24/96 Bonus Tracks
All That I Believe
I Go Blind
Almost Home
Fine Line
Where Were You
The Videos
Hold My Hand
Let Her Cry
Only Wanna Be With You
Time
Drowning – Live
*previously unreleased