 News
Hot Chocolate / Remixes and Rarities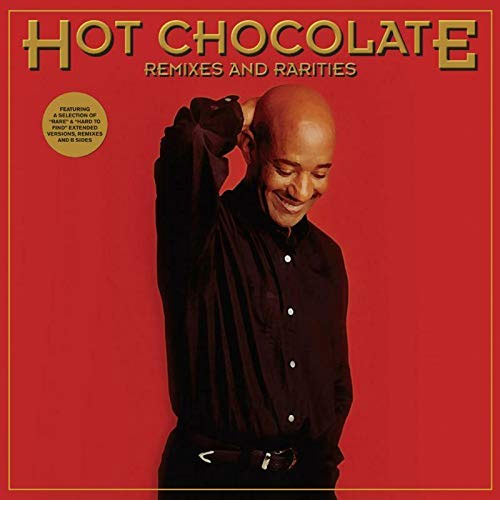 Cherry Red continue with their occasional Remixes and Rarities sets with a 3CD package featuring Hot Chocolate.

As with previous compilations, this features rare and hard-to-find extended versions, remixes and B-sides, and in the case of Hot Chocolate that means variations of hit singles like 'So You Win Again', 'Every 1's A Winner' and 'You Sexy Thing'.
In total, this Remixes and Rarities offers 36 tracks and includes two megamixes; the 9.29 'Froggy' 'Megamix and the 'Sexy Single Mix' which was released on a promotional CD in the Netherlands in 1998.
In terms of remastering, the label says "all tracks contained within have been remastered with audio being sourced from the original master tapes where possible" and this comes presented as a digipak with a 16-page booklet.
The Hot Chocolate Remixes and Rarities will be released on 31 January 2020.
Compare prices and pre-order
Hot Chocolate
Remixes And Rarities (Deluxe Digipak) (3CD)
CD 1
1. SO YOU WIN AGAIN (STEREO)
2. SO YOU WIN AGAIN (MONO)
3. SO YOU WIN AGAIN
4. WEST END OF PARK LANE
5. EVERY 1'S A WINNER (12" VERSION)
6. GOING THROUGH THE MOTIONS (12" VERSION) (2011 REMASTER)
7. MINDLESS BOOGIE (EXTENDED VERSION)
8. THE GIRL IS A FOX
9. GIMME SOME OF YOUR LOVIN'
10. I'VE GOT YOU ON MY MIND
11. ARE YOU GETTING ENOUGH OF WHAT MAKES YOU HAPPY? (12" VERSION)
CD 2
1. YOU'LL NEVER BE SO WRONG (12" VERSION)
2. ROBOT LOVE
3. A NIGHT TO REMEMBER
4. BED GAMES
5. GOT TO GET BACK TO WORK
6. IT'S MY BIRTHDAY
7. HEARTACHE NO.9 (EXTENDED REMIX)
8. HEARTACHE NO.9 (DUB VERSION)
9. EVERY 1'S A WINNER (EXTENDED GROOVE MIX)
10. EVERY 1'S A WINNER (GROOVE MIX)
11. EVERY 1'S A WINNER (GROOVE MIX BONUS BEATS)
12. EVERY 1'S A WINNER (SEXY REMIX)
13. HEAVEN IS IN THE BACKSEAT OF MY CADILLAC (D.D. CONVERTIBLE MIX)
14. HEAVEN IS IN THE BACKSEAT OF MY CADILLAC (D.D. MIX)
CD 3
1. YOU SEXY THING (EXTENDED REPLAY MIX)
2. YOU SEXY THING (BEN LIEBRAND REMIX)
3. YOU SEXY THING (SEXY BONUS BEATS)
4. YOU SEXY THING (SEXY INSTRUMENTAL)
5. NO DOUBT ABOUT IT (TEQUILA MIX)
6. NO DOUBT ABOUT IT (LITTLE TEQUILA MIX)
7. HOT CHOCOLATE MEGAMIX (EMMA/SO YOU WIN AGAIN/YOU SEXY THING/EVERY 1'S A WINNER/YOU COULD'VE BEEN A LADY/HEAVEN IS IN THE BACK SEAT OF MY CADILLAC)
8. YOU SEXY THING (WINNER MIX) 12"
9. YOU SEXY THING (THE WINNER MIX) 7"
10. THE SEXY SINGLE MIX (YOU SEXY THING/EVERY 1'S A WINNER/SO YOU WIN AGAIN/NO DOUBT ABOUT IT/YOU SEXY THING)
11. ARE YOU GETTING ENOUGH HAPPINESS (12" VERSION) (2011 REMASTER)