 News
Howard Jones / In The Running reissue
Jones' final album for Warners gets the reissue treatment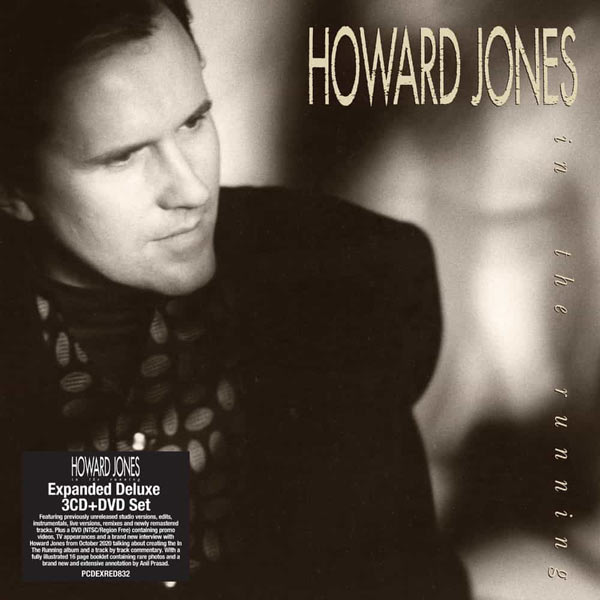 Cherry Red complete their programme of Howard Jones Warner-era studio album reissues in April with a 3CD+DVD expanded version (along with a coloured vinyl pressing) of the 1992 album In The Running.

The album was co-produced with Ross Cullum, who also co-wrote four of the songs. In The Running would be Jones' last original studio album for Elektra/East West and it offered no change to Howard's declining commercial fortunes in the UK, delivering zero hit singles (at this point it has been six years since he cracked the UK top 40).
The reissue follows the same pattern as One to One and Cross That Line. A 3CD+DVD digipak includes a generous selection of previously unreleased content including alternates, edits, remixes, live cuts and instrumentals. Interestingly, included in this set are a few variants of a 1993 remix of Jones' 1983 hit 'What Is Love?' This was commissioned for reasons no one can remember and was never released.
The DVD ((NTSC/region-free) features a brand new interview with Howard discussing the album, a track-by-track commentary and some TV appearances and promo videos.
The album will also be issued on clear ('translucent') vinyl. Both will be released on 30 April 2021.
Compare prices and pre-order
Howard Jones
In The Running 3CD+DVD deluxe
Compare prices and pre-order
Howard Jones
In The Running - clear vinyl LP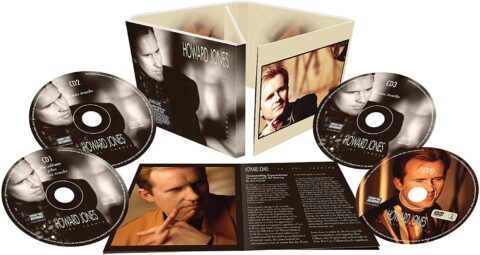 In The Running 3CD+DVD deluxe
DISC ONE: CD
1. LIFT ME UP
2. FALLIN' AWAY
3. SHOW ME
4. THE VOICES ARE BACK
5. EXODUS
6. TEARS TO TELL
7. TWO SOULS
8. GUN TURNED ON THE WORLD
9. ONE LAST TRY
10. CITY SONG
11. I. G. Y. (WHAT A BEAUTIFUL WORLD)
(SINGLE MIX)
12. NEW MAN
13. TAKIN' THE TIME
14. YOU SAY
15. ONE LAST TRY (EDIT)*
* PREVIOUSLY UNRELEASED
DISC TWO: CD
1. LIFT ME UP (INSTRUMENTAL)*
2. FALLIN' AWAY (INSTRUMENTAL)*
3. SHOW ME (INSTRUMENTAL)*
4. THE VOICES ARE BACK (INSTRUMENTAL)*
5. EXODUS (INSTRUMENTAL)*
6. TEARS TO TELL (INSTRUMENTAL)*
7. TWO SOULS(INSTRUMENTAL)*
8. GUN TURNED ON THE WORLD (INSTRUMENTAL) (EXTENDED VERSION)*
9. ONE LAST TRY (INSTRUMENTAL)
(EXTENDED VERSION)*
10. CITY SONG (INSTRUMENTAL)*
11. I.G.Y. (WHAT A BEAUTIFUL WORLD) (INSTRUMENTAL)*
12. ROAD TO CAIRO (TV MIX)*
13. OTHER PEOPLE ARE US (TV MIX)*
14. WHAT IS LOVE? ('93 REMIX) (INSTRUMENTAL)*
* PREVIOUSLY UNRELEASED
DISC THREE: CD
1. WHAT IS LOVE? ('93 12″ REMIX PART 1)*
2. WHAT IS LOVE? ('93 12″ REMIX PART 2)*
3. TEARS TO TELL (7″ EDIT)**
4. DON'T BE PART OF IT
5. ROAD TO CAIRO (ANDY SCARTH MIX)**
6. I. G. Y. (WHAT A BEAUTIFUL WORLD)
(SPECIAL DJ EDIT)**
7. OTHER PEOPLE ARE US
8. WHAT IS LOVE? ('93 REMIX)*
9. TWO SOULS (EARLY EXTENDED MIX)*
10. DON'T BE PART OF IT (MOO MIX)**
11. I. G. Y. (WHAT A BEAUTIFUL WORLD) (LIVE AT THE
SPECTRUM THEATRE, PHILADELPHIA 1987)**
12. ROAD TO CAIRO**
13. TEARS TO TELL (EARLY MIX)*
14. ONE LAST TRY (EXTENDED VERSION)*
15. DON'T BE PART OF IT (DANCE MIX AKA DUB MIX)**
* PREVIOUSLY UNRELEASED
** PREVIOUSLY UNRELEASED REMASTERED
DISC FOUR:
1. INTERVIEW WITH HOWARD JONES
OCTOBER 2020:
• CREATING "IN THE RUNNING"
• TRACK BY TRACK COMMENTARY
2. I.G.Y. (WHAT A BEAUTIFUL WORLD) (PEBBLE MILL – 18/05/1993)
3. WHAT IS LOVE?
(PEBBLE MILL – 18/05/1993)
4. TEARS TO TELL (PROMO VIDEO)
5. LIFT ME UP (PROMO VIDEO)
6. I.G.Y. (WHAT A BEAUTIFUL WORLD) (PROMO VIDEO)
7. TEARS TO TELL (BLUE TINT VERSION) (PROMO VIDEO)
NTSC/REGION FREE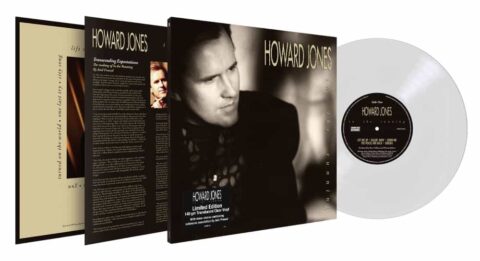 In The Running clear vinyl LP
SIDE ONE
1. LIFT ME UP
2. FALLIN' AWAY
3. SHOW ME
4. THE VOICES ARE BACK
5. EXODUS
SIDE TWO
1. TEARS TO TELL
2. TWO SOULS
3. GUN TURNED ON THE WORLD
4. ONE LAST TRY
5. CITY SONG