 News
Ian Broudie / Tales Told reissue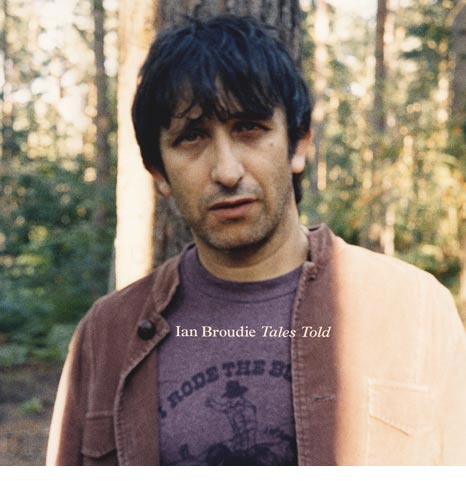 First time on vinyl • Remastered • bonus 7″ single • Expanded CD
Ian Broudie's 2004 solo album Tales Told has been remastered and will be reissued with bonus tracks on CD and vinyl in May.

As detailed yesterday, this is the inaugural release from Pete Paphides' new label Needle Mythology (along with Stephen Duffy's I Love My Friends).
Broudie is of course best known for his work with The Lightning Seeds and for 'Three Lions' which in 2018 made chart history when it enjoyed its fourth spell at number one.
Paphides described Broudie as a 'misunderstood' writer, saying "I think there's a kind of melancholy at the heart of what he does." He supports this claim by suggesting that "the reason why a lot of people think 'Three Lions' is one of the best football songs of all time is because it's really about disappointment, and about the tension between disappointment and that idealism that there might be a perfect moment out there, that is still attainable."
On its original release back in 2004, Tales Told marked a departure from Broudie's previous work with The Lightning Seeds. Here, Ian offered an intimate, stripped back, confessional album with his songwriting drawing on personal events in his life.

The CD reissue is presented as a gatefold vinyl replica with 4 bonus tracks
The album was never issued on vinyl, so this is its debut on the format. It's presented as a 180g black vinyl pressing in a gatefold package and comes with a seven-inch single with four bonus tracks, three of which are previously unreleased.
The CD editions comes as a 'mini-LP CD' or vinyl replica and appends the same bonus tracks. Both vinyl and CD include slightly revised cover art with an alternate photo from the sessions selected with glasses-free Broudie staring directly at us. All audio has been remastered by Guy Davie at Electric Mastering.
The vinyl LP+7″ and CD edition are released on 10 May 2019 (note that the vinyl doesn't include a download code).
A limited number of SIGNED editions of both formats are exclusive to the SDE shop. Order via this  link or simply use the buttons below.
Tales Told 180g black vinyl LP
Side One
1. Song For No One
2. Whenever I Do
3. He Sails Tonight
4. Smoke Rings
5. Got No Plans
6. Always Knocking
Side Two
1.Tales Told
2. Lipstick
3. Super Cinema
4. Home From Home
5. Something Street
6. Broudie's Blues
Seven-inch EP
Side A
1. Home From Home (Band Version)
2. Song For No One (Demo)
Side B
1. Shifting Sands
2. Something Street (Early Version)
Tales Told remastered CD edition
1. Song For No One
2. Whenever I Do
3. He Sails Tonight
4. Smoke Rings
5. Got No Plans
6. Always Knocking
7.Tales Told
8. Lipstick
9. Super Cinema
10. Home From Home
11. Something Street
12. Broudie's Blues
Bonus tracks
13. Home From Home (Band Version)
14. Song For No One (Demo)
15. Shifting Sands
16. Something Street (Early Version)