 News
James Taylor / The Warner Bros Albums 1970-1976 / CD and vinyl box sets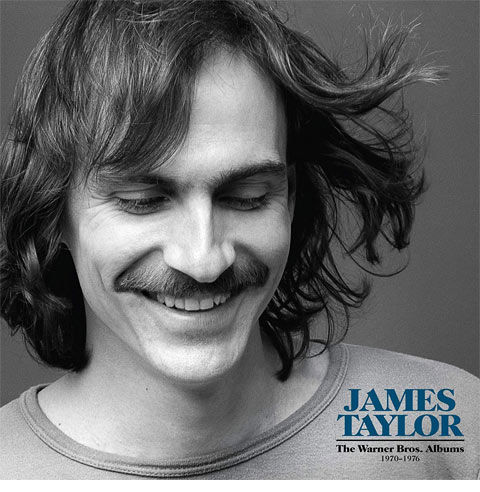 6CD / 6LP box sets • Remasters overseen by Peter Asher
The key works of James Taylor are to released as a box set. The Complete Warner Bros. Albums: 1970–1976 includes newly remastered versions of the six legendary studio albums that James Taylor recorded between 1970 and 1976 (Sweet Baby James (1970), Mud Slide Slim and the Blue Horizon (1971), One Man Dog (1972), Walking Man (1974), Gorilla (1975), and In the Pocket (1976)).

Originally signed to Apple for his 1968 debut, Taylor switched to Warners for the 1970 follow-up Sweet Baby James, which was a huge success reaching number three in the Billboard charts, nominated for a Grammy and has sold in excess of three million copies in the US alone making him quite the handsome acoustic troubadour, with records that became the foundation for his garlanded career that includes five Grammy Awards, induction into the Songwriters and Rock and Roll Halls of Fame, and more than 100 million records sold worldwide.
Further success came with the single, Carole King's 'You've Got A Friend' (his first number one single and earned him his first Grammy Award (Best Male Pop Vocal) in 1971), featuring on 1971's Mud Slide Slim and the Blue Horizon. While One Man Dog and Walking Man didn't quite do the same business, sixth album Gorilla fared better due to the singles 'Mexico' and his cover of 'How Sweet It Is (To Be Loved By You)', while In the Pocket features the likes of his then-wife Carly Simon, Stevie Wonder, Art Garfunkel, David Crosby, Linda Ronstadt and Bonnie Raitt all helping out.
The Complete Warner Bros. Albums: 1970–1976 comes as both a 6CD and 6LP vinyl box set. This collection brings several albums back into print on vinyl for the first time in many years.
Each album in the set has been remastered, a process overseen by Peter Asher, who signed Taylor to the Beatles' Apple Records label in 1968, worked as his manager for 25 years, and originally produced several of these albums.
The Complete Warner Bros. Albums: 1970–1976 is released 19 July 2019
Compare prices and pre-order
James Taylor
The Warner Bros Albums - 6CD box set
Compare prices and pre-order
James Taylor
The Warner Bros Albums - 6LP vinyl box
The Complete Warner Bros. Albums: 1970-1976
Sweet Baby James (1970)
"Sweet Baby James"
"Lo And Behold'
"Sunny Skies"
"Steamroller
"Country Road"
"Oh, Susannah"
"Fire And Rain"
"Blossom"
"Anywhere Like Heaven"
"Oh Baby, Don't You Loose Your Lip On Me"
"Suite For 20 G"
Mud Slide Slim And The Blue Horizon (1971)
"Love Has Brought Me Around"
"You've Got A Friend"
"Places In My Past"
"Riding On A Railroad"
"Soldiers"
"Mud Slide Slim"
"Hey Mister, That's Me Up On The Jukebox"
"You Can Close Your Eyes"
"Machine Gun Kelly"
"Long Ago And Far Away"
"Let Me Ride"
"Highway Song"
"Isn't It Nice To Be Home Again"
One Man Dog (1972)

"One Man Parade"
"Nobody But You"
"Chili Dog"
"Fool For You"
"Instrumental I"
"New Tune"
"Back On The Street Again"
"Don't Let Me Be Lonely Tonight"
"Woh, Don't You Know"
"One Morning In May"
"Instrumental II"
"Someone"
"Hymn"
"Fanfare"
"Little David"
"Mescalito"
"Dance"
"Jig"
Walking Man (1974)
"Walking Man"
"Rock 'n' Roll Is Music Now"
"Let It All Fall Down"
"Me And My Guitar"
"Daddy's Baby"
"Ain't No Song"
"Hello Old Friend"
"Migration"
"The Promised Land"
"Fading Away"
Gorilla (1975)
"Mexico"
"Music"
"How Sweet It Is (To Be Loved By You)"
"Wandering"
"Gorilla"
"You Make It Easy"
"I Was A Fool To Care"
"Lighthouse"
"Angry Blues"
"Love Songs"
"Sarah Maria"
In The Pocket (1976)
"Shower The People"
"A Junkie's Lament"
"Money Machine"
"Slow Burning Love"
"Everybody Has The Blues"
"Daddy's All Gone"
"Woman's Gotta Have It"
"Captain Jim's Drunken Dream"
"Don't Be Sad 'Cause Your Sun Is Down"
"Nothing Like A Hundred Miles"
"Family Man"