 News
Joan As Police Woman / JOANTHOLOGY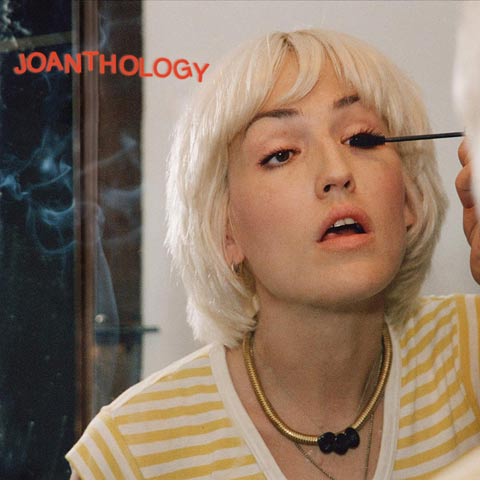 3CD 'best of' • Live at the BBC on limited coloured vinyl • New tour
Joan Wasser, better known as Joan As Police Woman, will release JOANTHOLOGY, a three-CD retrospective in May.

Spanning the last fifteen years, this set pulls tracks from all five official studio albums  – Real Life (2006) , To Survive (2008), The Deep Field (2011), The Classic (2014) and last year's Damned Devotion. Additionally, it features songs from Cover, the fairly limited release from 2009, the 2016 collaboration with Benjamin Lazar Davis Let It Be You and My Gurl from the debut EP.
Two new recordings feature on JOANTHOLOGY (that title reads better than it sounds), one is a cover of Prince's 'Kiss' (which will be familiar to anyone who attended any of Damned Devotion live shows) and a new song 'What A World'.
Although this is a three-CD set, the studio recordings take up two discs with a third featuring tracks performed 'Live at the BBC'.

The cover of the standalone vinyl edition of Live at the BBC
Live at the BBC also gets a standalone vinyl release, with its own remarkable front cover. This is available for a time as a limited 'sky blue' (bath blue?) coloured vinyl and comes with a download code.
JOANTHOLOGY/Live at the BBC is out on 24 May 2019. Joan will also be touring this year in support of the release. You can check dates here.
Compare prices and pre-order
Joan As Police Woman
JOANANTHOLOGY 3CD SET
Compare prices and pre-order
Joan As Police Woman
Live at the BBC limited sky blue vinyl
JOANTHOLOGY
CD 1
1 My Girl 4:43
2 The Ride 3:11
3 Real Life 4:38
4 Eternal Flame 3:42
5 I Defy 3:34
6 We Don't Own It 3:55
7 Christobel 3:11
8 Honor Wishes 4:36
9 Hard White Wall 4:12
10 Start Of My Heart 4:34
11 To America 5:42
12 To Be Lonely 4:55
13 The Magic 4:10
14 Human Condition 5:32
15 Run For Love 5:39
16 Forever And A Year 5:56
17 What A World 5:14
CD 2
18 Flash 7:53
19 Whatever You Like 4:22
20 Holy City 4:44
21 Get Direct 6:44
22 Good Together 7:01
23 Your Song 3:55
24 Myrrhman 7:09
25 Broke Me In Two 2:55
26 Valid Jagger 3:28
27 Steed (for Jean Genet) 4:09
28 Tell Me 3:38
29 Silly Me 3:39
30 Warning Bell 3:17
31 Kiss 5:08
CD 3
32 To Be Loved (Live At The BBC) 3:02
33 Start Of My Heart (Live At The BBC) 3:45
34 Human Condition (Live At The BBC) 5:23
35 She Watch Channel Zero (Live At The BBC) 3:32
36 Sacred Trickster (Live At The BBC) 2:29
37 Holy City (Live At The BBC) 4:29
38 The Classic (Live At The BBC) 3:35
39 Magic Lamp (Live At The BBC) 3:38
40 Let It Be You (Live At The BBC) 2:52
41 The Silence (Live At The BBC) 5:02
42 Damned Devotion (Live At The BBC) 3:31
43 Steed (For Jean Genet) (Live At The BBC) 5.10
Live at the BBC vinyl
1 To Be Loved (Live At The BBC) 3:02
2 Start Of My Heart (Live At The BBC) 3:45
3 Human Condition (Live At The BBC) 5:23
4 She Watch Channel Zero (Live At The BBC) 3:32
5 Sacred Trickster (Live At The BBC) 2:29
6 Holy City (Live At The BBC) 4:29
7 The Classic (Live At The BBC) 3:35
8 Magic Lamp (Live At The BBC) 3:38
9 Let It Be You (Live At The BBC) 2:52
10 The Silence (Live At The BBC) 5:02
11 Damned Devotion (Live At The BBC) 3:31
12 Steed (For Jean Genet) (Live At The BBC) 5.10