 News
Joe Strummer 001: new compilation
Collector's Box Set • 2CD deluxe with hardcover book • 4LP vinyl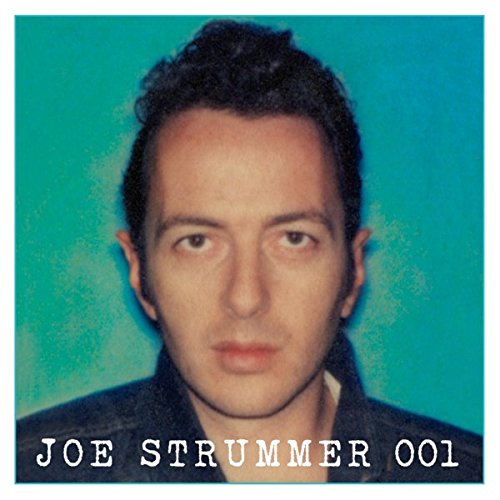 Ignition Records are issuing Joe Strummer 001, a new compilation that spans Joe Strummer's career outside his recordings with The Clash. It's available across a number of physical editions, including a multi-format seven-disc deluxe box set.

The compilation features 32-tracks of 'rare and unheard' audio and includes favourites from his recordings with the 101ers, The Mescaleros, his solo albums and soundtrack work.




Exclusive to all formats (more on the formats shortly) is an album of unreleased material including an early demo of This Is England entitled Czechoslovak Song/Where Is England, a solo demo of Letsagetabitarockin recorded in Elgin Avenue in 1975, outtakes from Sid & Nancyfeaturing Mick Jones and unreleased songs Rose Of Erin, The Cool Impossible and London Is Burning, one of the last songs Joe recorded.

After Joe died in December 2002 his archive of writings and tapes was found stored in barns in his back garden. The archiving of this material and compiling of Joe Strummer 001 was overseen by Joe's widow Lucinda Tait and compilation producer Robert Gordon McHarg III.

In terms of formats, there is a standard 2CD set that feature all 32 tracks (CD 2 is the album of unreleased material), a deluxe 2CD set which comes with a 64-page hardcover A4 book. Robert Gordon McHarg III who designed the set (and The Clash 'Sound System' box) says that "the idea behind the 64-page A4 notebook is that it's done as if Joe had designed it himself, telling his story, an insight into his workings including hand written lyrics with personal notes and scribbles."




There is a 4LP vinyl box of the same 32-track content and a deluxe collector's box set that boasts a 'Wibalin wrap' and includes the following:
2CDs and 4LPs containing rare and unheard audio

64-page hardback book featuring rarely seen and previously unpublished memorabilia from Joe's personal collection as well as historical press reviews and technical notes about the albums

Additional seven-inch single of previously unreleased demos of This Is England (Side A) and Before We Go Forward (Side B)

Cassette of previously unheard and unreleased U.S North (Basement Demo) – with artwork replicated from the original cassette recording from Joes's archive.

Envelope containing a screen print, a high-quality image of Joe, two original art prints, and a sticker sheet.

Replica of Joe's Californian driving license.

Reproduction of a 1989 Earthquake Weather promo badge.

All formats of Joe Strummer 001 will be issued on 24 September 2018.


CD1:
1. Letsagetabitarockin' (2005 Remastered Version) – The 101ers – 00:02:08
2. Keys To Your Heart (Version 2) [2005 Remastered Version] – The 101ers- 00:03:08
3. Love Kills – Joe Strummer – 00:03:59
4. Tennessee Rain – Joe Strummer – 00:02:55
5. Trash City – Joe Strummer & The Latino Rockabilly War – 00:04:11
6. 15th Brigade – Joe Strummer – 00:02:40
7. Ride Your Donkey – Joe Strummer – 00:02:21
8. Burning Lights – Joe Strummer – 00:02:43
9. Afro-Cuban Be-Bop – The Astro-Physicians – 00:02:53
10. Sandpaper Blues – Radar – 00:04:44
11. Generations – Electric Dog House – 00:05:30
12. It's A Rockin' World – Joe Strummer – 00:02:25
13. Yalla Yalla – Joe Strummer & The Mescaleros – 00:06:57
14. X-Ray Style – Joe Strummer & The Mescaleros – 00:04:34
15. Johnny Appleseed – Joe Strummer & The Mescaleros – 00:04:02
16. Minstrel Boy – Joe Strummer & The Mescaleros – 00:05:42
17. Redemption Song – Johnny Cash & Joe Strummer – 00:03:24
18. Over The Border – Jimmy Cliff & Joe Strummer – 00:03:51
19. Coma Girl – Joe Strummer & The Mescaleros – 00:03:48
20. Silver & Gold / Before I Grow Too Old – Joe Strummer & The Mescaleros – 00:02:39
CD2:
1. Letsagetabitarockin' (Strummer Demo) – Joe Strummer – 00:01:49
2. Czechoslovak Song / Where Is England – Strummer, Simonon & Howard – 00:03:49
3. Pouring Rain (1984) – Strummer, Simonon & Howard – 00:03:29
4. Blues On The River – Joe Strummer – 00:04:37
5. Crying On 23rd – The Soothsayers – 00:02:52
6. 2 Bullets – Pearl Harbour – 00:03:11
7. When Pigs Fly – Joe Strummer – 00:04:06
8. Pouring Rain (1993) – Joe Strummer – 00:04:06
9. Rose Of Erin – Joe Strummer – 00:04:12
10. The Cool Impossible – Joe Strummer – 00:04:32
11. London Is Burning – Joe Strummer & The Mescaleros – 00:03:14
12. U.S. North – Joe Strummer & Mick Jones – 00:10:32
VINYL 1:
A1. Letsagetabitarockin' (2005 Remastered Version) – The 101ers – 00:02:08
A2. Keys To Your Heart (Version 2) [2005 Remastered Version] – The 101ers – 00:03:08
A3. Love Kills – Joe Strummer – 00:03:59
A4. Tennessee Rain – Joe Strummer – 00:02:55
A5. Trash City – Joe Strummer & The Latino Rockabilly War – 00:04:11
A6. 15th Brigade – Joe Strummer – 00:02:40
B1. Ride Your Donkey – Joe Strummer – 00:02:21
B2. Burning Lights – Joe Strummer – 00:02:43
B3. Afro-Cuban Be-Bop – The Astro-Physicians – 00:02:53
B4. Sandpaper Blues – Radar – 00:04:44
B5. Generations – Electric Dog House – 00:05:30
VINYL 2:
C1. It's A Rockin' World – Joe Strummer – 00:02:25
C2. Yalla Yalla – Joe Strummer & The Mescaleros – 00:06:57
C3. X-Ray Style – Joe Strummer & The Mescaleros – 00:04:34
C4. Johnny Appleseed – Joe Strummer & The Mescaleros – 00:04:02
D1. Minstrel Boy – Joe Strummer & The Mescaleros – 00:05:42
D2. Redemption Song – Johnny Cash & Joe Strummer – 00:03:24
D3. Over The Border – Jimmy Cliff & Joe Strummer – 00:03:51
D4. Coma Girl – Joe Strummer & The Mescaleros – 00:03:48
D5. Silver & Gold / Before I Grow Too Old – Joe Strummer & The Mescaleros – 00:02:39
VINYL 3:
E1. Letsagetabitarockin' (Strummer Demo) – Joe Strummer – 00:01:49
E2. Czechoslovak Song / Where Is England – Strummer, Simonon & Howard – 00:03:49
E3. Pouring Rain (1984) – Strummer, Simonon & Howard – 00:03:29
E4. Blues On The River – Joe Strummer – 00:04:37
E5. Crying On 23rd – The Soothsayers – 00:02:52
E6. 2 Bullets – Pearl Harbour – 00:03:11
F1. When Pigs Fly – Joe Strummer – 00:04:06
F2. Pouring Rain (1993) – Joe Strummer – 00:04:06
F3. Rose Of Erin – Joe Strummer – 00:04:12
F4. The Cool Impossible – Joe Strummer – 00:04:32
F5. London Is Burning – Joe Strummer & The Mescaleros – 00:03:14
VINYL 4 (12″ Single):
A1. U.S. North – Joe Strummer & Mick Jones – 00:10:32
VINYL 5 (7″ Single):
A1. This Is England – Strummer, Simonon & Howard – 00:03:04
B1. Before We Go Forward – Strummer, Simonon & Howard – 00:02:49