 News
John Lennon / Gimme Some Truth: remixed 'best of' with surround sound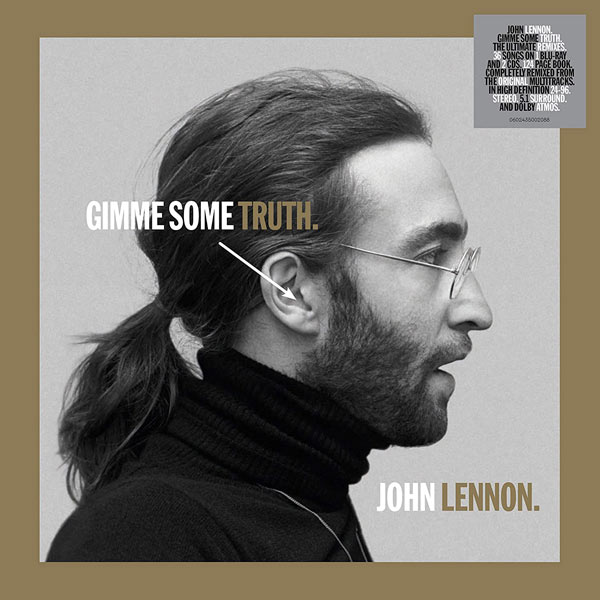 2CD+blu-ray and 4LP formats lead new offering
Universal Music will release a new John Lennon collection in October called Gimme Some Truth which features newly remixed audio, and, in deluxe form, 5.1 surround sound and Dolby Atmos versions of 36 tracks.

There are five physical versions of Gimme Some Truth. They are as follows:
2CD+Blu-ray deluxe featuring 36 tracks, and surround sound blu-ray
4LP vinyl with the 36 tracks
2CD set. 36 tracks but no blu-ray
2LP vinyl. 19 track gatefold package
CD edition. 19 tracks.
The 2CD+blu-ray deluxe comes with a 124-page book, with rare photos and notes from John, Yoko and more; a foldout two-sided poster, two postcards and a Gimme Some Truth bumper sticker. See image below.
Gimme Some Truth 2CD+blu-ray deluxe (click image to enlarge)
The blu-ray features all 36 tracks in hi-res stereo 96/24 PCM, new 5.1 surround mixes and Dolby Atmos. These new mixes echo the approach for the 2018 Imagine reissue (although that didn't include any Atmos mixes). Like Imagine, the songs on Gimme Some Truth have been mixed and engineered by Paul Hicks, with assistance by engineer Sam Gannon. The songs were completely remixed from scratch, using brand new transfers of the original multi-tracks, cleaned up to the highest possible sonic quality. After weeks of painstaking preparation, the final mixes and effects were completed using only vintage analog equipment and effects at Henson Recording Studios in Los Angeles, and then mastered in analog at Abbey Road Studios by Alex Wharton in order to ensure the most beautiful and authentic sound quality possible.
The impressive cover art and design is shades of 'Pure McCartney' and while John's sadly rather brief solo career can't stretch to four CDs, there is a 4LP version, just like Paul's 2016 collection.
Fans had been hoping for/expecting a deluxe of John's 1970 album Plastic Ono Band. Quite why that hasn't been delivered we can only speculate. If it's any consolation, four of the 11 album tracks are included here (curiously, given it was a US single, no 'Mother') as well as non-album 45s 'Cold Turkey' and 'Instant Karma!'.
The 2CD set comes in a gatefold card sleeve, which slots into an outer slipcase. the single CD edition is in a gatefold card sleeve (but no slipcase). The 4LP vinyl set comes in a lift-off lid box and includes an eight-page booklet, a fold-out double-sided poster, two post cards and the Gimme Some Truth bumper sticker.
Gimme Some Truth will be released this year on the now traditional date for Lennon-related releases, 9 October. This date is John and Sean Lennon's birthday.

Gimme Some Truth 2CD set + Blu-ray deluxe
CD 1

1 Instant Karma! (We All Shine On) (Ultimate Mix)
2 Cold Turkey (Ultimate Mix)
3 Working Class Hero (Ultimate Mix)
4 Isolation (Ultimate Mix)
5 Love (Ultimate Mix)
6 God (Ultimate Mix)
7 Power To The People (Ultimate Mix)
8 Imagine (Ultimate Mix)
9 Jealous Guy (Ultimate Mix)
10 Gimme Some Truth (Ultimate Mix)
11 Oh My Love (Ultimate Mix)
12 How Do You Sleep? (Ultimate Mix)
13 Oh Yoko! (Ultimate Mix)
14 Angela (Ultimate Mix)
15 Come Together (live) (Ultimate Mix)
16 Mind Games (Ultimate Mix)
17 Out The Blue (Ultimate Mix)
18 I Know (I Know) (Ultimate Mix)
CD 2

1 Whatever Gets You Thru The Night (Ultimate Mix)
2 Bless You (Ultimate Mix)
3 #9 Dream (Ultimate Mix)
4 Steel And Glass (Ultimate Mix)
5 Stand By Me (Ultimate Mix)
6 Angel Baby (Ultimate Mix)
7 (Just Like) Starting Over (Ultimate Mix)
8 I'm Losing You (Ultimate Mix)
9 Beautiful Boy (Darling Boy) (Ultimate Mix)
10 Watching the Wheels (Ultimate Mix)
11 Woman (Ultimate Mix)
12 Dear Yoko (Ultimate Mix)
13 Every Man Has A Woman Who Loves Him (Ultimate Mix)
14 Nobody Told Me (Ultimate Mix)
15 I'm Stepping Out (Ultimate Mix)
16 Grow Old With Me (Ultimate Mix)
17 Happy Xmas (War Is Over) (Ultimate Mix)
18 Give Peace A Chance (Ultimate Mix)
Blu-ray
All tracks 96/24 hi-res stereo / 5.1 surround / Dolby Atmos
1. Instant Karma!
2. Cold Turkey
3. Working Class Hero
4. Isolation
5. Love
6. God
7. Power To The People
8. Imagine
9. Jealous Guy
10. Gimme Some Truth
11. How Do You Sleep?
12. Oh My Love
13. Oh Yoko!
14. Come Together (Live)
15. Angela
16. Mind Games
17. Out The Blue
18. I Know (I Know)
19. Whatever Gets You Through The Night
20. Bless You
21. #9 Dream
22. Stand By Me
23. Steel and Glass
24. Angel Baby
25. (Just Like) Starting Over
26. I'm Losing You
27. Beautiful Boy (Darling Boy)
28. Watching The Wheels
29. Woman
30. Dear Yoko
31. Every Man Has A Woman Who Loves Him
32. Nobody Told Me
33. I'm Steppin' Out
34. Grow Old With Me
35. Happy Xmas (War Is Over)
36. Give Peace A Chance
Gimme Some Truth 4LP edition
Same track listing as 2CD set


Gimme Some Truth 2LP vinyl
Side A
1 Instant Karma! (We All Shine On) (Ultimate Mix)
2 Cold Turkey (Ultimate Mix)
3 Isolation (Ultimate Mix)
4 Power To The People (Ultimate Mix)
Side B
1 Imagine (Ultimate Mix)
2 Jealous Guy (Ultimate Mix)
3 Gimme Some Truth (Ultimate Mix)
4 Come Together (live) (Ultimate Mix)
5 #9 Dream (Ultimate Mix)
Side C
1 Mind Games (Ultimate Mix)
2 Whatever Gets You Thru The Night (Ultimate Mix)
3 Stand By Me (Ultimate Mix)
4 (Just Like) Starting Over (Ultimate Mix)
5 Beautiful Boy (Darling Boy) (Ultimate Mix)
Side D
1 Watching the Wheels (Ultimate Mix)
2 Woman (Ultimate Mix)
3 Grow Old With Me (Ultimate Mix)
4 Happy Xmas (War Is Over) (Ultimate Mix)
5 Give Peace A Chance (Ultimate Mix)
Gimme Some Truth single CD
1. Instant Karma! (We All Shine On)
2. Cold Turkey
3. Isolation
4. Power To The People
5. Imagine
6. Jealous Guy
7. Gimme Some Truth
8. Come Together (Live)
9. #9 Dream
10. Mind Games
11. Whatever Gets You Through The Night
12. Stand By Me
13. (Just Like) Starting Over
14. Beautiful Boy (Darling Boy)
15. Watching The Wheels
16. Woman
17. Grow Old With Me
18. Happy Xmas (War Is Over)
19. Give Peace A Chance