 News
Johnny Hates Jazz / Turn Back The Clock / 3CD and 2LP vinyl reissue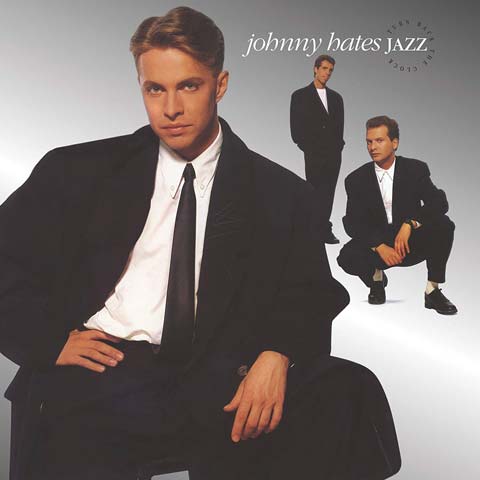 Late '80s British pop group Johnny Hates Jazz are reissuing a 30th anniversary deluxe edition of their debut Turn Back The Clock.

The album was the only one to feature all three original members – Clark Datchler, Mike Nocito and Calvin Hayes – and delivered four top 20 UK singles, including Shattered Dreams, I Don't Want To Be A Hero and Heart of Gold.
For this reissue, the album has been remastered and a 3CD digi-pak deluxe set offers a CD of new acoustic recordings of the entire album and a third disc the gathers up extended remixes, B-sides and some unreleased demos.
A 2LP deluxe version includes the acoustic versions, but omits the remixes and demos.
These 30th anniversary editions of Turn Back The Clock will be released on 30th September 2018. Read this 2013 SDE interview with Clark and Mike from the band
Compare prices and pre-order
Johnny Hates Jazz
Turn Back The Clock - 3CD deluxe edition
Compare prices and pre-order
Johnny Hates Jazz
Turn Back The Clock - 2LP vinyl edition
Turn Back The Clock 3CD edition
CD 1
1. Shattered Dreams
2. Heart of Gold
3. Turn Back the Clock
4. Don't Say It's Love
5. What Other Reason
6. I Don't Want to Be a Hero
7. Listen
8. Different Seasons
9. Don't Let It End This Way
10. Me and My Foolish Heart
CD 2
1. Shattered Dreams (acoustic)
2. Heart of Gold (acoustic)
3. Turn Back the Clock (acoustic)
4. Don't Say It's Love (acoustic)
5. What Other Reason (acoustic)
6. I Don't Want to Be a Hero (acoustic)
7. Listen (acoustic)
8. Different Seasons (acoustic)
9. Don't Let It End This Way (acoustic)
10. Me and My Foolish Heart (acoustic)
CD 3
1. Shattered Dreams (12″ Extended Mix)
2. I Don't Want to Be a Hero (12″ Extended Mix)
3. Turn Back the Clock (12″ Extended Mix)
4. Heart of Gold (12″ Extended Mix)
5. Don't Say It's Love (12″ Extended Mix)
6. Me and My Foolish Heart (12″ Extended Mix)
7. Secret Garden
8. The Cage
9. Cracking Up
10. Living in the Past
11. Leave It Up To Me
12. Shattered Dreams (original demo)
13. Turn Back the Clock (original demo)
14. Different Season (original demo)
15. I Don't Want to Be a Hero (original demo)
Turn Back The Clock 2LP vinyl edition
LP 1
1. Shattered Dreams (acoustic)
2. Heart of Gold
3. Turn Back the Clock
4. Don't Say It's Love
5. What Other Reason
6. I Don't Want to Be a Hero
7. Listen
8. Different Seasons
9. Don't Let It End This Way
10. Me and My Foolish Heart
LP 2
1. Shattered Dreams (acoustic)
2. Heart of Gold (acoustic)
3. Turn Back the Clock (acoustic)
4. Don't Say It's Love (acoustic)
5. What Other Reason (acoustic)
6. I Don't Want to Be a Hero (acoustic)
7. Listen (acoustic)
8. Different Seasons (acoustic)
9. Don't Let It End This Way (acoustic)
10. Me and My Foolish Heart (acoustic)