 News
Julia Fordham / Lock & Key 6CD box
500-only • Signed • 6CD set includes new album & exclusive audio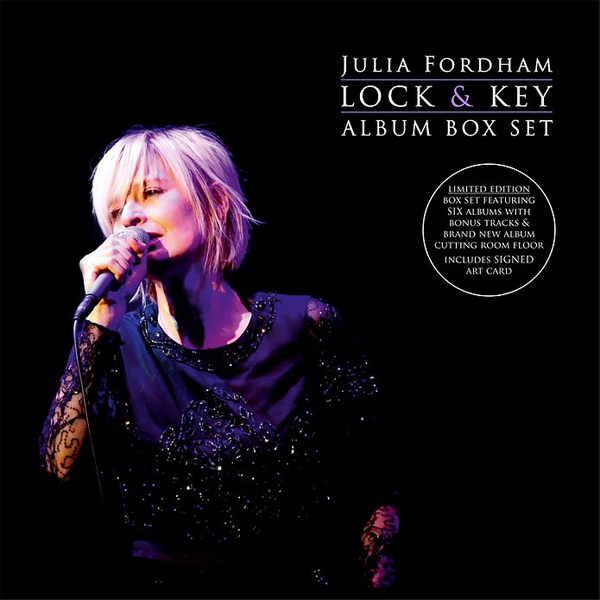 Julia Fordham will, later this month, issue Lock & Key, a special six-CD box set that collects some of her more recent studio albums (with extra tracks) and offers her new record Cutting Room Floor.

This collection features China Blue (2008), Unusual Suspects (with Paul Reiser – 2010), Under The Rainbow (2013), the first UK release of 2014's The Language of Love, last year's Magic and Julia's brand new album Cutting Room Floor. All of the albums offer exclusive bonus tracks, which 14 in total across the six CDs.
The clamshell box features a 20-page booklet with unseen photos and notes by Julia and also includes a SIGNED art card.
Lock & Key is limited to just 500 copies worldwide and will be released on 18 December 2020. Secure your copy by ordering via the SDE shop using this link or the button below (it's not going to be available via mainstream retail channels like Amazon, HMV etc.)
Lock & Key 6CD box set
*denotes exclusive bonus tracks
CD 1 – China Blue
1. China Blue
2. The World Keeps Spinning
3. I Keep Forgettin' (feat. Michael McDonald)
4. I Want To Stay Home With You
5. Funny Guy
6. Holiday
7. My Only Valentine
8. I Will Bring You Love
9. Almost Happy
10. For You Only For You
11. Someone To Watch Over Me*
12. China Blue (Live)*
13. I Keep Forgettin' (Live)*
14. My Funny Valentine (Live)*
CD 2 – Unusual Suspects
1. You Keep Me On My Feet
2. Fine
3. Shadow
4. UnSung Hero
5. Good Ship
6. Stolen Kiss
7. Walking Shoes
8. Say Hey Kid
9. Trusted
10. Minefield
11. Car (Demo Version)*
CD 3- Under The Rainbow
1. Skipping Under The Rainbow
2. Porcelain
3. Happy Ever Afer
4. Where Does The Time Go?
5. Lock and Key
6. More Than I Can Bear
7. Manhattan Skyline
8. Girlfriend
9. Towerblock
10. I Thought It Was You
11. Concrete Love
12. Behind Closed Doors
13. Invisible War
14. Something Right*
15. (Love Moves In) Mysterious Ways*
16. Lovin' You*
CD 4 – The Language of Love

1. Call Me
2. Who's That Girl
3. Happy Ever After
4. I'm Not in Love
5. Alone Again (Naturally)
6. Fragile
7. Like You Used To Do
8. Eleanor Rigby
9. The Morning After (The Night with You)
10. At Seventeen
11. Sir Duke
12. Moon River
13. You Make Me Feel Like Dancing*
14. Moon River (Strings Version)*
CD 5 – Magic
1. Magic
2. Little Bird
3. Marley
4. Angel Without Wings
5. You're The Best Thing
6. How I Love You Baby
7. I Want To Stay Home With You
8. Spoon
9. I've Got Your Back
10. Kid
11. The Ugly Duckling*
CD 6 – Cutting Room Floor

1. Cutting Room Floor (Duet with Simon Petty)
2. Sunday
3. Happier Ending
4. Sequined Fishtail Gown
5. Red Rectangle
6. Invisible War (Keep Hope Alive Version)
7. Gold Fades Into Blue
8. Humble Journey
9. Flowers
10. Dream Big
11. Tinseltown
12. That Scares Me (Duet with Judith Owen)
13. Few Too Many (Live)*
14. East West (Live)*
15. Your Lovely Face (Live)*