 News
Julian Cope / Autogeddon reissue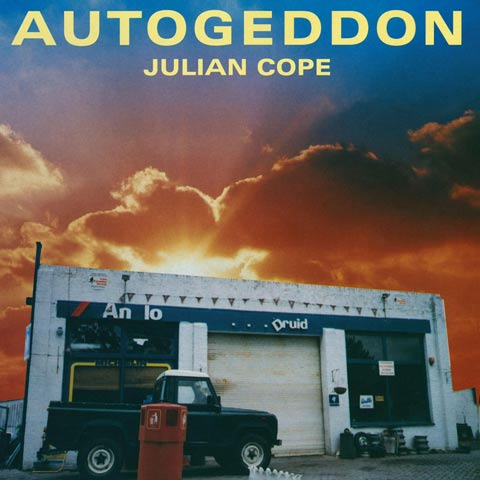 Remastered • LP+12-inch+7-inch box • 2CD bookset • Exclusive blue vinyl
Julian Cope's 1994 album Autogeddon will be reissued in June for its 25th anniversary. It will be available again as a 2CD bookset or triple vinyl package.

This reissue of Cope's 11th solo album comes with bonus material and a newly written book which offers some context around the album and recordings.
The vinyl package offers a remastered Autogeddon album in a gatefold sleeve, remastered Paranormal In The West Country as a 12-inch EP and Conspiracy Blues/Highway Blues seven-inch single. The latter is available on blue vinyl exclusively via the official store (if you order by 1 April).
This package includes a 24-page book with photos and notes from longterm Cope publicist Mick Houghton, as well as three postcards. Everything is gathered in a clothbound box with sliver-blocked lettering.
The same content is covered in a two-CD set with the remastered album on CD 1 and the remastered EPs on the second disc. The notes and photos are form part of the 32-page 'casebound book' design.
Autogeddon is released on 28 June 2019. The blue vinyl is exclusive to the official store. If you buy from Amazon etc. it's black vinyl. Having said that, check out the Amazon UK price for the vinyl box!
Compare prices and pre-order
JULIAN COPE
Autogeddon - 25th Anniversary
Compare prices and pre-order
JULIAN COPE
AUTOGEDDON (25TH ANNIVERSARY BOXES) [VINYL]
CD 1 
1. Autogeddon Blues
2. Madmax
3. Don't Call Me Mark Chapman
4. I Gotta Walk
5. Ain't No Gettin' Round Gettin' Round
6. Paranormal In The West Country (Medley)
iv) Paranormal Pt. 1
v) Archdrude's Roadtrip
vi) Kar-Ma-Kanik
7. Ain't But The One Way
8. s.t.a.r.c.a.r
CD 2
Paranormal In The West Country EP:
1. With The Leone Quartet
2. Avebury
3. Krankenhausmusik
4. Original
'Blues':
5. Conspiracist Blues
6. Highway Blues
Autogeddon LP+12-inch+seven-inch vinyl box
Autogeddon LP
Side A:
1. Autogeddon Blues
2. Madmax
3. Don't Call Me Mark Chapman
4. I Gotta Walk
5. Ain't No Gettin' Round Gettin' Round
Side B:
1. Paranormal In The West Country (Medley)
i) Paranormal Pt. 1
ii) Archdrude's Roadtrip
iii) Kar-Ma-Kanik
2. Ain't But The One Way
3. s.t.a.r.c.a.r
Paranormal In The West Country 12"
Side A:
1. With The Leone Quartet
2. Avebury
Side B:
1. Krankenhausmusik
2. Original
'Blues' 7"
A. Conspiracist Blues
B. Highway Blues