 News
Kankyō Ongaku / Japanese Ambient, Environmental & New Age Music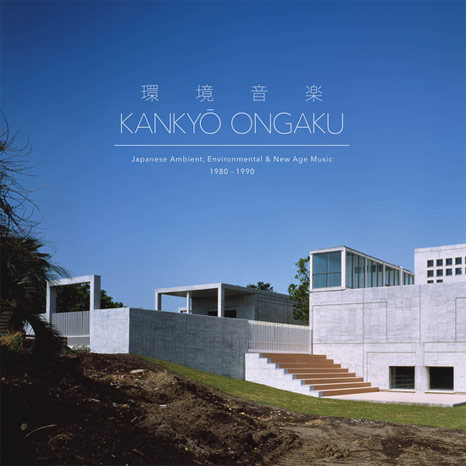 And now for something completely different…
Light In The Attic have created a Japan Archival Series and this continues early next year with Kankyō Ongaku: Japanese Ambient, Environmental & New Age Music 1980-1990, an expansive overview of the country's vital minimal, ambient, avant-garde, and New Age music – what can collectively be described as 'kankyō ongaku', or environmental music. This is the first ever fully licensed collection of this music outside of Japan and it features internationally acclaimed artists such as Haruomi Hosono, Ryuichi Sakamoto and Joe Hisaishi, as well as other pioneers like Hiroshi Yoshimura, Yoshio Ojima and Satoshi Ashikawa. This set is available as a 3LP vinyl box set or a deluxe 2CD book package.

In the 1970s, the concepts of Brian Eno's "ambient" and Erik Satie's "furniture music" began to take hold in the minds of artists and musicians around Tokyo. Emerging fields like soundscape design and architectural acoustics opened up new ways in which sound and music could be consumed. For artists like Yoshimura, Ojima and Ashikawa, these ideas became the foundation for their musical works, which were heard not only on records and in live performances, but also within public and private spaces where they intermingled with the sounds and environments of everyday life.
The bubble economy of 1980s Japan also had a hand in the advancement of kankyō ongaku. In an attempt to cultivate an image of sophisticated lifestyle, corporations with expendable income bankrolled various art and music initiatives, which opened up new and unorthodox ways in which artists could integrate their avant-garde musical forms into everyday life: in-store music for Muji, promo LP for a Sanyo AC unit, a Seiko watch advert, among others that can be heard in this collection.
Kankyō Ongaku is compiled by Spencer Doran who has been instrumental in shepherding interest in this music outside of Japan. He contributes an essay alongside the extensive sleeve notes and artists bios included with these packages.
The 3LP vinyl set features deluxe Stoughton 'tip on' jackets, a poster and slipcase. The 2CD edition comes in a custom seven-inch hardcover book. Both are available via the SDE shop using this link (or the buttons below) and will be released on 15 February 2019.

2CD edition comes in custom seven-inch hardcover book
Still Space – Satoshi Ashikawa
Glass Chattering – Yoshio Ojima
Nemureru Yoru (Karaoke Version) – Hideki Matsutake
Islander – Joe Hisaishi
Ear Dreamin' – Yoshiaki Ochi
Variation III – Masashi Kitamura + Phonogenix
Park – Interior
Nube – Yoichiro Yoshikawa
Meet Me In The Sheep Meadow – Yoshio Suzuki
Ishiura (abridged) – Toshi Tsuchitori
Tomoshibi (abridged) – Shiho Yabuki
Chaconne – Toshifumi Hinata
Seiko 3 – Yasuaki Shimizu
Apple Star – Inoyama Land
Blink – Hiroshi Yoshimura
See The Light (abridged) – Fumio Miyashita
Praying For Mother / Earth Part 1 – Akira Ito
Breathing New Life – Jun Fukamachi
Snow – Takashi Toyoda
Loom – Yellow Magic Orchestra
A Dream Sails Out To Sea – Scene 3 – Takashi Kokubo
Umi No Sunatsubu – Masahiro Sugaya
Original BGM – Haruomi Hosono
Nagareru – Ayuo Takahashi (LP Only)
Dolphins – Ryuichi Sakamoto (LP Only)