 News
King Crimson / Heaven & Earth box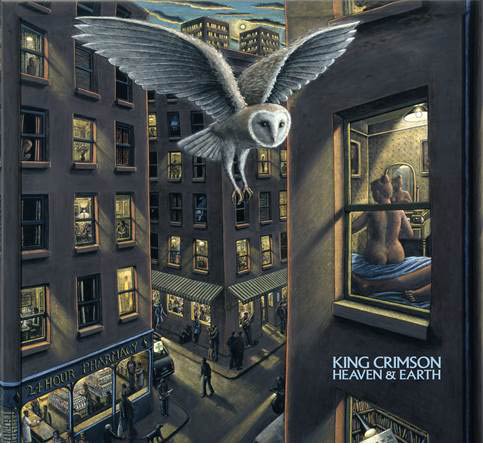 24-disc box set featuring CDs, blu-ray and DVD-As • Combo CD+DVD-A sets of two studio albums also available
King Crimson will release another one of their mega box sets in May. Heaven & Earth is the seventh in their ongoing series and focuses on the period from December 1997 to August 2008.

This box set features 18 CDs, 3 x blu-ray audio, one blu-ray video and two DVD-Audio discs. The first three CDs are devoted to enhanced version of the studio albums The ConstruKction Of Light (2000) and The Power to Believe (2003). The former has been remixed (by Don Gunn) and features all new drums by Pat Mastelotto and has a new moniker The ReconstruKction Of Light. The Power to Believe is featured as an extended/enhanced stereo mix and includes the studio version of Happy With What You Have To Be Happy With and Level 5.
The next four CDs feature the instrumental/improvised ProjeKcts, er, projects, described as "research and development" by Robert Fripp. These are all new to CD and each 'ProjeKct' each CD features a different line-up.
A further 11 CDs feature live recordings (several new to CD, with some material previously unreleased) from the 2000, 2001, 2003 and 2008 tours.
Of the three blu-ray audios:
Disc One contains the complete recordings of ProjeKcts 1, 3, 4 & 6 – every single concert plus additional material the ProjeKcts released, it features the complete albums: ProjeKct 1- Space Groove, The ProjeKcts – 4CD box, ProjeKct 1 – Jazz Café Suite, ProjeKct X – Heaven & Earth, BPM&M – ExtraKcts & ArtifaKcts and Rieflin/Fripp/Gunn – Repercussions of Angelic Behaviour
Disc Two contains the complete recordings of ProjeKct 2 (every single concert). More than 30 shows plus an album's worth of rehearsals.
Disc Three contains The ReconstruKction Of Light – the album in stereo and 5.1 mixes with the drums completely re-recorded by Pat Mastelotto – stereo mixes by Don Gunn, 5.1 mixes by David Singleton and the original album in hi-res stereo, The Power to Believe – expanded/enhanced 2019 master (2 tracks with additional elements plus 3 extra tracks assembled/mixed by David Singleton) and 5.1 surround mixes by David Singleton – all mixes executive produced by Robert Fripp – plus the Happy With What You Have To Be Happy With and Level 5 mini-albums, the 2000 show from London, the EleKtriK live album from 2003 and a video of a tour of the KC studio/live equipment setup from 2002.
There is also blu-Ray video disc of Europe 2000 – The Bootleg TV tour, which features around 10 hours of audio/video mostly never seen/heard since the concerts with versions of selected songs and improvs (usually two per night of each) from almost every show. Includes footage and music from 20 performances.
Finally, two DVD-As (compatible with all dvd players) feature The ReconstruKction of Light (new stereo/5.1/original stereo mixes plus ProjeKct X – Heaven & Earth) and The Power to Believe (2019 stereo/5.1/original master mixes plus Happy With What You Have To Be Happy With mini-album).
A detailed track listing will be available soon, but you get the general idea! As with the previous sets this box comes presented in a 12-inch box with booklet, memorabilia and new sleeve-notes by Sid Smith and David Singleton.
Heaven & Earth will be released on 31 May 2019 via Panegyric Recordings. If the big box is just too much you can opt for CD+DVD-A combos of The ReconstruKction Of Light and The Power to Believe. All three products can be ordered from the SDE shop (worldwide shipping) using this link or the buttons below (scroll down for price comparison widgets).
Compare prices and pre-order
King Crimson
Heaven and Earth - 24 disc box
Compare prices and pre-order
King Crimson
The Reconstrukction Of Light (40th Anniversary Edition) (CD+DVD)
Compare prices and pre-order
King Crimson
The Power to Believe - CD+DVD-A