 News
Knowing Me Knowing You with Alan Partridge / Radio Series vinyl box set
Complete 1992 radio series as a 3LP coloured vinyl box set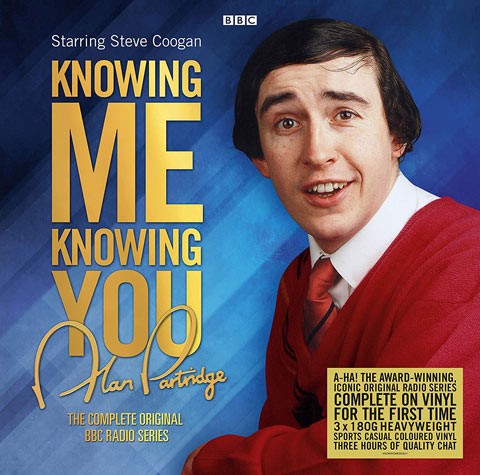 A-ha! (No, not that one). It's the time of year when we sing about putting 'A Partridge in a pear tree' so why not put A Partridge on your pre-order list with this new Knowing Me Knowing You 3LP vinyl record set, which features broadcaster Alan Partridge hosting his very first radio chat show.

Broadcast back in 1992, the BBC radio series saw the profile of the On The Hour sports reporter hit the chatosphere as he spoke to some distinguished guests, including France's second best racing driving Michel Lambert ("you're nearly at the top of your profession…"), showbiz cockney Shirley Dee, who is devoted to her boxing-club running uncle ("you say 'nice' but your uncle Dennis did commit murder") and child prodigy Simon Fisher ("I'm sure Frankenstein's parents found it within their hearts, to love him").

Alan chats to Shirley Dee

Alan would later make the transition to television with the same show, but ruined his chances of a second series largely down to a shambolic 1995 Christmas special (Knowing Me, Knowing Yule with Alan Partridge). After some years in the wilderness (when he lived in Linton Travel Tavern and then a static caravan) he bounced back as the host of North Norfolk Digital's Mid Morning Matters and an unlikely return to the BBC is coming in 2019, with This Time with Alan Partridge.

On that bombshell… it just remains for me to tell you that this new vinyl box set of the original 1992 radio series includes all six half-hour episodes and is pressed on 'sports casual' coloured 180g vinyl. It is released on 25 January 2019 via Demon Records.


Compare prices and pre-order
Alan Partridge
Knowing Me Knowing You - The Complete Radio Series [VINYL]
Knowing Me Knowing You – The Complete Radio Series
3LP coloured vinyl
LP1
Side 1
1st December 1992: Alan Partridge interviews Lawrence Camley, Ally Tennant, 'Linda', 'Peter', Adam Wells
Side 2
8th December 1992: Alan Partridge interviews Simon & John Fisher, Janey Katz, Nick Ford
LP 2
Side 1
15th December 1992: Alan Partridge interviews Michel Lambert, Shirley Dee, Chris Lester, Phil Collins
Side 2
2nd December 1992: Alan Partridge interviews the Duchess of Stranraer, Steve Thompson, Sandra Peaks MP, Craig & Matt Bradley
LP 3
Side 1
29th December 1992: Alan Partridge and Kendall Ball interview Sally Hoff, Conrad Knight, Bernie Rosen, Jack 'the Black Cat' Calson
Side 2
5th January 1993: Alan Partridge interviews Tony Hayers, Trudy Sky, Yvonne Boyd, Lord Morgan of Glossop