 News
Landscape A Go-Go: The Story of Landscape 1977-1983
5CD box set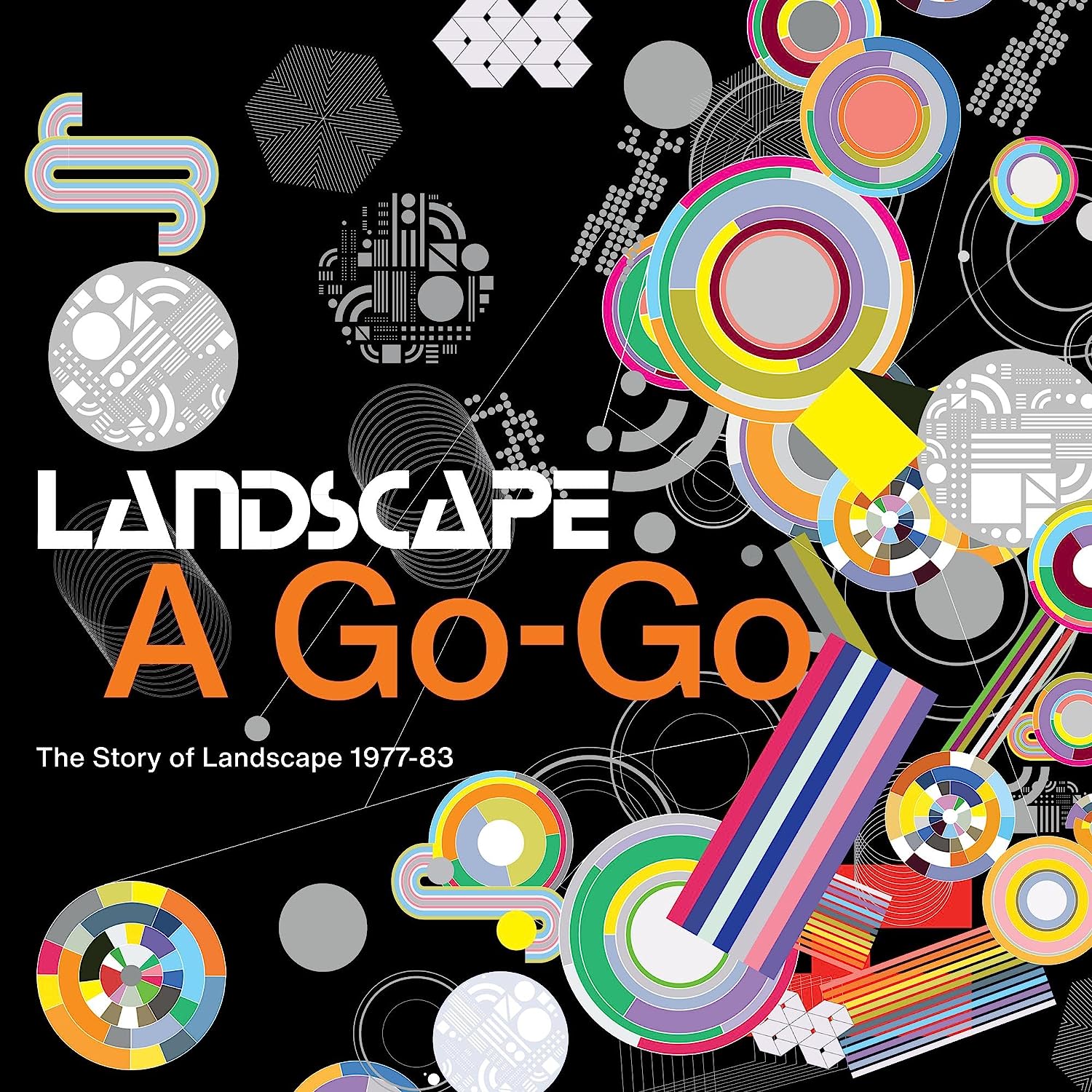 A new 5CD box set featuring the music of synth-pop pioneers Landscape will be reissued at the end of this month.
Landscape A Go-Go: The Story of Landscape includes expanded and remastered versions of the group's first three albums plus two additional CDs featuring EPs, remixes, B-sides, instrumentals and live tracks.
The band formed in London in the mid-1970s but didn't release their first self-titled album (on RCA) until 1979. Before that they had a very DIY ethos and they promoted their own gigs, set up their own label (Event Horizon) on which they released early EPs.
The three albums were Landscape (1979), From the Tea-Rooms of Mars … to the Hell-Holes of Uranus (1981) and Manhattan Boogie-Woogie from 1982. The second album features the hits Einstein A Go-Go and Norman Bates.
You can watch a special SDEtv video preview of the box set above. Landscape A Go-Go: The Story of Landscape will be released on 21 July 2023 via Cooking Vinyl.
Compare prices and pre-order
Landscape
Landscape A Go-Go - 5CD box set
Tracklisting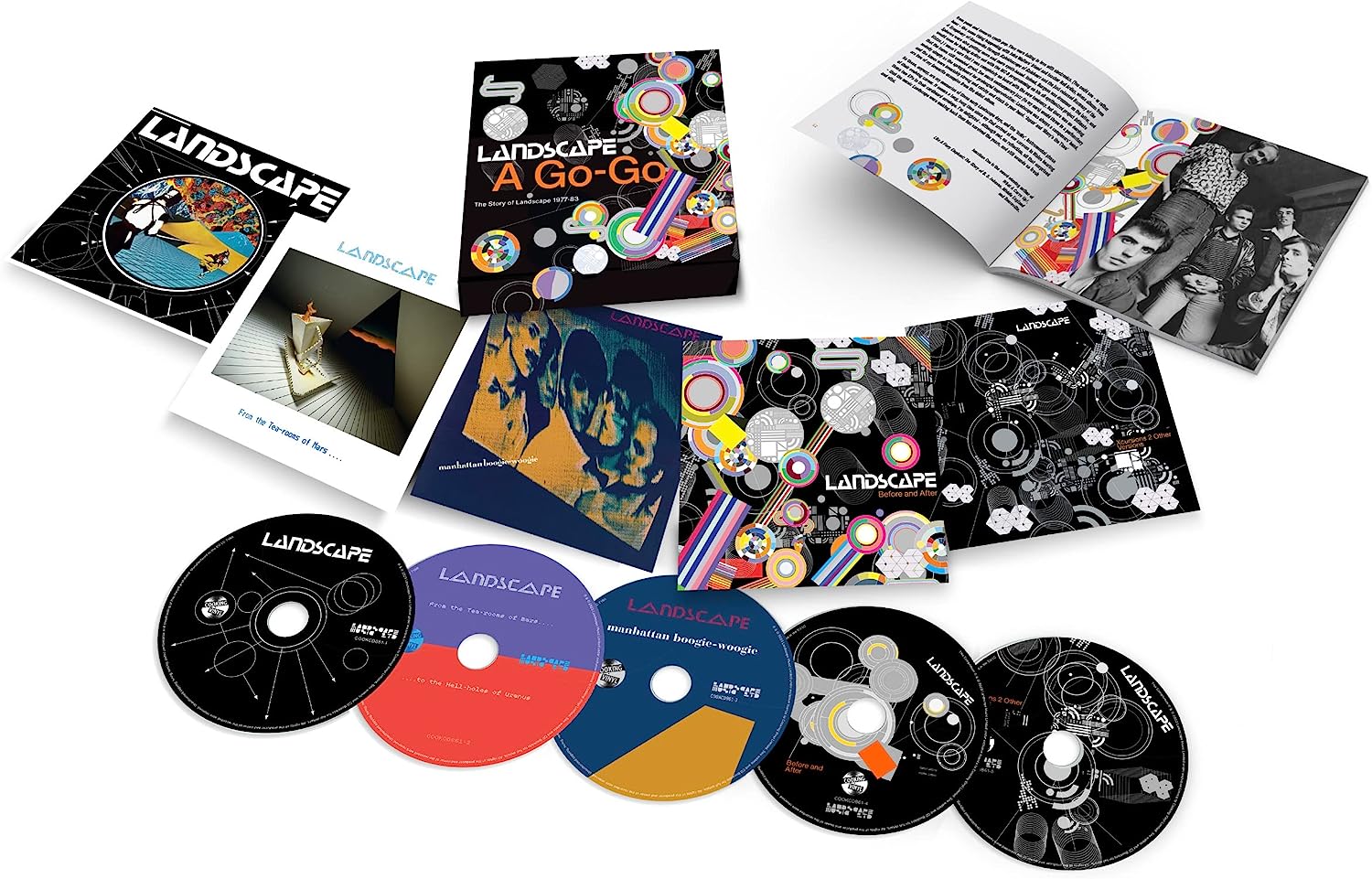 Landscape A Go-Go Landscape
/
5CD box set
CD 1

'Landscape' (1979)

'Japan'
'Lost In the Small Ads'
'The Mechanical Bride'
'Neddy Sindrum'
'Kaptin Whorlix'
'Sonja Henie'
'Many's the Time'
'Highly Suspicious'
'Gotham City'
'Wandsworth Plain'

'Live In Norwich' (1979)                              

'Caterpillar Tracks' **
'The High Window' **
'Kaptin Whorlix' **
'The Mechanical Bride' **
'Highly Suspicious' **

'Live In London' (1977)

'Stranger' **

** First release on any format

CD 2

'From the Tea-Rooms of Mars … to the Hell-Holes of Uranus' (1981)

'European Man'
'Shake the West Awake'
'Computer Person'
'Alpine Tragedy' ¶
'Sisters' ¶
'Face of the 80s'
'New Religion'
'Einstein a Go-Go'
'Norman Bates'
'The Doll's House'
'From the Tea-Rooms of Mars … a) Beguine' ¶
'From the Tea-Rooms of Mars … b) Mambo' ¶
'From the Tea-Rooms of Mars … c) Tango' ¶

Bonus Tracks

'When the Chips Are Down' **
'European Man' [7-inch] ±
'Norman Bates' [7-inch with narration] ±
'Electro New Religion' **
'European Man' [12-inch] ±
'Einstein a Go-Go' [12-inch] ±
'Norman Bates' [12-inch without narration] ±

** First release on any format

± First CD release

¶ Medley. First CD release as separate tracks

CD 3

'Manhattan Boogie-Woogie' (1982)

'One Rule For the Rich'
'Manhattan Boogie-Woogie'
'Colour Code'
'The Long Way Home'
'It's Not My Real Name'
'Bad Times'
'When You Leave Your Lover'

Bonus Tracks

'It's Not My Real Name' [12-inch] ±
'Back On Your Heads' [7-inch B-side] ±
'(A Case of) Mistaken Identity' [7-inch B-side] ±
'Manhattan Boogie-Woogie' [instrumental mix] **
'The Long Way Home' [instrumental mix] **
'Bad Times ['Good Times' instrumental mix] **
'One Rule For the Rich' [instrumental mix] **

** First release on any format

± First CD release

CD 4

'Before and After'

U2XME1X2MUCH EP (1977)

'U2XME1X2MUCH' ±
'Don't Gimme No Rebop' ¶ ±
'Sixteen' ¶ ±

'Workers Playtime' EP (1978)

'Workers' Playtime' ±
'Nearly Normal' ±
'Too Many Questions (Don't Ask Me Why)' ±

'Live In London Unreleased' (1977-78)

'The Camera Never Lies' **
'Bagel Street Blues' **
'Sleazy Feet' **
'Eugenie' **
'Watt is Knott' **
'Goldilox and the Jelly Bean Shuffle' **
'Tribute' **

'Landscape III' (1983)

So Good, So Pure, So Kind' [7-inch] ±
'The Fabulous Neutrinos' [7-inch] ±
'You Know How To Hurt Me' [7-inch] ±
'Feel So Right' [7-inch] ±
'(I'd Love to) Fly Away' [7-inch] **

** First release on any format

± First CD release

¶ Medley

CD 5

'Excursions 2 Other Versions'

'Einstein a Go-Go' ['Einstein on the floor', 2023 remix] **
'One Rule For the Rich' [UK cassette] ±
'Japan' [12-inch] ±
'It's Not My Real Name' [UK 7-inch] ±
'Colour Code' [UK cassette] ±
'When You Leave Your Lover' [UK cassette]         ±
'(A Case of) Mistaken Identity' [12-inch B-side] ±
'Back On Your Heads' [12-inch B-side] ±

'Landscape III'

'(I'd Love to) Fly Away' [12-inch] **
'So Good, So Pure, So Kind' [12-inch]
'You Know How To Hurt Me' [12-inch]
'The Fabulous Neutrinos' [12-inch] ±
'Feel So Right' [12-inch] ±

'Bits and Pieces'

'Norman Bates' [short version without narration, released as 12-inch] ±
'It's Not My Real Name' [UK cassette] ±
'Einstein a Go-Go' 7-inch [UK 'no phones' radio mix] ±

** First release on any format

± First CD release