 News
Last chance to order the Soft Cell blu-ray
Don't miss out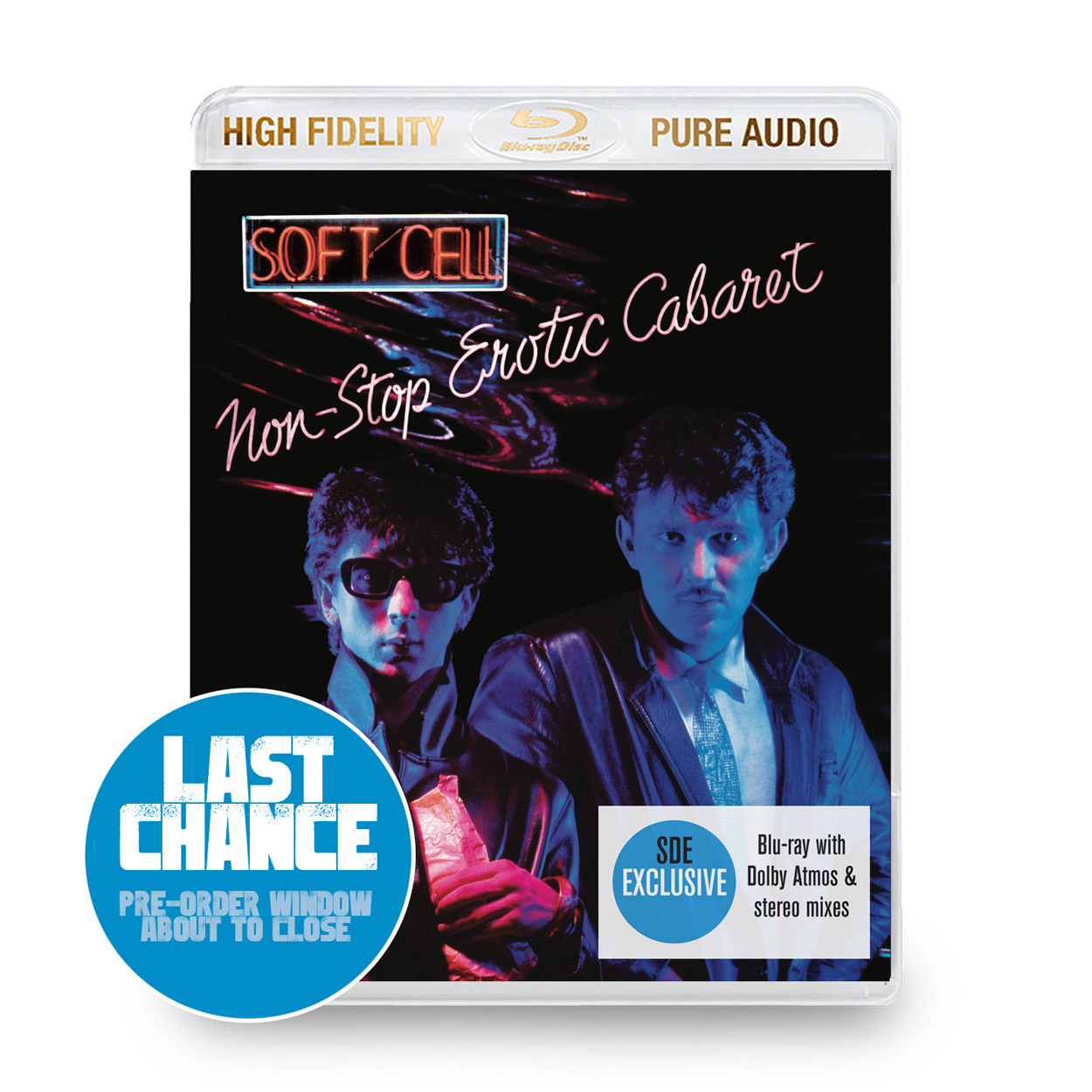 The pre-order window for the Soft Cell Non-Stop Erotic Cabaret SDE-exclusive blu-ray CLOSES TODAY. This is No 15 in the ongoing SDE Surround Series and will be packaged the same as previous editions and ships with a free, collectible SDE Surround Series slipcase with the number 15 on the spine.
This blu-ray audio offers you a Non-Stop Immersive Cabaret, featuring a brand new 2023 Dolby Atmos Mix of Non-Stop Erotic Cabaret created at Abbey Road Studios under the supervision of the band. Additionally, three non-album singles 'Memorabilia', 'Torch' and 'What!' are also included in Dolby Atmos, meaning this blu-ray includes all five of Soft Cell's UK top 10 hits, in Atmos!
Furthermore, instrumentals of the album and the three bonus tracks are also included in Dolby Atmos and the same 13 tracks also feature in the original 1981 stereo mix, remastered. If that's not enough, four original Tim Pope promo videos for 'Bedsitter', 'Say Hello Wave Goodbye', 'Torch' and 'What!', available physically in HD for the very first time.
Non-Stop Erotic Cabaret blu-ray is released on 1 December 2023, alongside the other reissue formats, including the 6CD box set. Secure your copy by ordering via the SDE shop using this link or the pre-order button, below.
Don't miss out! This is your last chance to guarantee you get a copy. There may be some cancellation/contingency stock around the time of release, but this is not definite.
Tracklisting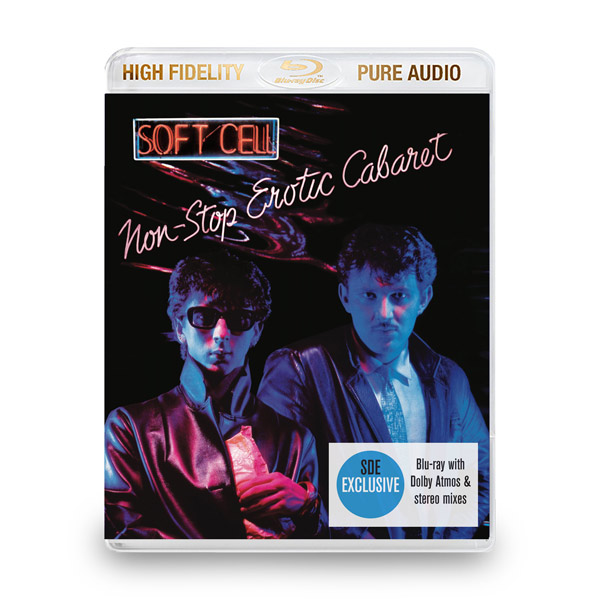 Non-Stop Erotic Cabaret Soft Cell
/
SDE-exclusive blu-ray
Non-Stop Erotic Cabaret + Bonus singles. 2023 Dolby Atmos Mix, 2023 Dolby Atmos Instrumentals, Original 1981 Stereo Mix

Frustration
Tainted Love
Seedy Films
Youth
Sex Dwarf
Entertain Me
Chips on my Shoulder
Bedsitter
Secret Life
Say Hello, Wave Goodbye

Bonus tracks

Memorabilia
Torch
What!

HD Promo Videos

Bedsitter
Say Hello, Wave Goodbye
Torch
What!
The SDE Surround Series so far is:
#1 Tears For Fears: The Tipping Point
#2 xPropaganda: The Heart Is Strange
#3 Gilbert O'Sullivan: Driven
#4 Shakespears Sister: Hormonally Yours
#5 Brian Eno: FOREVERANDEVERNOMORE
#6 Orbital: Optical Delusion
#6.5 Various Arists: Concert For George
#7 Ten Years After: A Space In Time
#8 Bob Dylan: Time Out Of Mind (2022 Remix)
#9 Tears For Fears: The Hurting
#10 Mike Oldfield: Tubular Bells
#11 Suede
#12 ABC: The Lexicon of Love
#13 Duran Duran: Danse Macabre
#14 Trevor Horn: Echoes – Ancient & Modern