 News
Last chance to order the Suede blu-ray
Pre-order window about to close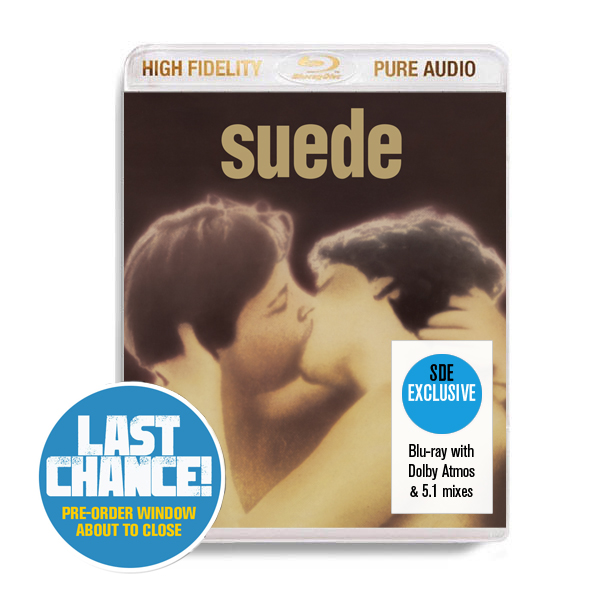 "The 5.1 and Atmos Mixes sound amazing" – Mat Osman •  Quick pre-order link
Thank you for all your enthusiasm for the Suede blu-ray audio, which is No 11 in the SDE Surround Series. The pre-order window closes tomorrow although we'll extend it by a day so you have one last weekend to secure your copy!
The Blu-ray Audio is a global exclusive for SDE and not available via any other retailer. It features two new immersive spatial audio mixes of Suede (Dolby Atmos and 5.1) as well as a new stereo mix and the original 1993 mix in hi-res audio. Details:
2023 Steven Wilson Dolby Atmos Mix
2023 Steven Wilson 5.1 Surround Mix (96/24)
2023 Steven Wilson Stereo Mix (96/24)
1993 Definitive Original Stereo Mix (96/24)
Additionally the disc also includes the following remastered/restored HD videos, the first time these are available commercially:
The Drowners
Metal Mickey
Animal Nitrate
So Young
The Drowners (US Version)
Suede's bass player Mat Osman went to Steven Wilson's home studio to hear the spatial audio mixes earlier this week and he said "they are sounding amazing".
Don't miss out! Place your pre-order by either heading off to the SDE shop using this link, or alternatively use the buy button ('add to cart'). We ship worldwide. Some of the other 30th anniversary formats are also available, although 'The Drowners' 7″ picture disc is now sold out!
The Suede blu-ray audio is a collaboration between Demon Music and SDE and will be released on 7 July 2023. Your blu-ray will ship with a free collectors' edition SDE Surround Series slipcase!
TECHNICAL NOTES: This blu-ray audio requires a blu-ray player. Decoding the Dolby Atmos mix requires a Dolby Atmos-certified soundbar or a Dolby Atmos-compatible AV Receiver/Amp. The Dolby Atmos mix will 'fold down' to 5.1 or stereo if a Dolby Atmos decoder is not detected.
EU SHIPPING NOTES: If you are ordering from the EU please be aware that that goods may be subject to import VAT when they arrive from the UK. The prices the SDE shop charge you do not include VAT
Tracklisting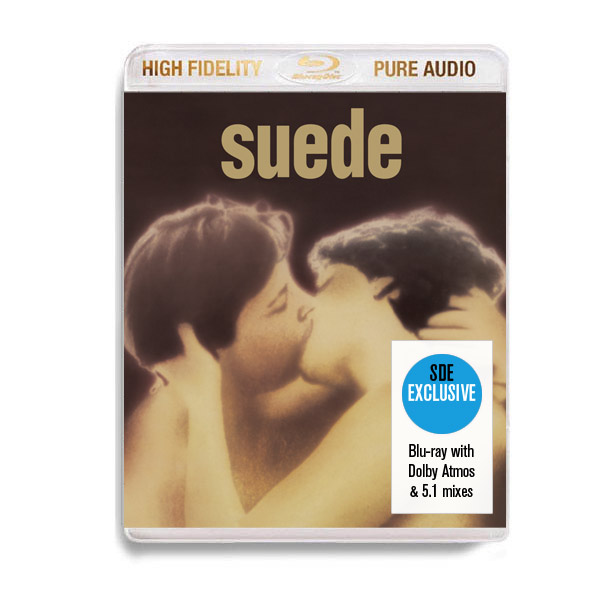 Suede Suede
/
Blu-ray

Audio

Suede – 2023 Steven Wilson Dolby Atmos Mix
Suede – 2023 Steven Wilson 5.1 Surround Mix (96/24)
Suede – 2023 Steven Wilson Stereo Mix (96/24)
Suede – 1993 Definitive Original Stereo Mix (96/24)

Remastered/Restored HD Videos

The Drowners
Metal Mickey
Animal Nitrate
So Young
The Drowners (US Version)

CD 1

So Young
Animal Nitrate
She's Not Dead
Moving
Pantomime Horse
The Drowners
Sleeping Pills
Breakdown
Metal Mickey
Animal Lover
The Next Life

CD 2: The B-Sides

My Insatiable One
To The Birds
He's Dead
Where The Pigs Don't Fly
Painted People
The Big Time
High Rising
Dolly
My Insatiable One [piano version]
Brass In Pocket