 News
Linkin Park / Meteora 20 box set
Massive 12-disc super deluxe edition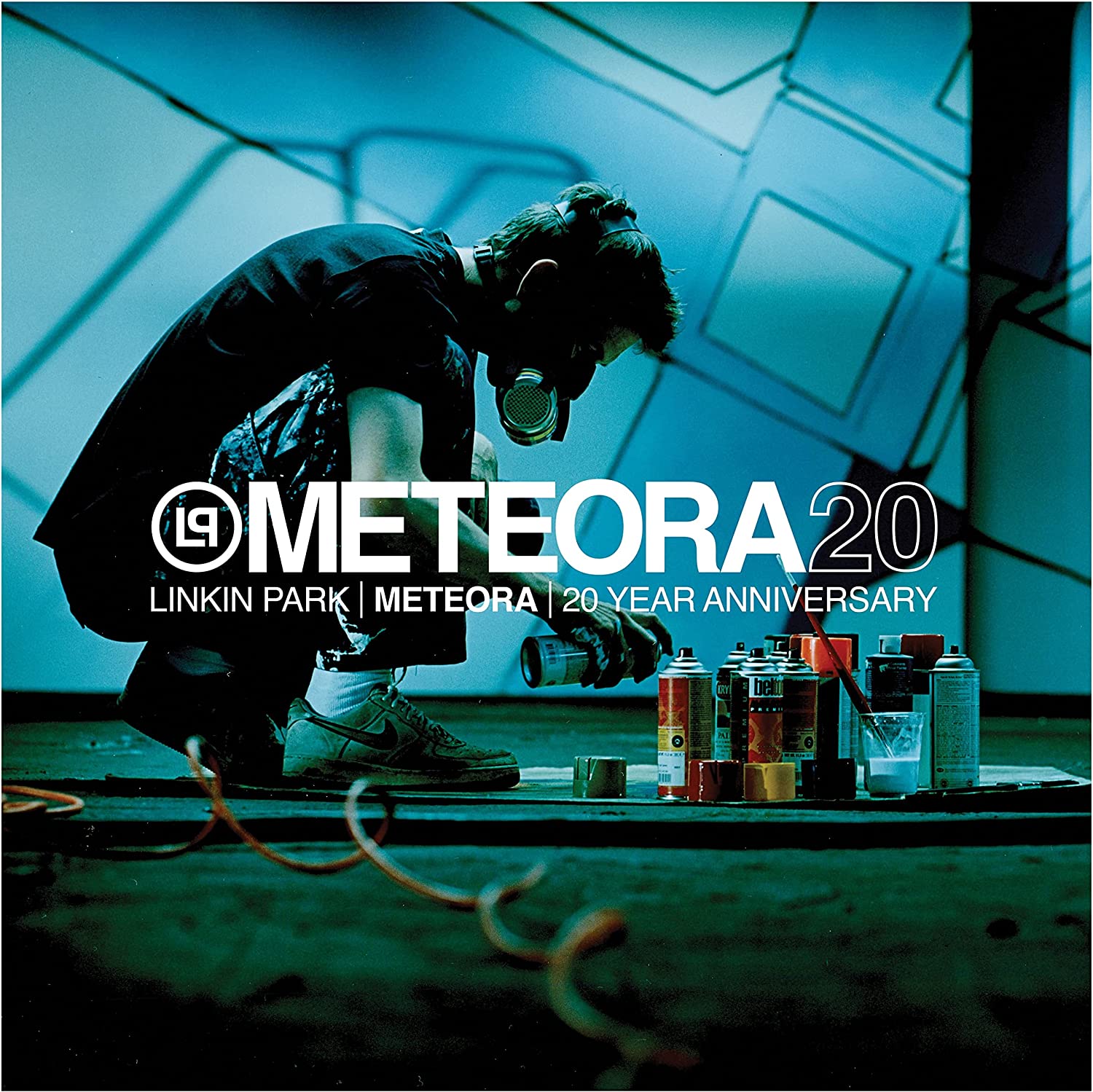 American rock band Linkin Park's second album Meteora will be reissued for its 20th anniversary across a number of physical editions.
Originally issued in 2003, Meteora was released in March 2003 and included the hit singles 'Somewhere I Belong', 'Faint', 'Numb', 'Breaking the Habit' and 'From the Inside'. It has sold over 16 million copies globally since it's release.
The reissue sees the album released in three different editions, the most lavish of which is the 12-disc super deluxe edition. This contains four CDs, five vinyl LPs and three DVDs. Full tracklisting is below, but the content breaks down like this:
5LPs
Meteora
Live in Texas (2 LP) – debut vinyl release
Live in Nottingham 2003 (2 LP) – previously unreleased
4CDs
Meteora
LPU Rarities 2.0
Live Rarites 2003-2004
Lost Demos (previously unreleased)
3DVDs (including 4 previously unreleased concerts)
Veterans Stadium 2003, Live in Seoul 2003
Live in Manila 2004, Live in Denver – Projekt Revolution 2004
The Making of Meteora/The Art of Meteora & the new Work In Progress lifestyle documentary
This super deluxe edition includes a 40-page book, a 36 x 24″ poster, sticker sheet, logo stencil and litho. It also comes with a hi-res digital download card.
There's also a 3CD deluxe edition which includes bonus discs featuring studio and live rarities including 'Lost', a "fully realised" track from the 2002 album recording sessions featuring stunning vocals from Chester Bennington. This is appended to the studio album in the 3CD set but is on the fourth CD ('Lost demos') in the big box set.
The 4LP vinyl set is a vinyl version of the 3CD set (minus that 'Lost' demo) and thus offers the 19 studio rarities (LPs 2 & 3) and the live rarities on the fourth record.
Meteora 20 will be released on 7 April 2023 via Warner Music.
Compare prices and pre-order
Linkin Park
Meteora 20 - super deluxe edition
Compare prices and pre-order
Linkin Park
Meteora 20 - 3CD deluxe
Compare prices and pre-order
Linkin Park
Meteora - 4LP vinyl
Tracklisting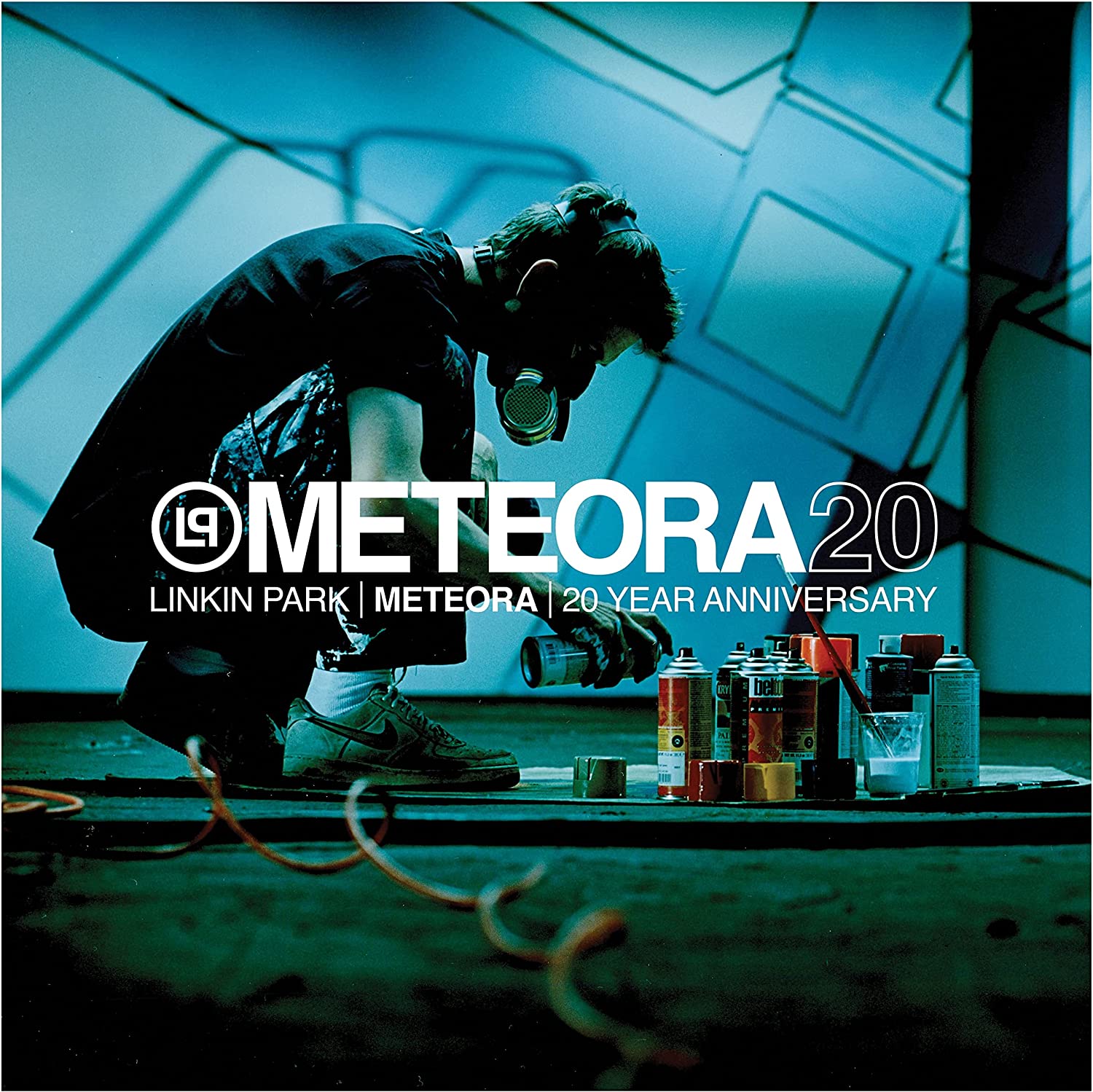 Meteora 20 Linkin Park
/
LP 1: Meteora

Side One

Foreword [0:13]
Don't Stay [3:08]
Somewhere I Belong [3:34]
Lying From You [2:55]
Hit The Floor [2:44]
Easier To Run [3:24]
Faint [2:43]

Side Two

Figure.09 [3:18]
Breaking The Habit [3:17]
From The Inside [2:54]
Nobody's Listening [2:59]
Session [2:24]
Numb [3:06]

LP 2: Live in Texas

Side One

Don't Stay [3:19]
Somewhere I Belong [3:35]
Lying From You [3:07]
Papercut [3:06]

Side Two

Points Of Authority [3:26]
Runaway [3:07]
Faint [2:46]
From The Inside [3:01]

LP 3: Live in Texas

Side Three

Figure.09 [3:51]
With You [3:20]
By Myself [4:07]
P5hng Me A*Wy [5:05]

Side Four

Numb [3:14]
Crawling [3:42]
In The End [4:04]
A Place For My Head [3:57]
One Step Closer [4:01]

LP 4: Live in Nottingham 2003

Side One

Session [1:14]
Don't Stay [3:16]
Somewhere I Belong [3:37]
Lying From You [3:40]
Papercut [3:06]

Side Two

Points Of Authority [3:26]
Runaway [3:53]
Faint [2:47]
From The Inside [2:56]

LP 5: Live in Nottingham 2003

Side Three

Hit The Floor [3:18]
With You [3:45]
Crawling [4:00]
In The End [4:30]

Side Four

Easier To Run [4:05]
A Place For My Head [3:58]
One Step Closer [4:04]

CD 1: Meteora

Foreword [0:13]
Don't Stay [3:08]
Somewhere I Belong [3:34]
Lying From You [2:55]
Hit The Floor [2:44]
Easier To Run [3:24]
Faint [2:43]
Figure.09 [3:18]
Breaking The Habit [3:17]
From The Inside [2:54]
Nobody's Listening [2:59]
Session [2:24]
Numb [3:06]

CD 2: LPU Rarities 2.0

A.06 [0:54]
Pretty Birdy (Somewhere I Belong 2002 Demo)[4:05]
Sold My Soul To Yo Mama [1:58]
Standing In The Middle [3:22]
Program (Meteora Demo) [3:32]
Faint (Demo 2002) [3:11]
Figure.09 (Demo 2002) [3:24]
Drawing (Breaking The Habit Demo 2002) [3:32]
Cumulus (2002 Demo) [3:04]
A-Six (Original Long Version) [3:51]
Soundtrack (Meteora Demo) [3:16]
Broken Foot (Meteora Demo) [2:43]
Ominous (Meteora Demo) [3:08]
Unfortunate (Unreleased Demo 2002) [2:07]
Pepper (Meteora Demo) [2:56]
Breaking The Habit (Original Mike 2002 Demo) [3:18]
Halo (Unreleased Demo 2002) [3:42]
Rhinocerous (2002 Demo) [3:35]
Attached (2003 Demo) [3:29]

CD 3: Live Rarities 2003-2004

Lying From You (Live LPU Tour 2003) [3:04]
From The Inside (Live LPU Tour 2003) [2:56]
Easier To Run (Live LPU Tour 2003) [3:21]
Step Up (Live Projekt Revolution 2002) [4:15]
My December (Live Projekt Revolution 2002) [4:27]
Crawling (Live Reading Festival 2003) [3:35]
Breaking The Habit (Live Rock Am Ring 2004) [5:35]
Step Up/Nobody's Listening/It's Goin' Down (Live) [4:57]
Wish (Live Projekt Revolution 2004) [4:28]
One Step Closer featuring Jonathan Davis (Live Projekt Revolution 2004) [3:57]

CD 4: Lost Demos

Lost [3:19]
Fighting Myself [3:21]
More The Victim [2:41]
Massive [3:08]
Healing Foot [3:31]
A6 (Meteora|20 Demo) [3:55]
Cuidado (Lying From You Demo) [3:18]
Husky (Hit The Floor Demo) [3:14]
Interrogation (Easier To Run Demo) [3:40]
Faint (Meteora|20 Demo) [3:56]
Plaster 2 (Figure.09 Demo) [2:57]
12. Shifter (From The Inside Demo) [3:25]
Wesside [3:14]
Resolution [4:37]

DVD 1 (118 minutes)

The Making Of Meteora
The Art Of Meteora
Work in Progress

DVD 2 (153 minutes)

Veterans Stadium 2003

0Don't Stay
Somewhere I Belong
Lying From You
Papercut
Points Of Authority
Runaway
Faint
From The Inside
Figure.09
With You
By Myself
P5hng Me A*Wy
Numb
Crawling
In The End
A Place For My Head
One Step Closer

Live In Seoul 2003

Don't Stay
Somewhere I Belong
Lying From You
Papercut
Points Of Authority
Runaway
Faint
From The Inside
Figure.09
Nobody's Listening
With You
By Myself
P5hng Me A*Wy
Numb
Crawling
In The End
My December
A Place For My Head
One Step Closer

DVD 3 (156 minutes)

Live In Manila 2004

Don't Stay
Lying From You
Papercut
Points Of Authority
With You
Runaway
Step Up/Nobody's Listening/It's Goin' Down
Somewhere I Belong
From The Inside
Breaking The Habit
Numb
Faint
In The End
A Place For My Head
Crawling
Wish
One Step Closer

Live In Denver – Projekt Revolution 2004

Don't Stay
Lying From You
Papercut
Points Of Authority
With You
Runaway
Step Up/Nobody's Listening/It's Goin' Down
Somewhere I Belong
Figure.09
From The Inside
Breaking The Habit
Numb
Faint
In The End
A Place For My Head
Crawling
Wish
One Step Closer

CD 1: Meteora

Foreword [0:13]
Don't Stay [3:08]
Somewhere I Belong [3:34]
Lying From You [2:55]
Hit The Floor [2:44]
Easier To Run [3:24]
Faint [2:43]
Figure.09 [3:18]
Breaking The Habit [3:17]
From The Inside [2:54]
Nobody's Listening [2:59]
Session [2:24]
Numb [3:06]
Lost (2002 Mix) [3:19]

CD 2: LPU Rarities 2.0

A.06 [0:54]
Pretty Birdy (Somewhere I Belong 2002 Demo)[4:05]
Sold My Soul To Yo Mama [1:58]
Standing In The Middle [3:22]
Program (Meteora Demo) [3:32]
Faint (Demo 2002) [3:11]
Figure.09 (Demo 2002) [3:24]
Drawing (Breaking The Habit Demo 2002) [3:32]
Cumulus (2002 Demo) [3:04]
A-Six (Original Long Version) [3:51]
Soundtrack (Meteora Demo) [3:16]
Broken Foot (Meteora Demo) [2:43]
Ominous (Meteora Demo) [3:08]
Unfortunate (Unreleased Demo 2002) [2:07]
Pepper (Meteora Demo) [2:56]
Breaking The Habit (Original Mike 2002 Demo) [3:18]
Halo (Unreleased Demo 2002) [3:42]
Rhinocerous (2002 Demo) [3:35]
Attached (2003 Demo) [3:29]

CD 3: Live Rarities 2003-2004

Lying From You (Live LPU Tour 2003) [3:04]
From The Inside (Live LPU Tour 2003) [2:56]
Easier To Run (Live LPU Tour 2003) [3:21]
Step Up (Live Projekt Revolution 2002) [4:15]
My December (Live Projekt Revolution 2002) [4:27]
Crawling (Live Reading Festival 2003) [3:35]
Breaking The Habit (Live Rock Am Ring 2004) [5:35]
Step Up/Nobody's Listening/It's Goin' Down (Live) [4:57]
Wish (Live Projekt Revolution 2004) [4:28]
One Step Closer featuring Jonathan Davis (Live Projekt Revolution 2004) [3:57]

LP 1: Meteora

Side One

Foreword [0:13]
Don't Stay [3:08]
Somewhere I Belong [3:34]
Lying From You [2:55]
Hit The Floor [2:44]
Easier To Run [3:24]
Faint [2:43]

Side Two

Figure.09 [3:18]
Breaking The Habit [3:17]
From The Inside [2:54]
Nobody's Listening [2:59]
Session [2:24]
Numb [3:06]

LP 2: LPU Rarities 2.0

Side One

A.06 [0:54]
Pretty Birdy (Somewhere I Belong 2002 Demo)[4:05]
Sold My Soul To Yo Mama [1:58]
Standing In The Middle [3:22]

Side Two

Program (Meteora Demo) [3:32]
Faint (Demo 2002) [3:11]
Figure.09 (Demo 2002) [3:24]
Drawing (Breaking The Habit Demo 2002) [3:32]
Cumulus (2002 Demo) [3:04]

LP 3: LPU Rarities 2.0

Side Three

A-Six (Original Long Version) [3:51]
Soundtrack (Meteora Demo) [3:16]
Broken Foot (Meteora Demo) [2:43]
Ominous (Meteora Demo) [3:08]
Unfortunate (Unreleased Demo 2002) [2:07]

Side Four

Pepper (Meteora Demo) [2:56]
Breaking The Habit (Original Mike 2002 Demo) [3:18]
Halo (Unreleased Demo 2002) [3:42]
Rhinocerous (2002 Demo) [3:35]
Attached (2003 Demo) [3:29]

LP 4: Live Rarities 2003-2004

Side One

Lying From You (Live LPU Tour 2003) [3:04]
From The Inside (Live LPU Tour 2003) [2:56]
Easier To Run (Live LPU Tour 2003) [3:21]
Step Up (Live Projekt Revolution 2002) [4:15]
My December (Live Projekt Revolution 2002) [4:27]

Side Two

Crawling (Live Reading Festival 2003) [3:35]
Breaking The Habit (Live Rock Am Ring 2004) [5:35]
Step Up/Nobody's Listening/It's Goin' Down (Live) [4:57]
Wish (Live Projekt Revolution 2004) [4:28]
One Step Closer featuring Jonathan Davis (Live Projekt Revolution 2004) [3:57]