 News
M People / Renaissance 11-disc box set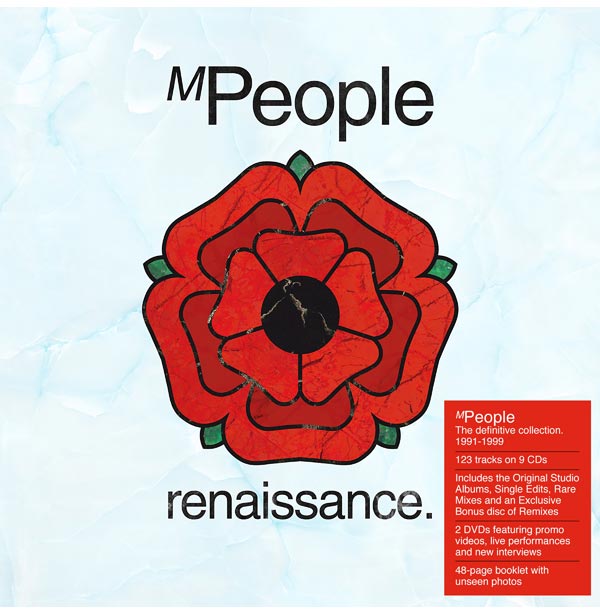 9CD+2DVD box set • Albums, remixes & rarities
Demon Music will release Renaissance, an 11-disc M People career-spanning box set in February that features albums, remixes, rarities and two DVDs.

M People won two BRIT awards and a Mercury Prize and released four studio albums, the last being Fresco in 1998. All of them are included, newly remastered, in this new box set and each comes with a bonus disc of remixes. The ninth CD in the package is an exclusive bonus disc of remixes by Frankie knuckles and David Morales.
 
Rennaisance includes nine CDs, two DVDs and the exclusive version comes with a signed print
The first of two DVDs features all the band's promo videos (plus new interviews with members Paul Heard, Mike Pickering and Shovell) while the second features live performances.
This box set comes with a 48-page colour booklet and the exclusive edition comes with a print of a 'Search For The Hero' lyric sheet signed by Heard, Pickering, and Shovell (no Heather!). These are limited to 500 units.
Renaissance will be released on 14 February 2020. The signed edition is sold out.
Compare prices and pre-order
M People
Renaissance (Audio CD)
CD1–NORTHERN SOUL
1.Colour My Life (Perfecto Mix)
2.How Can I Love You More?
3.Inner City Cruise
4.It's Your World
5.Sexual Freedom
6.Kiss It Better
7.Tumbling Down
8.Landscape Of Love
9.Life
10.Someday
11.Excited (M People Master Mix)
12.Man Smart
13.Platini
CD2 –NORTHERN SOUL –REMIXES
1.How Can I Love You More? (Sasha's Master Mix)
2.Someday (Sasha's Full Master)
3.How Can I Love You More? (Edit)
4.Colour My Life (Edit)
5.Someday (Edit)
6.Excited (Radio Edit)
7.Colour My Life (Original Mix)
8.Excited (M People Remix)
9.Someday (Part One)
10.Colour My Life (Part One)
11.Excited (Judge Jules Remix)
12.How Can I Love You More? (Sasha's Ambient Dub)
13.Someday (Sasha's Dub)
14.Colour My Life (DJ's Rule Mix)
15.Excited (MK T Mix)
16.How Can I Love You More? (Sasha's QAT Mix)
CD3 –ELEGANT SLUMMING
1.One Night In Heaven
2.Moving On Up
3.Renaissance
4.You Just Have To Be There
5.Love Is In My Soul
6.Don't Look Any Further
7.Natural Thing
8.Little Packet
9.La Vida Loca
10.Melody Of Life
11.One Night In Heaven (Hi Gloss Mix)
12.Renaissance (M People Master Mix)
13.Moving On Up (Tee's Freeze Mix)
14.Don't Look Any Further (Danny D Mix)
CD4 –ELEGANT SLUMMING -REMIXES
1.One Night In Heaven (Master Edit)
2.Moving On Up (M People Master Edit)
3.Don't Look Any Further (M People Master Edit)
4.Renaissance (Radio Mix)
5.One Night In Heaven (K-KlassKlubMix)
6.Moving On Up (NY Underground Mix)
7.Renaissance (Roger S Revelation Mix)
8.One Night In Heaven (The Chicken Head Mix)
9.Moving On Up (MK Mix)
10.Renaissance (John Digweed's4AM Mix)
11.One Night In Heaven (Pharmacy Dub)
12.Moving On Up (Roger's Harddub)
13.Renaissance (The S-Man's Dub Lift)
14.One Night In Heaven (M People Dub)
CD5 –BIZARRE FRUIT
1.Sight For Sore Eyes
2.Search For The Hero
3.Open Your Heart
4.Love Rendezvous
5.Precious Pearl
6.Sugar Town
7.Walk Away
8.Drive Time
9.Padlock
10.… And Finally
11.ItchycooPark (M People Master Mix)
12.Search For The Hero (M People Master Mix)
13.Love Rendezvous (M People Master Mix)
14.Search For The Hero (Dave Hall Remix) [aka 'US Remix by David "Jam" Hall']
CD6 –BIZARRE FRUIT –REMIXES
1.Sight For Sore Eyes (Radio Mix)
2.Open Your Heart (Radio Mix)
3.Search For The Hero (Radio Mix)
4.Love Rendezvous (Radio Mix)
5.ItchycooPark (Radio Edit)
6.Sight For Sore Eyes (Lee Marrow Remix)
7.Love Rendezvous (Paul Masterson Mix) aka (Wand's Uptight Mix)
8.Padlock (Junior Vasquez Tribal Vocal)
9.Open Your Heart (LuvdupDouble Bangin' Dub) aka (LuvdupDub)
10.ItchycooPark (HedBoys Post-Op Mix)
11.Love Rendezvous (Uno Clio Vocal Mix)
12.Open Your Heart (Armand's Sour Cream Mix)
13.Sight For Sore Eyes (E-SmooveDub Mix)
CD7 –FRESCO
1.Just For You
2.Fantasy Island
3.Never Mind Love
4.Last Night 10,000
5.Smile
6.Red Flower Sunset
7.Angel Street
8.Lonely
9.Rhythm And Blues
10.Believe It
11.Bohemia
12.Avalon
13.Testify (Radio Edit)
14.Dreaming
15.What A Fool Believes (Full-Length Version)
16.Baby Don't Change Your Mind (Live)
CD8 –FRESCO -REMIXES
1.Just For You (Radio Edit)
2.Fantasy Island (Radio Edit)
3.Angel Street (Radio Edit)
4.Dreaming (Radio Edit)
5.Testify (Rae & Christian Remix)
6.Just For You (MM's R&B Edit)
7.Fantasy Island (D-Influence Dimensional Mix)
8.Angel Street (Joey Negro's Extended Disco Mix)
9.Dreaming (Genius 3 Underground Mix)
10.Fantasy Island (M+S Fantasy KlubMix)
11.Just For You (Way Out West Remix)
12.Testify (Pablo's Dub)
13.Dreaming (Jimmy Gomez 6AM Dub)
CD 9
THE FRANKIE KNUCKLES & DAVID MORALES MIXES
1.ItchycooPark (Morales Classic Club Mix)
2.Just For You (Frankie's Sanctified Anthem)
3.Fantasy Island (Classic Mix)
4.Dreaming (Morales Mix)
5.One Night In Heaven (The Heavenly Club Mix)
6.Fantasy Island (Def Club Mix)
7.Just For You (Hipshakers' Delight)
8.ItchycooPark (Morales Beat Of Dubs)
9.Dreaming (Morales King Dub)
10.One Night In Heaven (The Late Night Dub)
DVD 1 –PROMO VIDEOS
1.How Can I Love You More?
2.Colour My Life
3.Someday
4.Excited
5.One Night In Heaven
6.Moving On Up
7.Don't Look Any Further
8.Renaissance
9.Sight For Sore Eyes
10.Open Your Heart
11.Search For The Hero
12.Love Rendezvous
13.ItchycooPark
14.Just For You
15.Fantasy Island
16.Angel Street
17.Testify
18.Dreaming
19.How Can I Love You More? (1993 Version)
20.Excited (US Version)
21.Open Your Heart (US Version)
22.Excited (MK Mix)
23.One Night In Heaven (Morales Mix)
24.Coming Home (Mike, Paul and Shovellin conversation, 2018)
DVD 2 –LIVE
Live at the Manchester Academy 1993
1.Moving On Up
2.Natural Thing
3.Love Is In My Soul
4.Someday
5.1993 Interview (part 1/ 2/3/4)
Come Again Live In Manchester 1994
1.Opening Montage
2.Love Rendezvous
3.Excited
4.Drive Time
5.Colour My Life
6.Walk Away
7.Little Packet
8.One Night In Heaven
9.Sight for Sore Eyes
10.Moving On Up
The Crowd Are On The Pitch: Live at Old Trafford 1996
1.Sight For Sore Eyes
2.Moving On Up
3.Search For The Hero
4.ItchycooPark
5.One Night In Heaven