 News
Mansun / Attack of the Grey Lantern: exclusive SDE deluxe bundle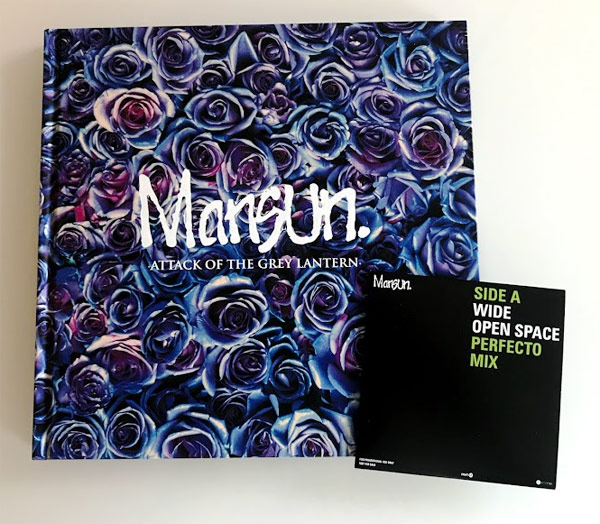 SDE exclusive Mansun CD single with rare audio
Mansun's 1997 album Attack of the Grey Lantern was reissued in the summer for as a four-disc deluxe book edition which included demos, rarities, outtakes, BBC sessions and a 5.1 surround mix (on DVD). This deluxe set (along with the double coloured vinyl edition) is now available to buy on the SDE shop and each order comes with a FREE, very limited and completely exclusive Mansun CD single!

In collaboration with Kscope, this SDE exclusive recreates a rare promo-only 12-inch vinyl single on CD for the first time. This two-track CD single replicates a 1998 promo-only vinyl and features Paul Oakenfold and Steve Osbourne's rare (and excellent) seven-minute Perfecto Mix of 'Wide Open Space' and the Trouser Enthusiasts Hermaphrodite Circus Mix of the same track. This audio isn't included on the 2018 deluxe edition and indeed wasn't part of the 2010 three-disc set either!
The CD single artwork replicates the original promo 12-inch design. There are only 500 of these exclusive CD singles in the world and they are available exclusively via the SDE shop in these special bundles.
The Attack of the Grey Lantern deluxe is already a superb set even without such a great bonus item. The near 12-inch square hardcover 72-page book has a debossed front cover and is packed with notes, rare photos, and an intro from Paul Draper. As well as the 5.1 mix, the DVD also includes eight promo videos.
You can pick-up the 2LP heavyweight purple vinyl reissue of Attack of the Grey Lantern which also ships with the SDE exclusive CD single or if you want the lot, then there is a special 7-disc SDE bundle available!! Head over to the SDE shop via this link, or simply use the buttons below. These are available now and orders will ship this week.
SDE Exclusive Wide Open Space CD single
Wide Open Space (Perfecto Mix) [07.15]
Wide Open Space (Trouser Enthusiasts Hermaphrodite Circus Mix) [08.45]
Attack of the Grey Lantern 3CD+DVD deluxe edition
Disc 1
1. The Chad Who Loved Me [05:02]
2. Mansun's Only Love Song [05:55]
3. Taxloss [07:04]
4. You, Who Do You Hate? [03:06]
5. Wide Open Space [04:33]
6. Stripper Vicar [04:11]
7. Disgusting [05:12]
8. She Makes My Nose Bleed [03:55]
9. Naked Twister [04:39]
10. Egg Shaped Fred [04:11]
11. Dark Mavis [08:36]
12. An Open Letter To The Lyrical Trainspotter [04:01]
Disc 2 – CD
1. Disgusting (demo) [04:41]
2. Rebel Without A Quilt (original version) [06:22]
3. Naked Twister (demo) [03:49]
4. Dark Mavis (demo) [05:31]
5. The Dutchess (backing jam) [03:41]
6. Ski Jump Nose (original version) [05:59]
7. She Makes My Nose Bleed (strings only) [03:59]
8. The Chad Who Loved Me (backing track take 1) [05:39]
9. Stripper Vicar (take 1) [04:21]
10. Stripper Link (full length version) [01:07]
11. Dark Mavis (rejected version) [05:17]
12. She Makes My Nose Bleed (version 1) [04:00]
13. An Open Letter To The Lyrical Trainspotter (take 1) [04:15]
14. The Greatest Pain (backing track take 1) [03:01]
15. You, Who Do You Hate? (early version) [03:01]
16. She Makes My Nose Bleed (demo) [04:01]
17. Egg Shaped Fred (mix 1) [05:13]
Disc 3 – CD
1. Skin Up Pin Up (Radio One Session 14/9/95) [04:05]
2. Grey Lantern (Radio One Session 14/9/95) [03:02]
3. Flourella (Radio One Session 15/5/96) [04:07]
4. Naked Twister (Radio One Session 15/5/96) [03:46]
5. Drastic Sturgeon (Radio One Session 15/5/96) [03:27]
6. Egg Shaped Fred (Soho Live Radio One Evening Session 12/11/96) [04:15]
7. Take It Easy Chicken (Soho Live Radio One Evening Session 12/11/96) [05:55]
8. Stripper Vicar (Mark Radcliffe Session 16/12/96) [03:48]
9. She Makes My Nose Bleed (Mark Radcliffe Session 16/12/96) [03:48]
10. Wide Open Space (Mark Radcliffe Session 16/12/96) [04:18]
11. The Chad Who Loved Me (Mark Radcliffe Session 16/12/96) [02:00]
12. Ski Jump Nose (Mark Radcliffe Session 16/12/96) [03:05]
DISC 4 – DVD
1. The Chad Who Loved Me (5.1 mix) [05:02]
2. Mansun's Only Love Song (5.1 mix) [05:55]
3. Taxloss (5.1 mix) [07:04]
4. You, Who Do You Hate (5.1 mix) [03:06]
5. Wide Open Space (5.1 mix) [04:33]
6. Stripper Vicar (5.1 mix) [04:11]
7. Disgusting (5.1 mix) [05:12]
8. She Makes My Nose Bleed (5.1 mix) [03:55]
9. Naked Twister (5.1 mix) [04:39]
10. Egg Shaped Fred (5.1 mix) [04:11]
11. Dark Mavis (5.1 mix) [08:36]
12. An Open Letter To The Lyrical Trainspotter (5.1 mix) [04:01]
13. Flourella (promo video) [04:27]
14. Egg Shaped Fred (promo video) [03:57]
15. Take It Easy Chicken (promo video) [04:28]
16. Stripper Vicar (promo video) [04:11]
17. Wide Open Space (promo video) [04:44]
18. Wide Open Space (US promo video ) [04:37]
19. She Makes My Nose Bleed (promo video) [04:10]
20. Taxloss (promo video) [04:38]
Attack of the Grey Lantern 2LP heavyweight purple vinyl
LP 1
1. The Chad Who Loved Me [05:02]
2. Mansun's Only Love Song [05:55]
3. Taxloss [07:04]
1. You, Who Do You Hate? [03:06]
2. Wide Open Space [04:33]
3. Stripper Vicar [04:11]
LP 2
1. Disgusting [05:12]
2. She Makes My Nose Bleed [03:55]
3. Naked Twister [04:39]
1. Egg Shaped Fred [04:11]
2. Dark Mavis / An Open Letter To The Lyrical Trainspotter
(includes hidden track) [14:40]