 News
Mercury Rev / All Is Dream 4CD deluxe
Four-CD deluxe with unreleased rarities • Great pre-order price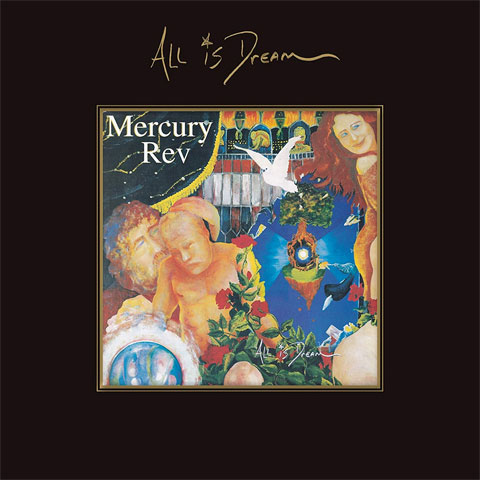 Cherry Red will release a much expanded, four-CD edition of Mercury Rev's All Is Dream album, in November.

The album was the follow-up to the acclaimed Deserter's Songs and features the singles 'Nite And Fog', 'The Dark Is Rising' and 'Little Rhymes'. The album was issued in 2001, breaching the top 20 in both the UK and the USA.



The new four-CD deluxe edition has been "compiled and coordinated" in conjunction with the band's Jonathan Donahue and Sean 'Grasshopper' Mackowiak. As well as the original ten-track album this set offers a bonus disc of 20 B-sides, outtakes and demos, half of which are previously unreleased. The third CD offers previously unissued concert recordings while the final disc delivers a French radio session which was only previously available as a promo CD.

The All Is Dream four-CD set is packaged as a hardcover book with lyrics and sleeve notes by Keith Cameron. Best of all you can get in quick for an amazing pre-order price from Amazon Germany of just €19.

All Is Dream will be reissued on 29 November 2019, via Cherry Red.


Compare prices and pre-order
Mercury Rev
All Is Dream: 4CD Deluxe Edition
DISC ONE: CD
THE ALBUM
1. THE DARK IS RISING
2. TIDES OF THE MOON
3. CHAINS
4. LINCOLN'S EYES
5. NITE AND FOG
6. LITTLE RHYMES
7. A DROP IN TIME
8. YOU'RE MY QUEEN
9. SPIDERS AND FLIES
10. HERCULES
DISC TWO: CD
B-SIDES, DEMOS & OUTTAKES
1. PLANET CARAVAN (B-side)
2. STREETS OF LAREDO (B-side)
3. I KEEP A CLOSE WATCH (B-side)
4. NOCTURNE IN C# MINOR, OPUS 27, NO.1 (B-side)
5. BLUE SKIES
6. LUCY IN THE SKY WITH DIAMONDS (Outtake)
7. SPIDERS AND FLIES (John Peel Session)
8. GYMNOPEDIES #3 (John Peel Session)
9. MASCARA TEARS (Outtake) *
10. THE BROOK ROOM (Outtake) *
11. SILVER AND GOLD (Outtake) *
12. A DROP IN TIME (Demo)
13. WHERE THE MOUNTAINS START TO RISE (Demo) *
14. NITE AND FOG (Earliest Demo) *
15. BACK INTO THE SUN (YOU'RE THE ONE) (Outtake) *
16. A QUICK ONE AT ARTIE'S 44 (Demo) *
17. MR. MOONLIGHT WILL COME (Outtake) *
18. BOYS CHOIR (Outtake) *
19. COOL WAVES (Outtake)
20. HERCULES (Demo) *
* Previously Unissued
DISC THREE: CD
IN CONCERT
1. THE DARK IS RISING (Dublin 10/03/01)
2. TIDES OF THE MOON (Copenhagen 08/27/02)
3. CHAINS (Dallas 12/07/01)
4. NITE AND FOG (Ghent 11/07/01)
5. LINCOLN'S EYES (Lille 11/09/01)
6. THE SAW SONG (Detroit 11/23/01)
7. PLANET CARAVAN (Munch 10/23/01)
8. LITTLE RHYMES (Los Angeles 12/03/01)
9. YOU'RE MY QUEEN (Milano 04/13/02)
10. SPIDERS AND FLIES (Oslo 8/30/02)
11. HERCULES (Clermont-Ferrand 4/18/02)
12. THE JEAN GENIE (Copenhagen 08/27/02)
All tracks previously unissued
DISC FOUR: CD
THE BLACK SESSIONS
1. THE FUNNY BIRD
2. TIDES OF THE MOON
3. TONITE IT SHOWS
4. LINCOLN'S EYES
5. THE SAW SONG
6. YOU'RE MY QUEEN
7. GODDESS ON A HIGHWAY
8. HOLES
9. OPUS 40
10. SPIDERS AND FLIES
11. THE DARK IS RISING
All tracks previously unissued commercially – recorded live in Paris