 News
Michael Nesmith / Songs 12CD box
12CD box • RCA and Pacific Arts eras • Bonus tracks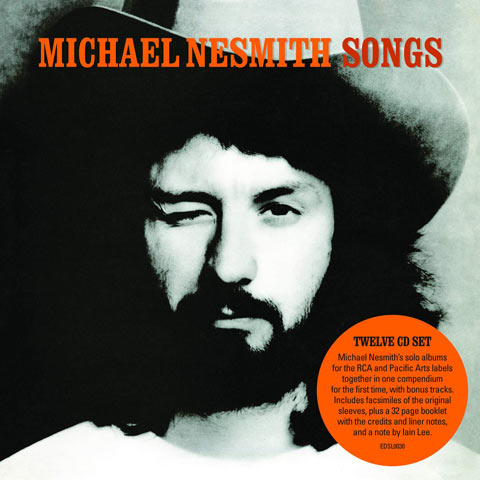 At the end of the month, Edsel will issue Songs, a 12CD box set that brings together Michael Nesmith solo albums issued under two different labels.

The set kicks off  in 1970 with Magnetic South, as a prolific Nesmith went on to issue six albums on RCA in just three years, including the ironically-titled …And The Hits Just Keep on Comin' which included his own version of 'Different Drum', which had been a hit for Linda Ronstadt back in 1967.

1975's The Prison was the first album on his own label Pacific Arts. This conceptual offering included a novella that was meant to be read while listening to the album as its 'soundtrack'. Nesmith did the same with 1994's The Garden (also included here).



1977's From The Radio Engine To The Photon Wing produced a top 30 UK hit in Rio, with it's ahead-of-its-time video, and four further albums from late seventies, late eighties and the nineties, complete this set.

Three of the RCA albums offer bonus tracks and these are all presented in vinyl replica-style card sleeves. Songs also features a booklet with notes by broadcaster and Monkees aficionado Iain Lee. It is released on 29 March 2019.


Compare prices and pre-order
Nesmith, Michael
Songs - 12CD box set
CD 1 – Magnetic South (1970)
1. Calico Girlfriend
2. Nine Times Blue
3. Little Red Rider
4. The Crippled Lion
5. Joanne
6. First National Rag
7. Mama Nantucket
8. Keys To The Car
9. Hollywood
10. One Rose
11. Beyond The Blue Horizon
12. Rose City Chimes*
CD 2 – Loose Salute (1970)
1. Silver Moon
2. I Fall To Pieces
3. Thanx For The Ride
4. Dedicated Friend
5. Conversations
6. Tengo Amore
7. Listen To The Band
8. Bye, Bye, Bye
9. Lady Of The Valley
10. Hello Lady
11. First National Dance*
CD 3 – Nevada Fighter (1971)
1. Grand Ennui
2. Propinquity (I've Just Begun To Care)
3. Here I Am
4. Only Bound
5. Nevada Fighter
6. Texas Morning
7. Tumbling Tumbleweeds
8. I Looked Away
9. Rainmaker
10. René
CD 4 – Tantamount to Treason Vol 1 (1972)
1. Mama Rocker
2. Lazy Lady
3. You Are My One
4. In the Afternoon
5. Highway 99 With Melange
6. Wax Minute
7. Bonaparte's Retreat
8. Talking To The Wall
9. She Thinks I Still Care
10. Cantata & Fugue In C&W*
11. Smoke, Smoke, Smoke That Cigarette*
CD 5 – And The Hits Just Keep on Comin' (1972)
1. Tomorrow & Me
2. The Upside Of Good-Bye
3. Lady Love
4. Listening
5. Two Different Roads
6. The Candidate
7. Different Drum
8. Harmony Constant
9. Keep On
10. Roll With The Flow
CD 6 – Pretty Much Your Standard Ranch Stash (1973)
1. Continuing
2. Some Of Shelly's Blues
3. Release
4. Winonah
5. Born To Love You
6. The Back Porch And A Fruit Jar Full Of Iced Tea (a. The F.F.V b. Uncle Pen)
7. Prairie Lullaby
CD 7 – The Prison: A Book With Soundtrack (1974)
1. Opening Theme (Life, The Unsuspecting Captive)
2. Dance Between The Raindrops
3. Elusive Ragings
4. Waking Mystery
5. Hear Me, Calling
6. Marie's Theme
7. Closing Theme (Lamp Post)
CD 8 – From a Radio Engine to the Photon Wing (1977)
1. Rio
2. Casablanca Moonlight
3. More Than We Imagine
4. Navajo Trail
5. We Are Awake
6. Wisdom Has Its Way
7. Love's First Kiss
8. The Other Room
CD 9 – Infinite Rider on the Big Dogma (1979)
1. Dance
2. Magic
3. Tonite
4. Flying
5. Carioca
6. Cruisin'
7. Factions
8. Light
9. Horserace
10. Capsule
CD 10 – The Newer Stuff (1989)
1. Total Control
2. Tanya
3. I'll Remember You
4. Formosa Diner
5. Dreamer
6. Eldorado To The Moon
7. Tahiti Condo
8. Chow Mein And Bowling
CD 11 – Tropical Campfires (1992)
1. Yellow Butterfly
2. Laugh Kills Lonesome
3. Moon Over The Rio Grande
4. One…
5. Juliana
6. Brazil
7. In The Still Of The Night
8. Rising In Love
9. Begin The Beguine
10. I Am Not That
11. …For The Island
12. Twilight On The Trail
CD 12 – The Garden (1994)
1. Garden's Glow
2. Ficus Carica
3. City
4. Hills Of Time
5. Flowers Dancing
6. Wisteria
7. Life Becoming
*Bonus tracks