 News
Midge Ure / Soundtrack 1978-2019 / 2CD+DVD anthology
Generous 2CD+DVD package • Vinyl limited to just 750 units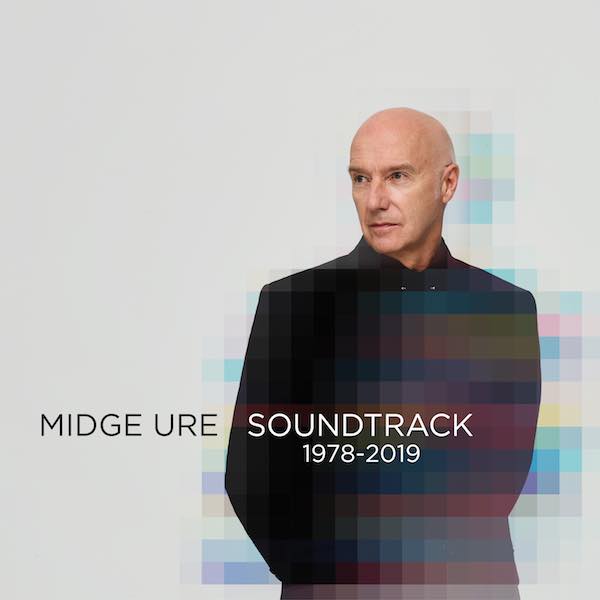 Chrysalis Records will in September issue Soundtrack: 1978-2019 a new Midge Ure anthology that includes solo singles, select Ultravox recordings and previously unreleased material.

The 2CD+DVD set offers 32 tracks across two CDs including original seven-inch versions, alternative edits, unreleased remixes and more. Amongst the tracks are collaborations with artists as diverse as Kate Bush, Moby, Glenn Gregory and Mick Karn.

Even better, this set offers great value as the  two CDs come with a DVD of promo videos and loads of great bonus features, including a Midge Ure audio commentary and various documentaries and 'EPKs' (electronic press kit). The DVD is region free and NTSC.




The CDs and DVD are packaged separately but are contained within a clamshell box that also features a 20-page booklet.

In addition to the 2CD+DVD set, a special clear vinyl edition has been produced in limited numbers (just 750 units) which concentrates on Midge's Chrysalis solo singles, including UK number one 'If I Was' and 'Sister and Brother' (the track that features Kate Bush). This vinyl – which is called Soundtrack: The Singles 1980-1988 – will be available ONLY via the SDE shop and 'The Soundtrack Store'.

Soundtrack 1978-2019 (the 2CD+DVD set) and Soundtrack The Singles 1980-1988 (the limited clear vinyl) are both released on 27 September 2019 via Chrysalis (was 20 September). Order either (or both!) at the SDE shop via this link or the buttons below.
<![CDATA[
/**/
]]>
SOUNDTRACK: 1978-2019 
2CD+DVD
All tracks are Midge Ure solo unless stated.
CD ONE
01   Call of The Wild (7" Version) [1986]
02   Answers To Nothing (7" Version) [1988]
03   Dancing With Tears In My Eyes (7" Version) [1984] – Ultravox
04   The Gift [1985]
05   Wastelands (7" Version) [1985]
06   After A Fashion (7" Version) [1983] – Midge Ure & Mick Karn
07   Remembrance Day [1988]
08   No Regrets (7" Version) [1982]
09   Marching Men (7" Version) [1978] – Rich Kids
10   If I Was (7" Version) [1985]
11   Fade To Grey (2017 Version) [Originally 1980] – Midge Ure's Band Electronica
12   Dear God (7" Version) [1988]
13   The Man Who Sold The World [1982]
14   That Certain Smile (7" Version) [1985]
15   Sister And Brother (Alt. 7" Edit) [1988] – Midge Ure feat. Kate Bush
16    All In One Day (7" Version) [1986] – Ultravox
CD TWO
01   Become [2014]
02   Touching Hearts And Skies
03   Glorious [2017] – Midge Ure & Rusty Egan
04   Star Crossed [2014]
05   You Move Me (Radio Edit) [2000]
06   I Survived (Single Edit) [2014] previously unreleased version
07   Personal Heaven [2001] – Midge Ure & Glenn Gregory
08   Beneath A Spielberg Sky (7" Version) [2000]
09   Breathe (7" Version) [1996]
10   Nevermore [2008]
11   Cold Cold Heart (7" Version) [1991]
12   Let Me Go [2014]
13   I See Hope (In The Morning Light) (7" Version) [1991]
14   Let It Rise [2010] – Schiller feat. Midge Ure
15   Dark Dark Night (2019 Remix) [2014] previously unreleased version. – Midge Ure feat. Moby
16   Vienna (Orchestrated Version) [2017]
DVD
01  Marching Men [1978] – The Rich Kids
02  No Regrets [1982]
03  After A Fashion [1983] – Midge Ure & Mick Karn
04  If I Was [1985]
05  That Certain Smile [1985]
06  Call of The Wild [1986]
07  Answers To Nothing [1988]
08  Dear God [1988]
09  Cold Cold Heart [1991]
10  I see Hope (In The Morning Light) [1991]
11  Breathe [1996]
12  You Move Me [2000]
13  Beneath A Spielberg Sky [2000]
14  Become [2014]
15  Let It Rise (Live) [2010] – Schiller feat. Midge Ure
16  Breathe (Orchestrated Version) [2017]
Bonus Videos:
Feature length Commentary on Promo videos by Midge Ure

Yellow Pearl/Passing Strangers (Live) [2017] – Midge Ure's Band Electronica

Fade To Grey (Live) [2017] – Midge Ure's Band Electronica

Vienna (Orchestrated Version) [2017]

Dancing With Tears In My Eyes (Orchestrated Version) [2017]
Bonus Documentaries:
A Portrait ['The Gift' EPK 1985]

Answers: A Musical Journey [Longform Documentary 1990]

Orchestrated [The Making of EPK] [2017]
Soundtrack: The Singles 1980-1988

Side 1

Call of The wild [1986]
Answers To Nothing [1988]
Wastelands [1985]
After A Fashion [1983] – Midge Ure & Mick Karn
No Regrets [1982]

Side 2

If I Was [1985]
Fade To Grey [2017 Version] [Originally 1980] – Band Electronica
Dear God [1988]
That Certain Smile [1985]
Sister & Brother [1988] – Midge Ure feat. Kate Bush