 News
Mike McGear / McGear deluxe reissue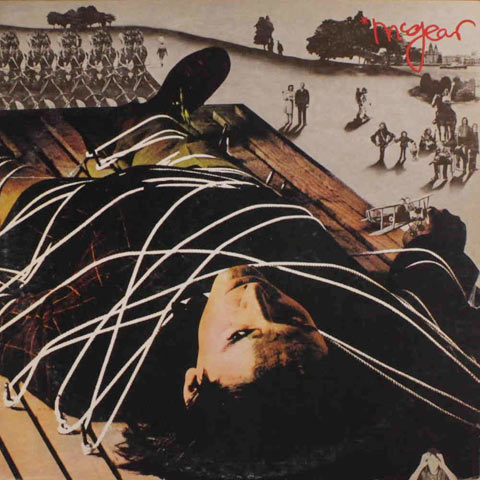 2CD+DVD set • Produced and co-written with Paul McCartney
McGear, the second album by Mike McGear, is being reissued as a three-disc expanded deluxe edition in June.

Originally finding fame as part of 'Lily the Pink' hitmakers The Scaffold, Mike McGear's (nee Peter Michael McCartney) solo material was slightly less frivolous than that or even his work with Roger McGough on the McGough & McGear album.
Recorded at Strawberry studios in Stockport, the album was produced by his slightly famous older brother Paul McCartney, who also played on it and co-wrote much of the material with Mike, and featured Linda McCartney and members of Wings as well as guests such as Paddy Moloney of The Chieftains. The album was last reissued by Edsel in the early nineties, but has been unavailable ever since.
Originally released by Warners in 1974, the album contains some of McGear's best work, with numbers such as 'Rainbow Lady', 'Simply Love You', 'Givin' Grease a Ride' and 'The Man Who Found God on the Moon', as well as a cover of Roxy Music's 'Sea Breezes', and the hit 'Leave It'. These album sessions also yielded a non-album single; 'Dance the Do' which featured Vivian Stanshall.
The newly remastered at Abbey Road from the original tapes package comes as a two-CD+DVD package, with a 21-track second disc of all the outtakes, singles and extras (such as 'Dance the Do'). The DVD (NTSC and region-free) features McGear interviewed at The Liverpool Institute for Performing Arts and The Everyman Theatre, alongside a short promotional film he made about the album back in 1974.
It's also reissued as a gatefold vinyl LP which comes with an illustrated booklet and a new poster.
McGear is reissued on 28 June 2019 via Esoteric Recordings.
Compare prices and pre-order
Michael McGear
McGear - 2CD+DVD set
Compare prices and pre-order
Michael McGear
McGear - vinyl LP remaster
McGear / 2CD+DVD deluxe 
DISC ONE: CD
McGEAR: REMASTERED
Sea Breezes
What Do We Really Know?
Norton
Leave It
Have You Got Problems
The Casket
Rainbow Lady
Simply Love You
Givin' Grease A Ride
The Man Who Found God On The Moon
Bonus Tracks
Sweet Baby
Dance The Do
DISC TWO: CD
McGEAR: OUT-TAKES & EXTRAS
Sea Breezes (Without Orchestra)
Leave It (Extended Version)
Dance The Do (Rough 1st Mix)
What Do We Really Know? (Monitor Mix)
Paddy Pipes 1
Do Nothing All Day
A To Z
Girls On The Avenue
Paddy Pipes 2
All The Whales In The Ocean
Blowin' In The Bay
Keep Cool (Version 1)
Keep Cool (Version 2)
I Just Want What You Got – Money!
Paddy Pipes 3
Viv Stanshall Sings
Let's Turn The Radio On
Dance The Do Radio Ad 1
Dance The Do Radio Ad 2
DISC THREE: DVD
DVD
Mike (Mcgear) McCartney Reminisces At The Liverpool Institute For Performing Arts
Mike (Mcgear) McCartney Interview At The Everyman Theatre, Liverpool
Leave It Promotional Film 1974
VINYL
SIDE ONE
Sea Breezes
What Do We Really Know?
Norton
Leave It
Have You Got Problems
SIDE TWO
The Casket
Rainbow Lady
Simply Love You
Givin' Grease A Ride
The Man Who Found God on The Moon