 News
Mike Oldfield / Tubular Bells 50th anniversary SDE-exclusive blu-ray
2LP vinyl and CD sets also available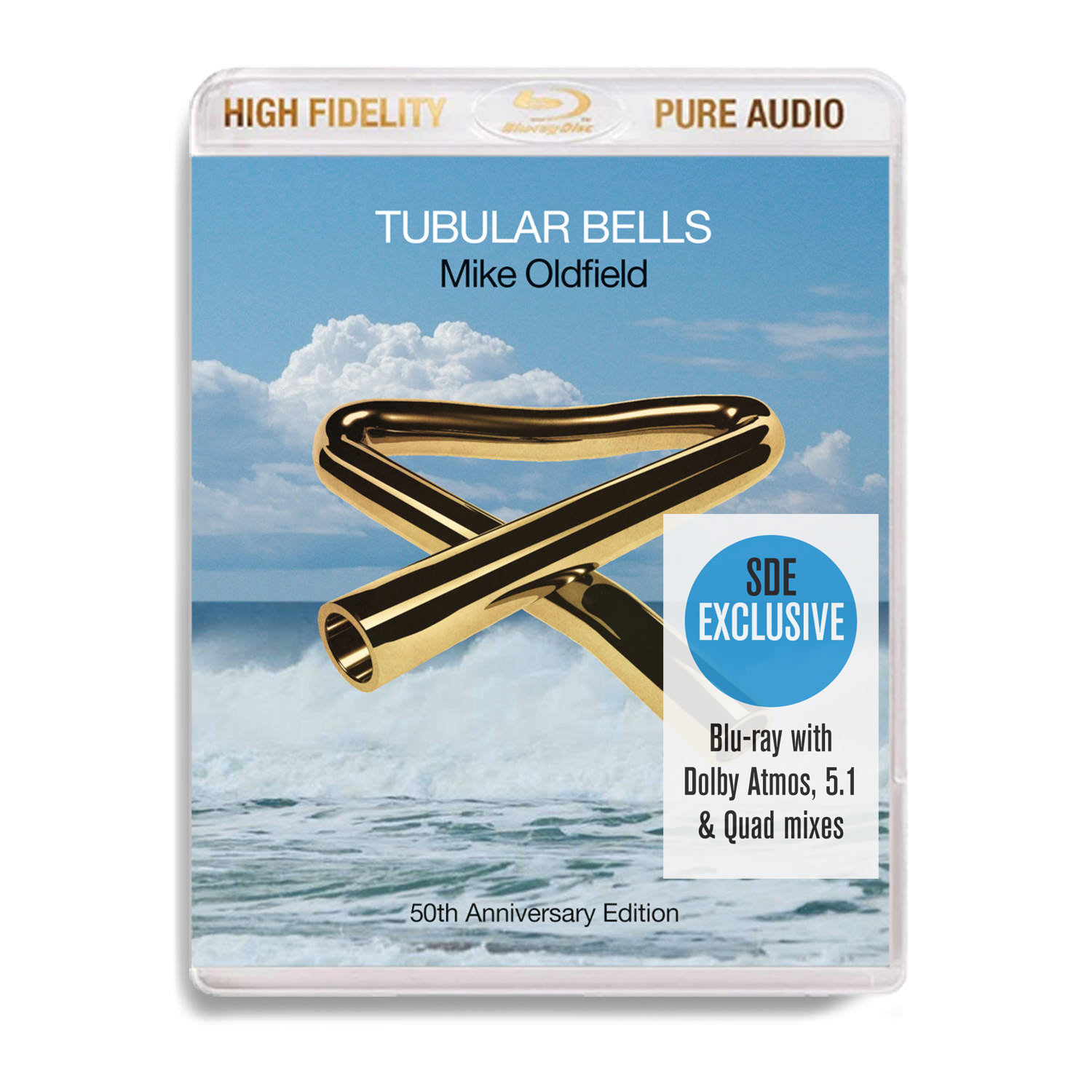 Mike Oldfield's seminal 1973 album Tubular Bells is being reissued for its 50th anniversary and amongst the formats is an SDE-exclusive blu-ray audio which features a brand new immersive Dolby Atmos Mix along with other rare spatial audio versions, a new stereo mix and an unreleased demo of a planned – but scrapped – Tubular Bells 4, which was made five years ago!
Back in 1973, the largely unknown 20-year-old Mike Oldfield released his debut album, the first release on brand-new label, Virgin Records. Tubular Bells became a phenomenon, topping the UK charts, winning a Grammy and it was famously featured in William's Friedkin's film The Exorcist, which itself became a global sensation in '73.
This 50th Anniversary celebration of Tubular Bells, overseen by Mike Oldfield, is available on SDE-exclusive blu-ray, 2LP half-speed mastered vinyl and on CD.
The Tubular Bells SDE-exclusive blu-ray is packed with content and features the following audio streams:
Tubular Bells – 2023 David Kosten Dolby Atmos Mix*
Tubular Bells – 2009 Mike Oldfield 5.1 Surround Mix
Tubular Bells – 1975 Quad Mix
Tubular Bells Intro Edit – 2023 David Kosten Dolby Atmos Mix*
Tubular Bells – 2023 David Kosten Stereo Mix (48/24)*
Tubular Bells – 1973 Original Stereo Mix (96/24)
Tubular Bells Intro Edit – 2023 David Kosten Stereo Mix (48/24)*
Tubular Bells 4 Intro – Demo (48/24)
*Only available physically on this product
The Dolby Atmos Mix has been created by producer David Kosten (who's worked with the likes of Steven Wilson and Bat For Lashes) and he had the challenge of trying to recreate Oldfield's original 1973 mix in immersive audio, going back to the original multi-track stems which feature almost none of the processing you hear on the final mixes – the levels, echoes, reverbs, radical tone shifts, panning etc. Kosten also created a new stereo mix and the blu-ray also includes a new edit of the classic Tubular Bells intro which is also in stereo and Atmos. All four versions are only available physically via this SDE-exclusive Blu-ray Audio!
Additionally, Mike Oldfield's 5.1 Surround Mix from 2009 is also included. That was only ever issued on DVD at the time, so it sees its debut here on Blu-ray as lossless DTS-HD Master Audio 5.1.
The four-channel Quad Mix was mixed by Phil Newell in 1975 and was issued on 2001 on SACD. It has some differences to the original stereo and 5.1 mixes, most notable the Viv Stanshall voiceover on 'Sailor's Hornpipe' at the end It has been unavailable since that time but is the third different spatial audio mix on this Blu-ray.
The original stereo mix on the Blu-ray is as used on the new half-speed mastered vinyl and of course fans will be very interested in the Tubular Bells 4 demo. The story is, Mike Oldfield retired from releasing music in 2018, after giving up touring many years previously. In the months after his last album, Return To Ommadawn in 2017, Oldfield toyed with going the whole way and making a fourth and final instalment of Tubular Bells in time for its 50th anniversary. Work began in earnest, and Mike felt he had finally cracked the secret of being able to successfully return to and rework the opening motif. An eight-minute taster was sent to his A&R team. And then, nothing. Mike decided against continuing. Five years later, this final paragraph of the Tubular Bells story is being released as part of the 50th anniversary celebration. It may well be the last thing ever recorded by Oldfield and this is stereo-only.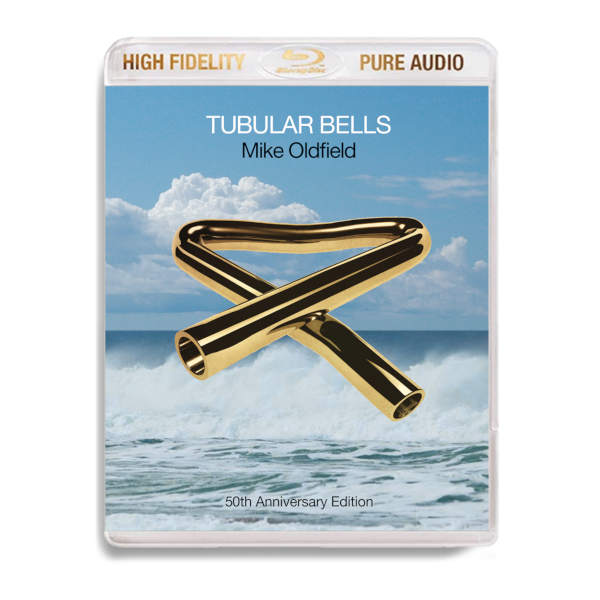 This Mike Oldfield Tubular Bells Blu-ray Audio is #10 in the ongoing SDE Surround Series and will be packaged similarly to previous editions and ships with a free, collectible SDE Surround Series slipcase.
Here's the now traditional reminder as to why this product is highly recommended:
It's the only way to enjoy the Dolby Atmos mix (and the new stereo mix) of the album via a physical product
You don't need to sign-up to a streaming service such as Tidal or Apple Music to hear the spatial audio mix
The Atmos Mix on the Blu-ray is not compressed due to streaming bandwidth restrictions
You own the product, you are not renting it from a digital service provider
The Blu-ray audio is an excellent format for music and you don't want to see it die off
Supporting SDE with these initiatives leads to similar collaborations with labels/artists and we are keen to bring your more in the near future!
The 50th anniversary 2LP half-speed mastered vinyl includes the original stereo mix on the first record and a series of bonus tracks on LP 2. These are Tubular Bells 4 Intro – Demo,Tubular Bells/In Dulci Jubilo from the Opening Ceremony of the London 2012 Olympic Games, Tubular X (first time on vinyl for this 1998 X-Files inspired version), a Mike Oldfield & YORK remix of Tubular Bells and 'Mike Oldfield's Single (Theme From Tubular Bells)'.
The 50th anniversary CD version has the same content as the 2LP set but without 'Tubular X' and 'Mike Oldfield's Single (Theme From Tubular Bells)'.
The SDE-exclusive Blu-ray Audio of Tubular Bells is a limited edition item. It will be pressed based on demand and due to the short lead time to manufacture, it will be available to pre-order for 10 days only. Availability after that cannot be guaranteed, so secure your copy today by pre-ordering at the SDE shop, either directly via this link or using the special SDE shop buy button ('add to cart') below. We ship worldwide (the tracked service to USA for blu-ray is £8, for example) and the CD and vinyl editions are also available individually or via a specially-priced bundles.
Tubular Bells 50th anniversary Blu-ray Audio and the CD and 2LP vinyl formats will be released on 26 May 2023, via UMR/EMI.
TECHNICAL NOTES: This blu-ray audio requires a blu-ray player. Decoding the Dolby Atmos mix requires a Dolby Atmos-certified soundbar or a Dolby Atmos-compatible AV Receiver/Amp. The Dolby Atmos mix will 'fold down' to 5.1 or stereo if a Dolby Atmos decoder is not detected.
EU SHIPPING NOTES: If you are ordering from the EU please be aware that that goods may be subject to import VAT when they arrive from the UK. The prices the SDE shop charge you do not include VAT
Tracklisting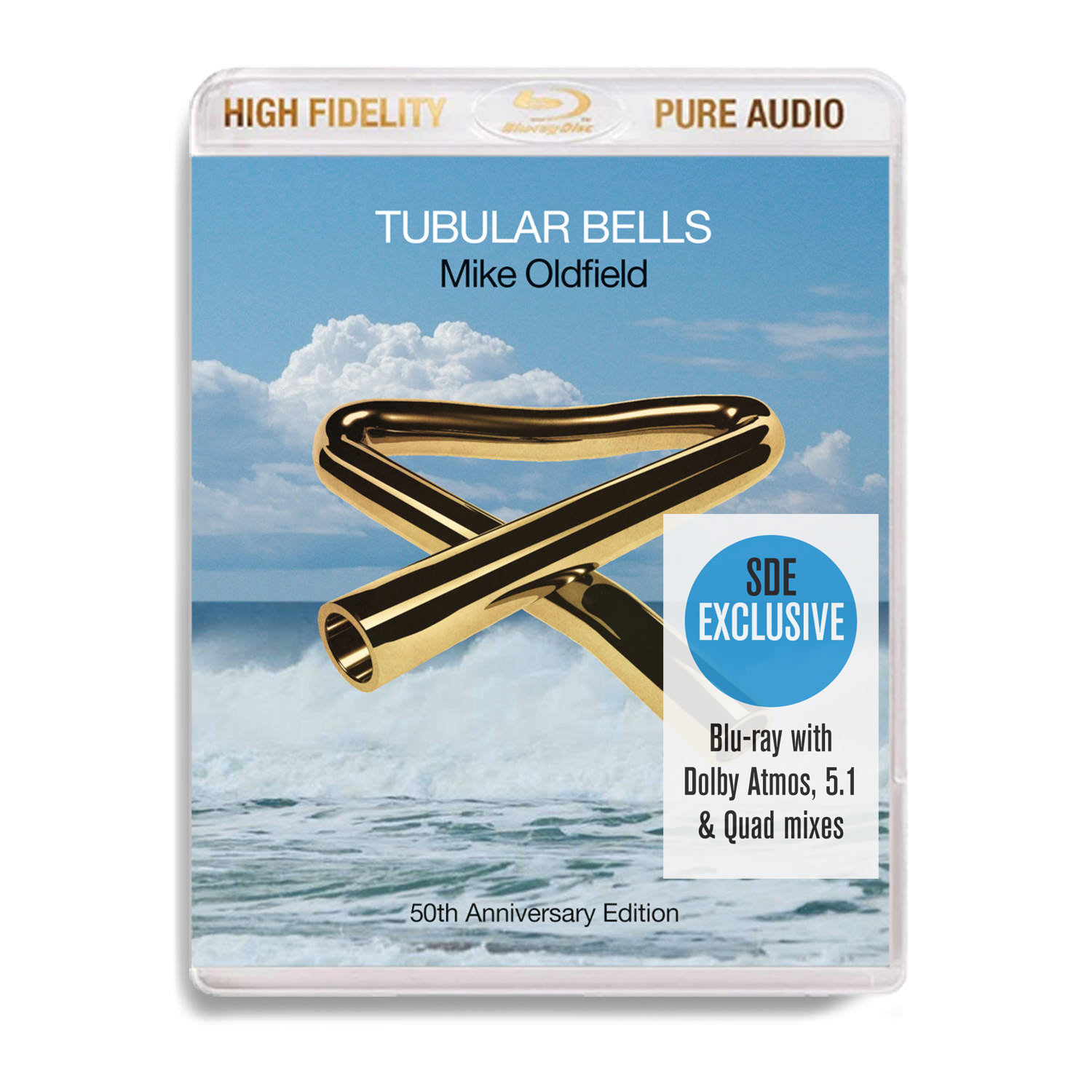 Tubular Bells Mike Oldfield
/
50th anniversary
Tubular Bells – 2023 David Kosten Dolby Atmos Mix*
Tubular Bells – 2009 Mike Oldfield 5.1 Surround Mix
Tubular Bells – 1975 Quad Mix
Tubular Bells Intro Edit – 2023 David Kosten Dolby Atmos Mix*
Tubular Bells – 2023 David Kosten Stereo Mix (48/24)*
Tubular Bells – 1973 Original Stereo Mix (96/24)
Tubular Bells Intro Edit – 2023 David Kosten Stereo Mix (48/24)*
Tubular Bells 4 Intro – Demo (48/24)

LP 1

Side A

Tubular Bells – Part One (2023 Half Speed Master by Miles Showell)

Side B

Tubular Bells – Part Two (2023 Half Speed Master by Miles Showell)

LP 2

Side A

Tubular Bells 4 Intro (previously unreleased demo)
Tubular Bells/In Dulci Jubilo (Music for the Opening Ceremony of the London 2012 Olympic Games)

Side B

Tubular X
Tubular Bells (Mike Oldfield & YORK Remix)
Mike Oldfield's Single (Theme From Tubular Bells)

Tubular Bells – Part One
Tubular Bells – Part Two
Tubular Bells 4 Intro (previously unreleased demo)
Tubular Bells/In Dulci Jubilo (Music for the Opening Ceremony of the London 2012 Olympic Games)
Tubular Bells (Mike Oldfield & YORK Remix)
The SDE Surround Series so far is:
#1 Tears For Fears: The Tipping Point
#2 xPropaganda: The Heart Is Strange
#3 Gilbert O'Sullivan: Driven
#4 Shakespears Sister: Hormonally Yours
#5 Brian Eno: FOREVERANDEVERNOMORE
#6 Orbital: Optical Delusion
#6.5 Various Arists: Concert For George
#7 Ten Years After: A Space In Time
#8 Bob Dylan: Time Out Of Mind (2022 Remix)
#9 Tears For Fears: The Hurting