 News
Mike + The Mechanics / Living Years deluxe 30th anniversary edition
Meet the new deluxe, same as the old deluxe…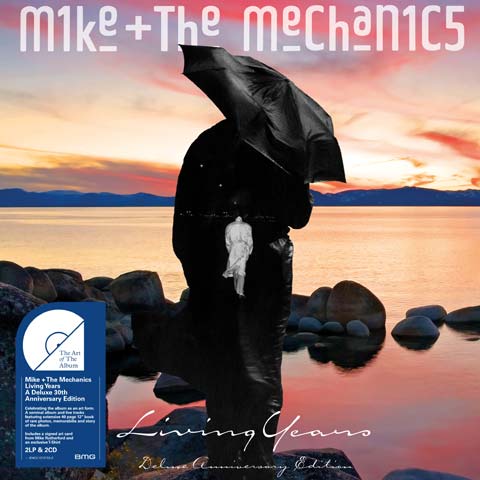 BMG will issue a 30th anniversary deluxe edition of Mike + The Mechanics 1988 album Living Years, in November.

The second long-player from Genesis bassist and guitarist Mike Rutherford's 'other band' is being reissued as a special four-disc, 2CD + 2LP deluxe edition.
This is a very weird release, because apart from being repackaged as an 'art of the album' deluxe edition, including new notes by Neil McCormick, and of course bringing the vinyl and CDs together (in a large format presentation), it is identical to the 2014, 25th anniversary deluxe edition.
Even worse, that deluxe edition was not well received. Read the comments left by SDE readers and you'll see many complaints about omissions, with the words 'tedious' and 'disappointing' used by the target audience. So the record label have, it seems, passed on the opportunity to improve an imperfect reissue and just put it out again. In the words of Alan Partridge, "they've rebadged it, you fool".
You can buy a brand new copy of the 25th anniversary two-CD set for £6 on Amazon but this new 2CD+2LP package – which admittedly comes with a print signed by Mike Rutherford – starts at £50. Go figure, as they say.
If you'd like to pre-order one then you need to head over to the official Mike + The Mechanics web shop. These are officially released on 26 October 2018.

CD 1

Nobody's Perfect
The Living Years
Seeing Is Believing
Nobody Knows
Poor Boy Down
Blame
Don't
Black & Blue
Beautiful Day
Why Me?

CD 2

The Living Years 2014
Seeing Is Believing*
Don't*
Black & Blue*
Silent Running*
Par Avion*
Take The Reins*
Nobody's Perfect*
A Call To Arms*
Beautiful Day*
Hanging By A Thread*

*Live

2LP vinyl

LP1

Side A

1.       Nobody's Perfect
2.       The Living Years
3.       Seeing Is Believing
4.       Nobody Knows
5.       Poor Boy Down

Side  B

1.       Blame
2.       Don't
3.       Black & Blue
4.       Beautiful Day
5.       Why Me?

LP 2

Side C

1.       The Living Years 2014
2.       Seeing Is Believing*
3.       Don't*
4.       Black & Blue*

LP2 SIDE D

1.       Silent Running*
2.       Par Avion*
3.       Take the Reins*
4.       Nobody's Perfect*
5.       Hanging By A Thread*