 News
Mötley Crüe / Dr Feelgood 30th anniversary box set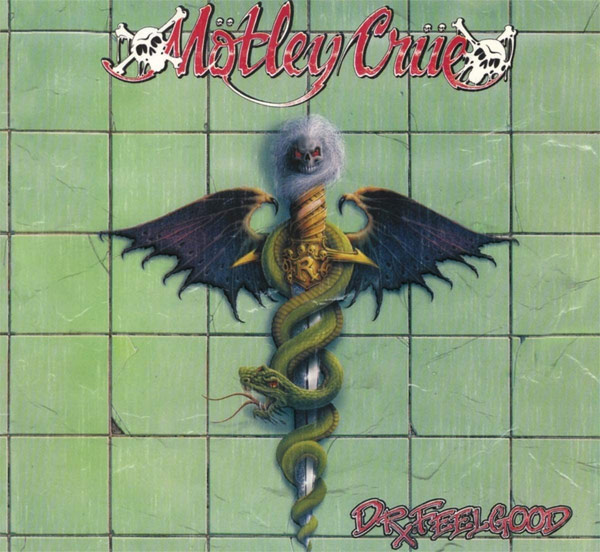 Anniversary box set filled with music and trinkets
Mötley Crüe's 1989 album Dr Feelgood is 30 years old and to celebrate, the band are issuing an extravagant deluxe box set.

The album topped the US albums chart back in the day and features songs like 'Kickstart My Heart', 'Without You' and the title track (the last two were top ten singles in America).
The box set comes with a green vinyl LP of the album, a digipak CD edition, three seven-inch picture discs, a coke bottle, deck of cards, prescription notepad, drumstick pens, pins, plectrums and band aids, all house inside a leatherette satchel! The image below lays it all out…
Those three seven-inch picture discs are for 'Dr Feelgood', 'Kickstart My Heart' and 'Without You'. The demo for each track is on the A-side with the standard studio version of the flipside. Not bad, but in truth this box is as much about the merch within as it is the music.
This 30th anniversary box set of Dr Feelgood will be released on 10 April 2020.
Compare prices and pre-order
Mötley Crüe
Dr Feelgood - 30th anniversary deluxe box set
Dr Feelgood
Side A:
T.N.T. (Terr 'n Tinseltown)
Dr. Feelgood
Slice Of Your Pie
Rattle-snake Shake
Kickstart My Heart
Without You
Side B:
Same Ol' Situation
Sticky Sweet
She Goes Down
Don't Go Away Mad (Just Go Away)
Time For Change
Dr. Feelgood 7″ picture disc
1A Dr. Feelgood (Demo) 4:45
1B Dr. Feelgood 4:50
Kickstart My Heart 7″ picture disc
1A Kickstart My Heart (Demo) 4:31
1B Kickstart My Heart 4:42
Without You 7″ pictured disc
1A Without You (Demo) 4:15
1B Without You