 News
Motörhead / No Sleep 'Til Hammersmith 40th anniversary deluxe edition
4CD edition and 3LP vinyl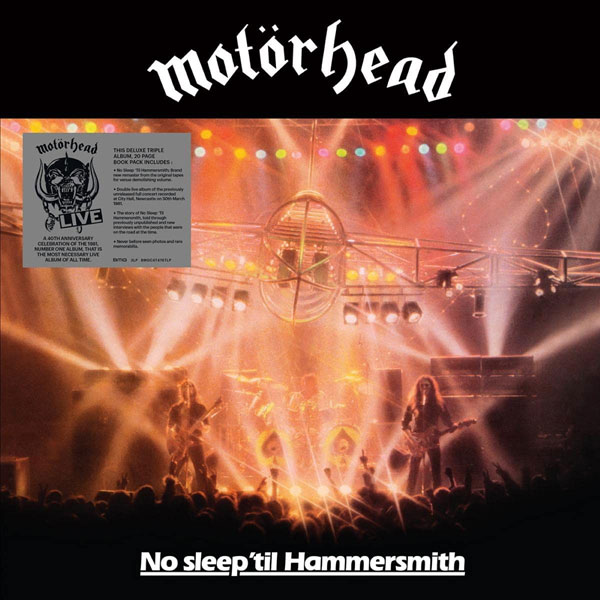 Motörhead's 1981 album No Sleep 'Til Hammersmith is to be reissued for its 40th anniversary across a number of formats, including a four-CD deluxe edition with previously unreleased performances.
The record featured tracks from the band's 'Short Sharp Pain in the Neck' tour which saw them play Newcastle, Leeds, Norfolk and Belfast in the space of a week, in late March 1981.
The 11-track album – issued in June of the same year – featured three tracks from Ace Of Spades, five from Overkill, the title track from Bomber title track and two from their debut. It was the only Motorhead number one album and Lemmy is quoted as saying: "I knew it'd be the live one that went best, because we're really a live band. You can't listen to a record and find out what we're about.You've got to see us."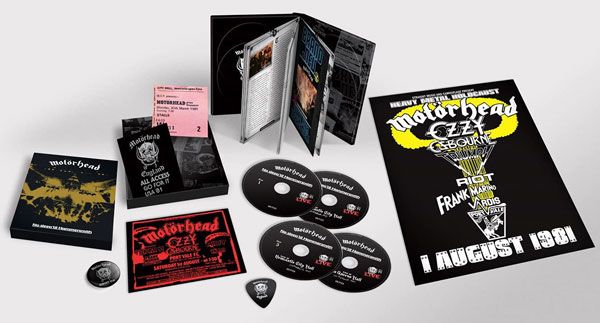 The 40th anniversary reissue features a new remaster of the original album created from the original tapes. The four-CD edition includes five bonus tracks on the first disc (three of which are previously unreleased from a soundcheck) and features three previously unreleased full concerts from this tour: Leeds Queen Hall (28/3/81) and both nights from Newcastle City Hall (29 & 30 March). Just over half of the original album is from the Newcastle show on the 30 March, in case you are wondering. The box set is pictured above and includes 28-page book, poster, plectrum, tour pass, ticket, flyer & badge.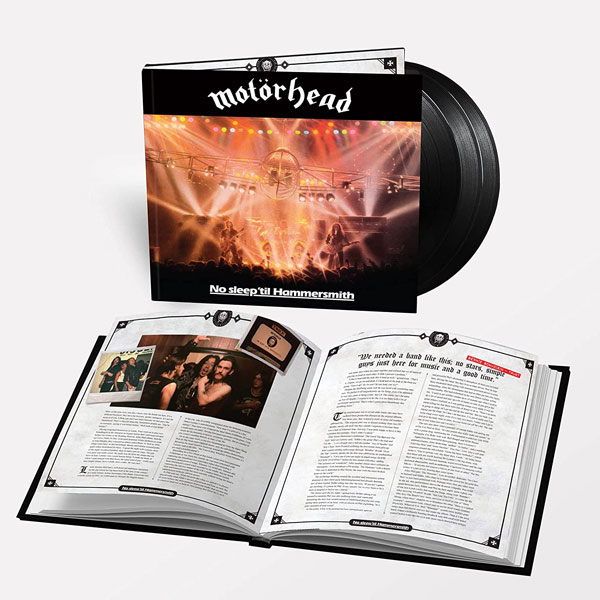 A 3LP 40th anniversary edition features the new remaster of No Sleep 'Til Hammersmith and the full Newcastle show from 30 March 1981. A two-CD edition repeats the same content.
These 40th anniversary editions of No Sleep 'Til Hammersmith will be released on 25 June 2021 via Sanctuary/BMG.
Compare prices and pre-order
Motorhead
No Sleep Til Hammersmith - 4CD deluxe
Compare prices and pre-order
Motorhead
No Sleep Til Hammersmith 3LP vinyl
Compare prices and pre-order
Motorhead
No Sleep Til Hammersmith - 2CD edition
Tracklisting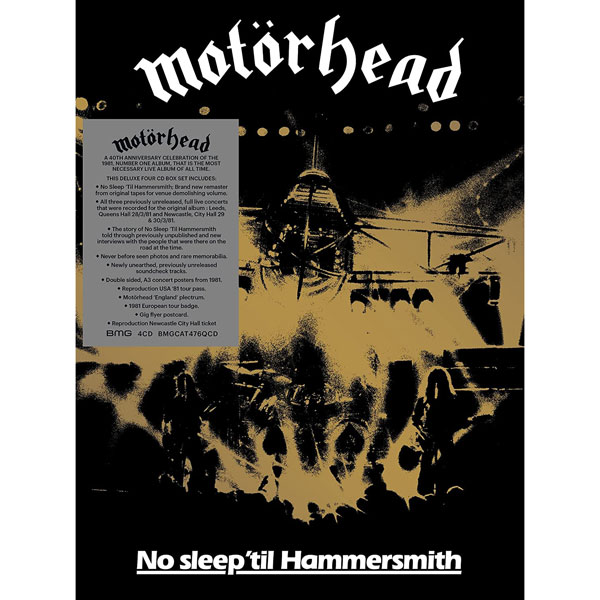 No Sleep 'Til Hammersmith Motörhead
/
40th anniversary 4CD set
Ace Of Spades
Stay Clean
Metropolis
The Hammer
Iron Horse
No Class
Overkill
(We Are) The Roadcrew
Capricorn
Bomber
Motorhead
Over The Top
Train Kept A Rollin'

Bonus (Live Soundcheck at Newcastle City Hall – March 30, 1981)

Stay Clean
Limb From Limb
Iron Horse

Ace Of Spades
Stay Clean
Over The Top
Metropolis
Shoot You In The Back
The Hammer
Jailbait
Leaving Here
Iron Horse
Fire Fire
Capricorn
Too Late Too Late
No Class
(We Are) The Road Crew
Bite The Bullet
The Chase Is Better Than The Catch
Overkill
Bomber
Motorhead

Ace Of Spades
Stay Clean
Over The Top
Metropolis
Shoot You In The Back
The Hammer
Jailbait
Leaving Here
Fire Fire
Capricorn
Too Late Too Late
No Class
(We Are) The Road Crew
Bite The Bullet
The Chase Is Better Than The Catch
Overkill
Bomber
Motorhead

Ace Of Spades
Stay Clean
Over The Top
Metropolis
Shoot You In The Back
The Hammer
Jailbait
Leaving Here
Fire Fire
Capricorn
Too Late Too Late
No Class
(We Are) The Road Crew
Bite The Bullet
The Chase Is Better Than The Catch
Overkill
Bomber
Motorhead