 News
Mumford & Sons / Sigh No More 7″ box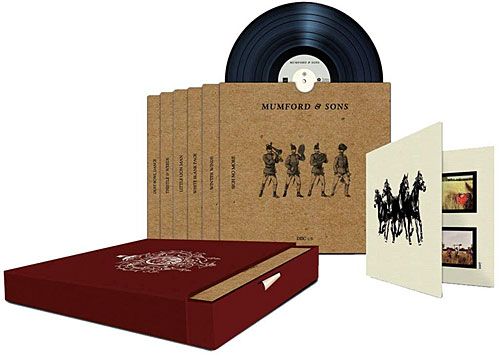 Mumford & Sons are reissuing their 2009 debut Sigh No More as a seven-inch box set.

This is a limited edition collectors' box set and celebrates a decade since the release of the album. There have been special editions before – notably the 2010 2CD+DVD deluxe – but of course this new set is all about vinyl. The 12 tracks are spread over six seven-inch records and are housed in a "bespoke gatefold holder".
This Sigh No More collector's box set will be released on 13 December 2019.
Compare prices and pre-order
Mumford & Sons
Sigh No More 7" Boxset [12" VINYL]
Single 1
1. Sigh No More
2. The Cave
Single 2
1. Winter Winds
2. Roll Away Your Stone
Single 3
1. White Blank Page
2. I Gave You All
Single 4
1. Little Lion Man
2. Timeshell
Single 5
1. Thistle & Weeds
2. Awake My Soul
Single 6
1. Dust Bowl Dance
2. After The Storm