 News
Neil Diamond / Hot August Night III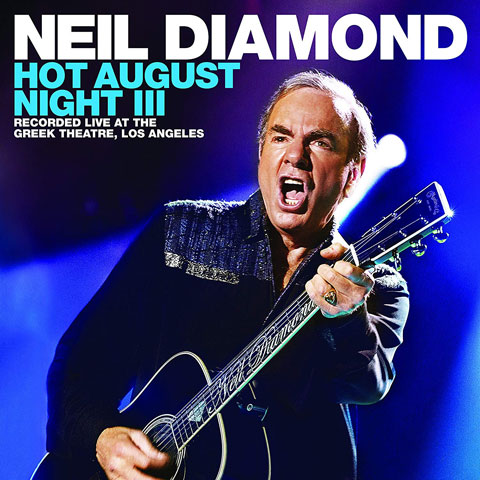 Neil Diamond played a concert at Los Angeles' Greek Theatre back in 2012 to mark the 40th anniversary of his original Hot August Night album/performance. That show is now being issued as Hot August Night III in audio-video combo packages.

The show (in the same venue he played in 1972) features 31 of Diamond's greatest hits and is available as a 2CD+Blu-ray set, a 2CD+DVD set or a simple 2CD audio package. The DVD or Blu-ray elements include a bonus behind-the-scenes features.
Hot August Night III will be released on 17 August 2018.
Compare prices and pre-order
Neil Diamond
Hot August Night III - 2CD+bluray
Compare prices and pre-order
Neil Diamond
Hot August Night III - 2CD+DVD
Compare prices and pre-order
Neil Diamond
Hot August Night III
CD 1
1. 1. Overture
2. Soolaimon
3. Beautiful Noise
4. Forever In Blue Jeans
5. Love On The Rocks
6. Hello Again
7. September Morn
8. Play Me
9. Shilo
10. Red, Red Wine
11. You Got To Me
12. Girl, You'll Be A Woman Soon
13. Thank The Lord For The Night Time
14. Cherry, Cherry
15. Kentucky Woman
16. Solitary Man
17. Glory Road
18. Chelsea Morning
19. I'm A Believer
20. Happy Birthday Rose
21. Cracklin' Rosie
CD 2
1. 1. And The Grass Won't Pay No Mind
2. Pretty Amazing Grace
3. We
4. Stones
5. You Don't Bring Me Flowers
6. Holly Holy
7. Morningside
8. Crunchy Granola Suite
9. Sweet Caroline
10. Sweet Caroline – Reprise
11. I Am… I Said
12. Walk Off
13. America
14. Brother Love's Travelling Salvation Show
15. I've Been This Way Before
16. Walk Off
17. Band Bows
18. Audience Exit
DVD or blu-ray
Tracks as per CDs plus bonus behind-the-scenes featurette