 News
Neneh Cherry / Raw Like Sushi reissue
3CD deluxe • 3LP vinyl • Loads of bonus remixes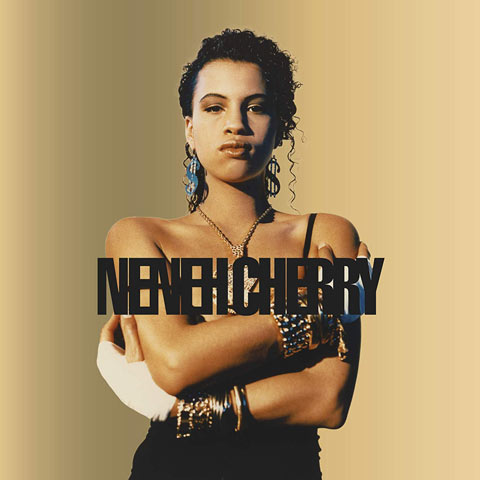 Neneh Cherry's debut album Raw Like Sushi is being reissued as multi-disc CD and vinyl sets for its 30th anniversary in January.

The 1989 album was actually 30 back in June, but such quibbles aside, it was an enormous success back in the day, spawning two top ten hits on both side of the Atlantic, including the best known single Buffalo Stance.

This seems to be a fairly ambitious reissue campaign with a 3LP vinyl super deluxe which includes the remastered album with two records of B-sides, remixes and extras and a 3CD set which adds more remixes. However, unless there's been an error with the track listings, a close look reveals that 'Kisses On The Wind' B-side 'Buffalo Blues' is included on the 3LP set but not the 3CD package. Weird. Incidentally, original CD bonus tracks 'My Bitch' and 'Heart (It's A Demo)' are retained, while the remixes from the end of the 1989 CD are moved to the other discs.

Also, the 3CD set is large format with a 48-page book, which might account for the eyebrow-raising cost. The 3LP set isn't cheap either and again that comes with the book. As you can see the cover art has been reworked from the familiar photo on white background.

Single disc remastered CD and vinyl are also available for those who want it.

Raw Like Sushi will be reissued on 24 January 2020.


Raw Like Sushi
30th anniversary 3CD set
CD 1 – Original album
Buffalo Stance
Manchild
Kisses on the Wind
Inna City Mamma
The Next Generation
Love Ghetto
Heart
Phoney Ladies
Outre Risque Locomotive
So Here I Come
My Bitch
Heart (It's a demo)
CD2 – extras
[items in bold not on the vinyl set]
Buffalo Stance (Sukka Mix)
Buffalo Stance (Electro Ski Mix)
Buffalo Stance (1/2 Way 2 House) Remix – Arthur Baker
Buffalo Stance (Nearly Neue Beat) Remix – Arthur Baker
Buffalo Stance (Kevin Sanderson's Techno Stance Remix One)
Manchild (Old School Mix)
Manchild (Massive Attack Remix)
Manchild (Massive Attack Bonus Beats)
Manchild (Smith N Mighty Remix)
Manchild (Smith N Might More Bass – Less Vocal Style)
CD3 – extras
[items in bold not on the vinyl set]
Inna City Mamma (Re-recorded Extended Version)
Inna City Mamma (Cold Blooded Remix)
Kisses On The Wind (12" Spanish Mix)
Kisses On The Wind (David Morales 'A Little More Puerto Rico' mix)
Kisses On The Wind (Dynamic Duo + Latin Rascals Mix)
Kisses On The Wind (Lovers Hip-Hop Extended Version)
The Next Generation (Rap One Mix)
The Next Generation (Sub-Woofer Mix)
Heart (Club Mix)
Raw Like Sushi
30th anniversary 3LP vinyl set
LP 1 (Original LP)
Side One
Buffalo Stance
Manchild
Kisses on the Wind
Inna City Mamma
The Next Generation
Side Two
Love Ghetto
Heart
Phoney Ladies
Outré Risqué Locomotive
So Here I Come
LP 2 (extras) 
[items in bold not on the CD set]
Side One
Heart (Its A demo)
Buffalo Blues
Buffalo Stance (Sukka Mix)
Side Two
Buffalo Stance (Electro Ski Mix)
Buffalo Stance (Arthur Baker Nearly Neu Beat Mix)
Buffalo Stance (Arthur Baker 1/2 way to House Mix)
Buffalo Stance (Kevin Sanderson Techno Stance Remix One)
LP 3 (extras)
Side One
Manchild (Old School Mix)
Manchild (Massive Attack Remix)
Manchild (Smith N Mighty Remix)
Inna City Mamma (Re-recorded Extended Version)
Side Two
Inna City Mamma (Cold Blooded Remix)
Kisses On The Wind (David Morales 'A Little More Puerto Rico' mix)
Kisses On The Wind (Dynamik Duo + Latin Racals Mix)
The Next Generation (Rap One Mix)