 News
Nick Kamen / The Complete Collection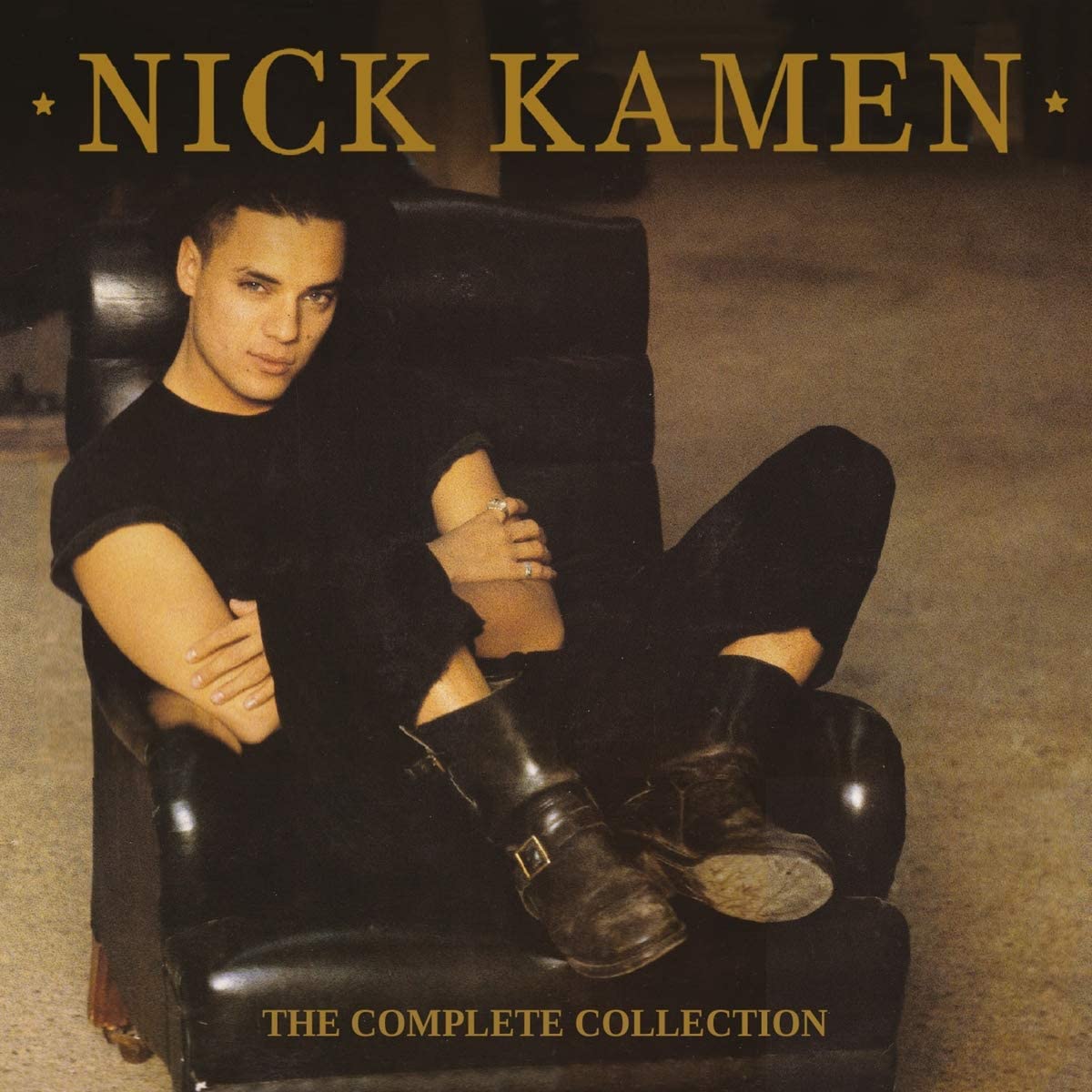 6CD box set features albums and a plethora of remixes
Believe it or not, Levi 501 wearing model-turned-popstar Nick Kamen released four albums between 1987 and 1992. All of them are now collected in a new box set, The Complete Collection, along with two discs of 'remixes & rarities'.

Essex-born Kamen is best known for the 1986 UK top ten single 'Each Time You Break My Heart', which was co-written by Madonna. The song effectively adopts Madonna's sound circa 1986, thanks to Madge and Stephen Bray producing. NK only bothered the top end of the British singles chart one more time, with its follow-up 'Loving You Is Sweeter Than Ever' (which reached number 16).
The four albums have been remastered and are as follows: Nick Kamen (1987), Us (1988), Move Until We Fly (1990) and Whatever, Whenever (1992). Each has appropriate seven-inch, dub and 12-inch remixes appended and on top of that there's two discs at the end packed with more remixes from the likes of Jellybean, Arthur Baker and Shep Pettibone.
The label are claiming 20 previously unreleased mixes in this package, which also includes two previously unreleased songs in 'So Sad' (the Everly Brothers number) and 'Right On Track', a cover of the song by American band The Breakfast Club (Madonna and Stephen Bray both drummed for them at different points in time, fact fans!).
The set comes with a booklet with notes, including contributions from producers Stephen Bray and Toby Andersen.
The Complete Collection will be released on 24 July 2020 via Cherry Pop.
Compare prices and pre-order
Nick Kamen
The Complete Collection - 6CD box
You might also like…
Compare prices and pre-order
Nick Kamen
Nick Kamen - 2CD set
CD 1: Nick Kamen
1. Win Your Love
2. Open The Door To Your Heart
3. Nobody Else
4. Into The Night
5. Come Softly To Me
6. Loving You Is Sweeter Than Ever
7. Each Time You Break My Heart
8. The Man In Me
9. Any Day Now
10. Help Me Baby
11. Baby After Tonight
12. Miss You
13. Each Time You Break My Heart (Dance Mix)
14. Loving You Is Sweeter Than Ever (Extended Dance Mix)
15. Nobody Else (7″ Version)
16. Open The Door To Your Heart (Extended Version)
17. Each Time You Break My Heart (Instrumental)
CD 2: Us
1. Bring Me Your Love
2. Turn It Up
3. Guilty
4. This Is Really Love
5. Count On Me
6. Tell Me
7. I Can't Live Without Your Love
8. Wonders Of You
9. Steal Love
10. Better Be Good Tonite
11. Bring Me Your Love (7″ Version)
12. Tell Me (Extended Mix)
13. Bring Me Your Love (Extended Mix)
14. Turn It Up (12″ Mix)
15. Tell Me (Dub Mix)
16. Don't Hold Out
CD 3: Move Until We Fly
1. I Promised Myself
2. Oh How Happy
3. Looking Good Diving
4. Somebody's Arms To Hold Me
5. Um, Um, Um, Um, Um, Um
6. Take Back My Hand Child
7. We Can Make It
8. Agony & Ecstasy
9. You Are
10. I Want More
11. Move Until We Fly
12. Love Street
13. Sacrifice Your Reputation
14. Oh How Happy (7″ Version)
15. Looking Good Diving (7″ Version)
16. Agony & Ecstasy (7″ Version)
17. I Promised Myself (Independiente Mix)
CD 4: Whatever, Whenever
1. We'll Never Lose What We Have Found
2. Whatever, Whenever
3. You're Not The Only One
4. Nothing Rhymes Now
5. Did I Imagine You
6. This Is Our Time
7. Don't You Know
8. I Need You
9. There Was A Time In America
10. You And I Are Here
11. I'l Find Another Way
12. We'll Never Lose What We Have Found (7″ Version)
13. I Know Where You Are
14. We'll Never Lose What We Have Found (Club Mix)
15. You're Not The Only One (Youth Sa Roush Mix)
16. You're Not The Only One (Extended Mix)
CD 5: Remixes & Rarities Vol 1
1. Each Time You Break My Heart (Shep Pettibone Extended Vers.)
2. Win Your Love (The Love Mix)
3. Nobody Else (Arthur Baker Dance Mix)
4. Come Softly To Me (12″ Version)
5. Nobody Else (Jellybean 12″ Version)
6. Each Time You Break My Heart (Us Mix)
7. Loving You Is Sweeter Than Ever (Alternative Mix)
8. Oh How Happy (Bubble Mix)
9. Tell Me (Instrumental)
10. Bring Me Your Love (Instrumental)
11. Agony & Ecstasy (Instrumental)
12. Looking Good Diving (Instrumental)
13. Oh How Happy (Instrumental)
14. I Promised Myself (Instrumental)
15. Agony & Ecstasy (Dawn Mix)
16. Lonely Boy
CD 6: Remixes & Rarities Vol 2
1. Us Megamix
2. Nobody Else (Alternative 12″ Mix)
3. Oh How Happy (Wow How Hippy Mix)
4. Looking Good Diving (Extended Mix)
5. Count On Me (7″ Version)
6. So Sad
7. Right On Track
8. Oh How Happy (G.U.C.C.I. Mix)
9. Take Back My Hand Child (Alternative Version)
10. Win Your Love (Instrumental)
11. Wonders Of You (Backing Track)
12. Somebody's Arms To Hold Me (Instrumental)
13. You Are (Instrumental)
14. You're Not The Only One (Instrumental)
15. Come Softly To Me (Backing Track)
16. Oh What A Night