 News
NOW presents… Electronic: limited edition 5LP vinyl box
Strictly limited on black vinyl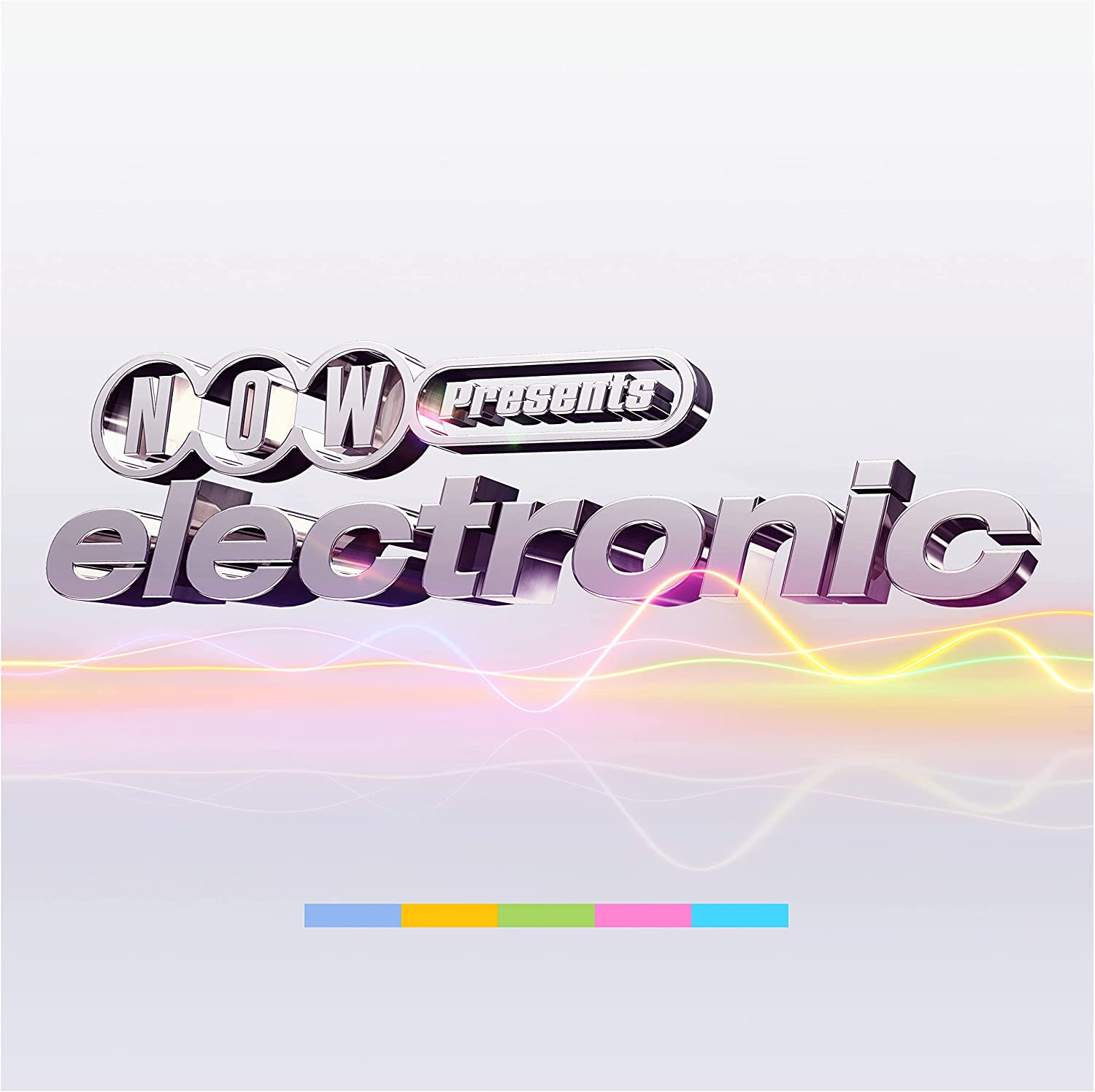 Now That's What I Call Music follow up last year's The 70s vinyl box set with Electronic, another numbered and limited edition 5LP package which highlights some of the most innovative and enduringly popular tracks of the genre, and includes some era-defining twelve-inch, extended, and full-length versions alongside the single versions.
Across the five records you'll find massive hits – 'Relax', 'Take On Me' (the extended mix), 'You Spin Me Round (Like A Record)', 'Video Killed the Radio Star', Vienna etc. alongside some more nuanced selections, including (remarkably) Kate Bush's superb (flop) single 'The Dreaming', Propaganda's 'Dr Mabuse', 'The Number One Song In Heaven' by Sparks, Furniture's 'Brilliant Mind', Telex's Moscow Diskow and Japan's 'Taking Islands in Africa'.
Other extended mixes including Eurythmics' Sexcrime (Nineteen Eighty-Four), Soft Cell's Torch and Yello's 'The Race'. Full track listings can be found below.
As with the now out-of-print The 70s set, this vinyl box is strictly limited, in this instance to 1200 copies worldwide. The box sets are all numbered on the back.
NOW presents Electronic will be released on 19 August 2022.

Compare prices and pre-order
Various Artists
Now presents Electronic - 5LP vinyl box set
Tracklisting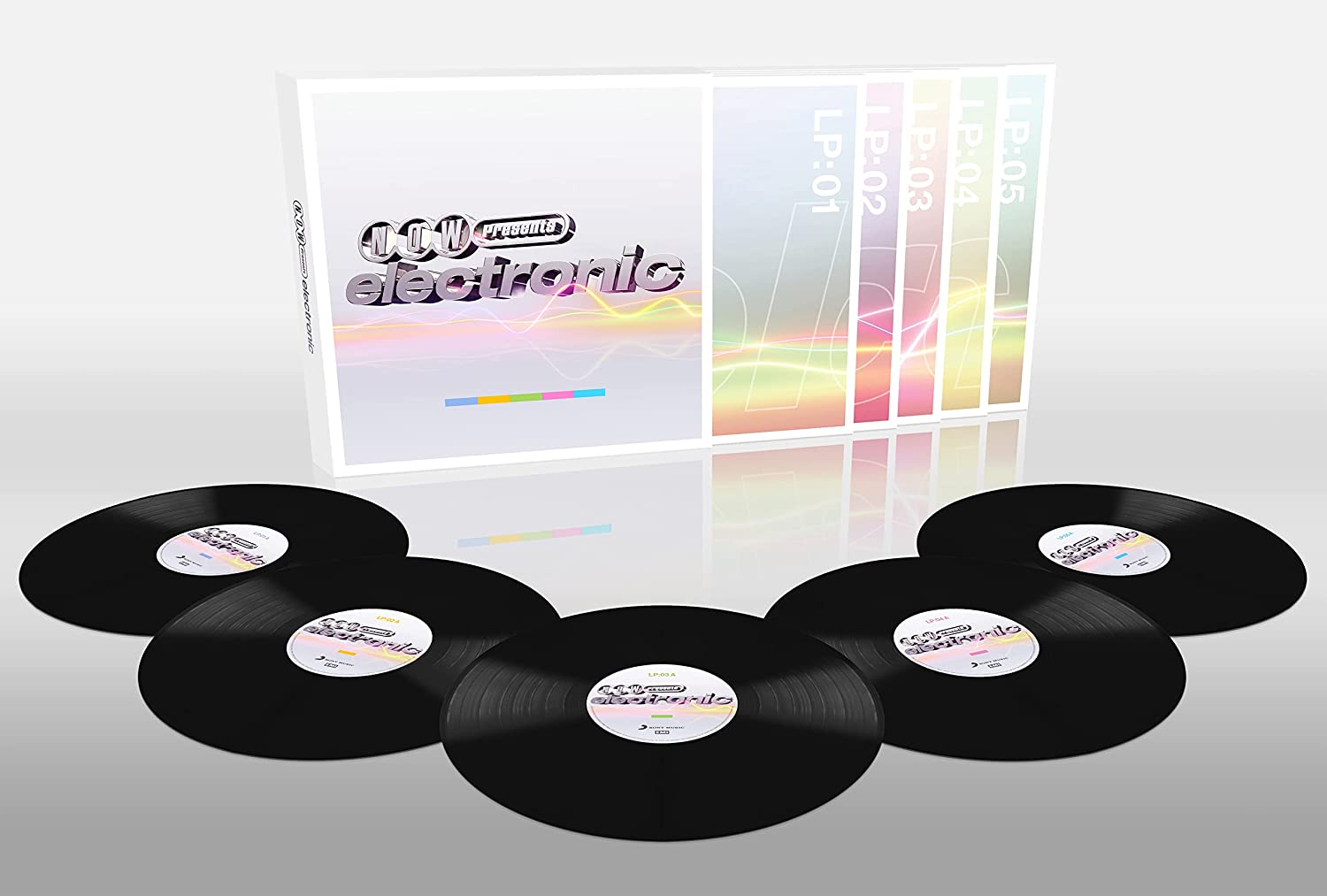 Now presents… Electronic Various Artists
/
Limited edition 5LP box set
LP 1

Side A

Queen – Radio Ga Ga
Eurythmics, Annie Lennox, Dave Stewart – Sexcrime (Nineteen Eighty-Four) (Extended Mix)
Soft Cell – Torch (Extended Version)
Frankie Goes To Hollywood – Relax
Philip Oakey & Giorgio Moroder – Together In Electric Dreams

Side B

a-ha – Take On Me (Extended Mix)
Dead Or Alive – You Spin Me Round (Like A Record)
Paul Hardcastle – 19
The Art Of Noise – Beat Box (Diversion 10)
Phil Lynott – Yellow Pearl
Landscape – Einstein A Go-Go
Godley & Creme – Cry
China Crisis – Christian

LP 2

Side A

Laurie Anderson – O Superman
Kate Bush – The Dreaming
Iggy Pop – Nightclubbing
Japan – Taking Islands In Africa
Duran Duran – The Chauffeur

Side B

Tears For Fears – Mad World
Orchestral Manoeuvres In The Dark – Messages
A Flock Of Seagulls – Wishing (If I Had A Photograph Of You)
Men Without Hats – The Safety Dance
Howard Jones – New Song
The Buggles – Video Killed The Radio Star
M – Pop Muzik
Thompson Twins – In The Name Of Love

LP 3

Side A

New Order – Blue Monday
Electronic – Disappointed
Liza Minnelli – Losing My Mind
Eighth Wonder – I'm Not Scared
Dusty Springfield – Nothing Has Been Proved
Joe Jackson – Steppin' Out

Side B

Gary Numan – Cars
John Foxx – Underpass
The Cure – The Walk
Our Daughter's Wedding – Lawnchairs
Talk Talk – It's My Life
Furniture – Brilliant Mind
Swansway – Soul Train
Joy Division – Love Will Tear Us Apart

LP 4

Side A

Sparks – The Number One Song In Heaven
Donna Summer – Working The Midnight Shift
Lipps Inc. – Funkytown
Amanda Lear – Follow Me
Telex – Moskow Diskow
The Human League – Hard Times

Side B

Freeez – I.O.U.
Chaka Khan – I Feel For You
Company B – Fascinated
Dazz Band – Let It All Blow
Malcolm McLaren, The World's Famous Supreme Team – Buffalo Gals
Rock Steady Crew – (Hey You) The Rock Steady Crew
Harold Faltermeyer – Axel F (From "Beverly Hills Cop")
Jan Hammer – Miami Vice Theme (From "Miami Vice" Soundtrack)

LP 5

Side A

Ultravox – Vienna
Visage – Fade To Grey
Japan – Quiet Life
Duran Duran – Planet Earth
The Human League – The Sound Of The Crowd
Soft Cell – Tainted Love
Spandau Ballet – Glow
Heaven 17 – Play To Win

Side B

Yello – The Race (Extended Version)
Propaganda – Dr Mabuse
Peter Schilling – Major Tom (Coming Home)
Trio – Da Da Da I Don't Love You You Don't Love Me Aha Aha Aha
Falco – Rock Me Amadeus (The American Edit)