 News
Now That's What I Call 12″ 70s
4CD set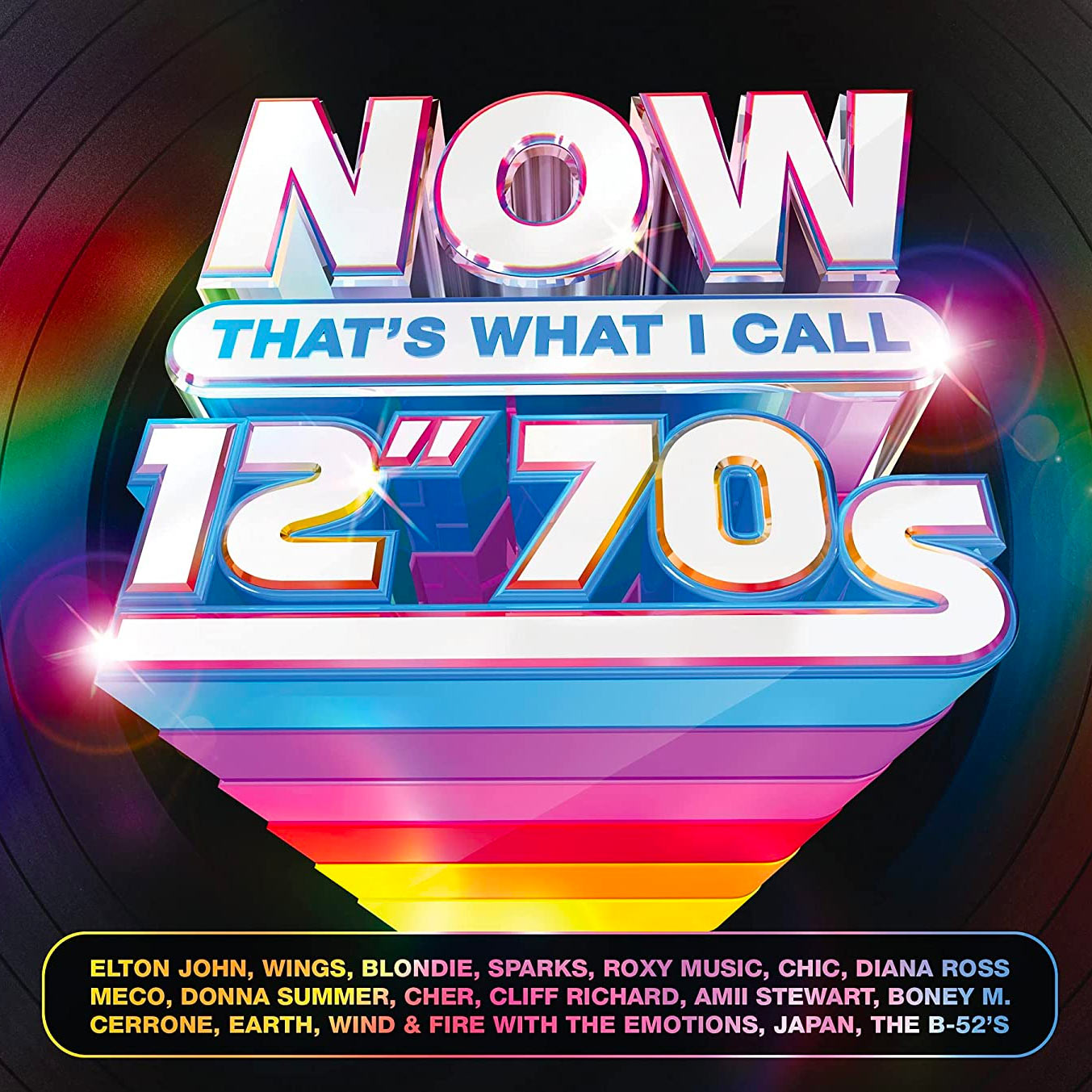 The Now That's What I Call Music team continue their occasional 12-inch series with Now 12″ 70s, a 4CD look back at long-versions-of-the-Seventies which takes in disco classics (Amii Stewart, Gloria Gaynor, Diana Ross, Donna Summer); tracks from titans of the decade (Elton John, Wings); remixes from bands who were ushering in the new wave, post-punk era (Blondie, Ian Dury, Japan, Public Image Limited); and more.
Disc one tracks include the original 12-inch version of 'Are You Ready For Love' by Elton John, the rare long version of Wings' non-album single 'Goodnight Tonight' (both 1979) and the seven-minute cut of Cliff Richard's 'We Don't Talk Anymore' and the 12″ mix of 'Hit Me With Your Rhythm Stick', and the full length version of The B-52s' classic 'Rock Lobster'.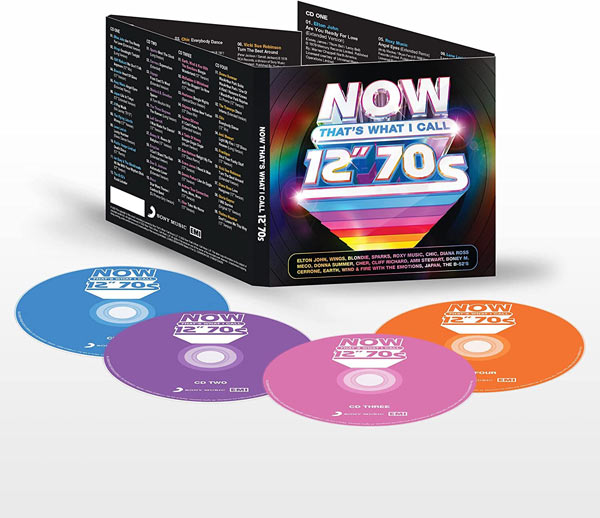 On the second CD you find offerings from Sparks, Voyage, Boney M., The Three Degrees and the 7.35 DJ-only promo 12-inch version of Meco's 'Star Wars Theme/Cantina Band'.
Discs three and four get down and boogie with hits from Earth, Wind & Fire With The Emotions, McFadden & Whitehead, Heatwave, Dan Hartman, Grace Jones and the full 17-minute 'Macarthur Park Suite' from Donna Summer.
In total this set contains 42 extended versions across the four CDs and at under £10 in the UK it's the usual superb value. Now That's What I Call 12″ 70s is released on 2 September 2022.
Compare prices and pre-order
Various Artists
Now 70s 12-inch - 4CD set
Tracklisting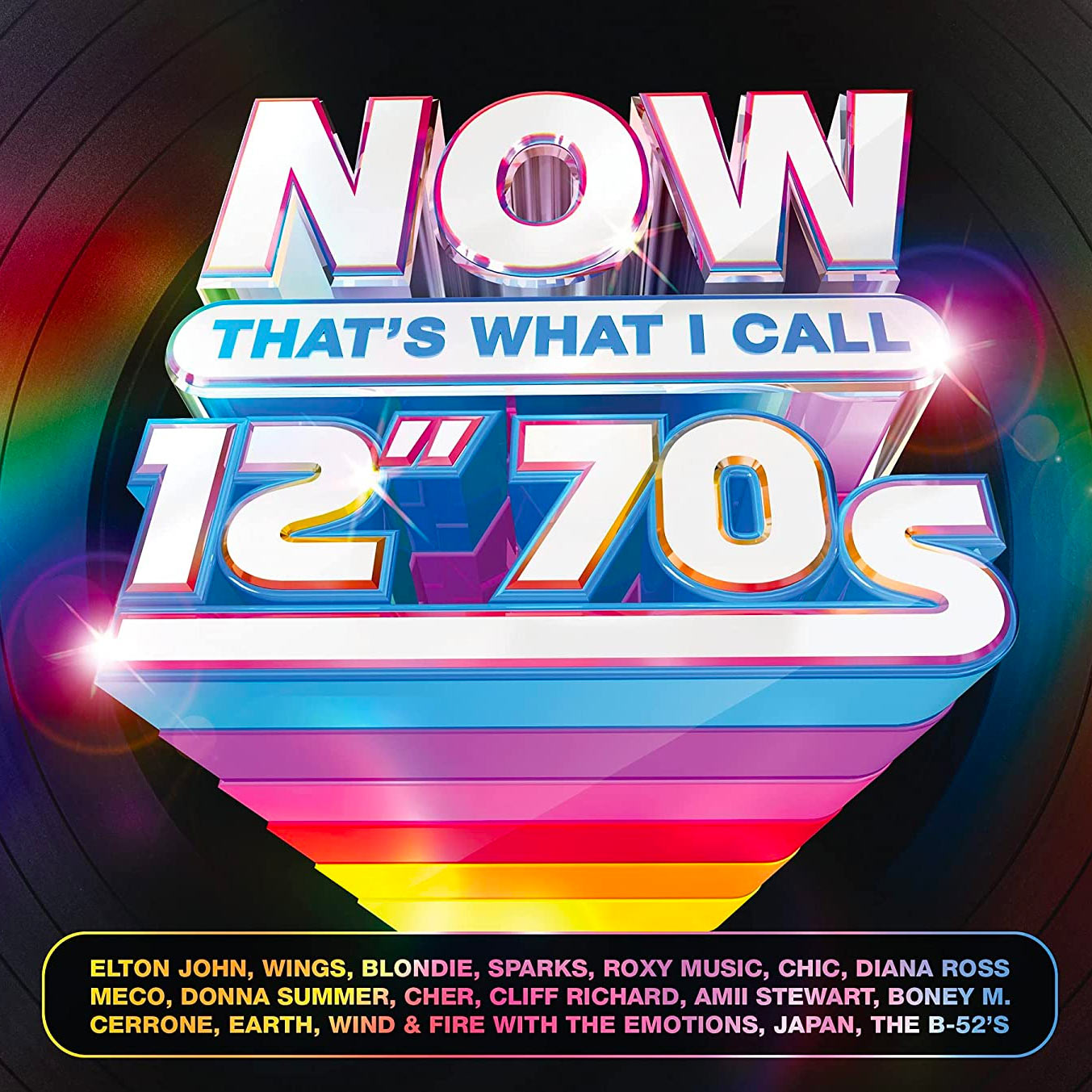 Now 12″ 70s Various Artists
/
CD 1

Elton John – Are You Ready For Love (Extended Version)
Wings – Goodnight Tonight (Long Version)
Cliff Richard – We Don't Talk Anymore (12″ Mix)
Blondie – Heart Of Glass (12″ Version)
Roxy Music – Angel Eyes (Extended Remix)
Japan – Life in Tokyo (12″ Extended Version)
M – Pop Muzik (Nik Launay '79 12")
The Flying Lizards – Money (12" Version)
Lene Lovich – Lucky Number (Slavic Dance Version)
Public Image Limited – Death Disco (12" Remix)
Ian Dury & The Blockheads – Hit Me With Your Rhythm Stick (12" Version)
The B-52's – Rock Lobster

CD 2

Sparks – Beat The Clock (Long Version)
Cerrone – Supernature (Extended)
Voyage – From East To West (Extended Version)
Sheila & B. Devotion – Spacer (A Tom Moulton Mix)
The Three Degrees – The Runner (Long Version)
Leif Garrett – I Was Made For Dancin' (12″ Version)
Boney M. – Rivers Of Babylon (12" Version)
Eruption – I Can't Stand The Rain (Extended Version)
Dee D. Jackson – Automatic Lover (Extended Version)
Meco – Star Wars Theme / Cantina Band (DJ Promo-Only Version)

CD 3

Earth, Wind & Fire with The Emotions – Boogie Wonderland (12″ Version)
McFadden & Whitehead – Ain't No Stoppin' Us Now (12″ Version)
Heatwave – Boogie Nights (Special Disco Version)
Odyssey – Native New Yorker (12″ Disco Mix)
Yvonne Elliman – If I Can't Have You (Extended Version)
A Taste Of Honey – Boogie Oogie Oogie (Album Version)
Dan Hartman – Relight My Fire (12″ Disco Remix)
Grace Jones – I Need A Man (12″ Version)
Dennis Parker – Like An Eagle (12" Version)
Andrea True Connection – More, More, More (12" Version)
Cher – Take Me Home (12″ Version)

CD 4

Donna Summer – MacArthur Park Suite: MacArthur Park / One Of A Kind / Heaven Knows / MacArthur Park Reprise – DJ Promo (12″ Version)
The Trammps – Disco Inferno (Extended Version)
Chic – Everybody Dance (12" Mix)
Amii Stewart – Light My Fire / 137 Disco Heaven (Long Version)
Frantique – Strut Your Funky Stuff (12″ Version)
Vicki Sue Robinson – Turn The Beat Around (Extended Version)
Diana Ross – Love Hangover (12″ Version)
Gloria Gaynor – I Will Survive (Original 12″ Version)
Thelma Houston – Don't Leave Me This Way (12" Version)