 News
Now That's What I Call Music 14
"30 Top Chart Hits" on two CDs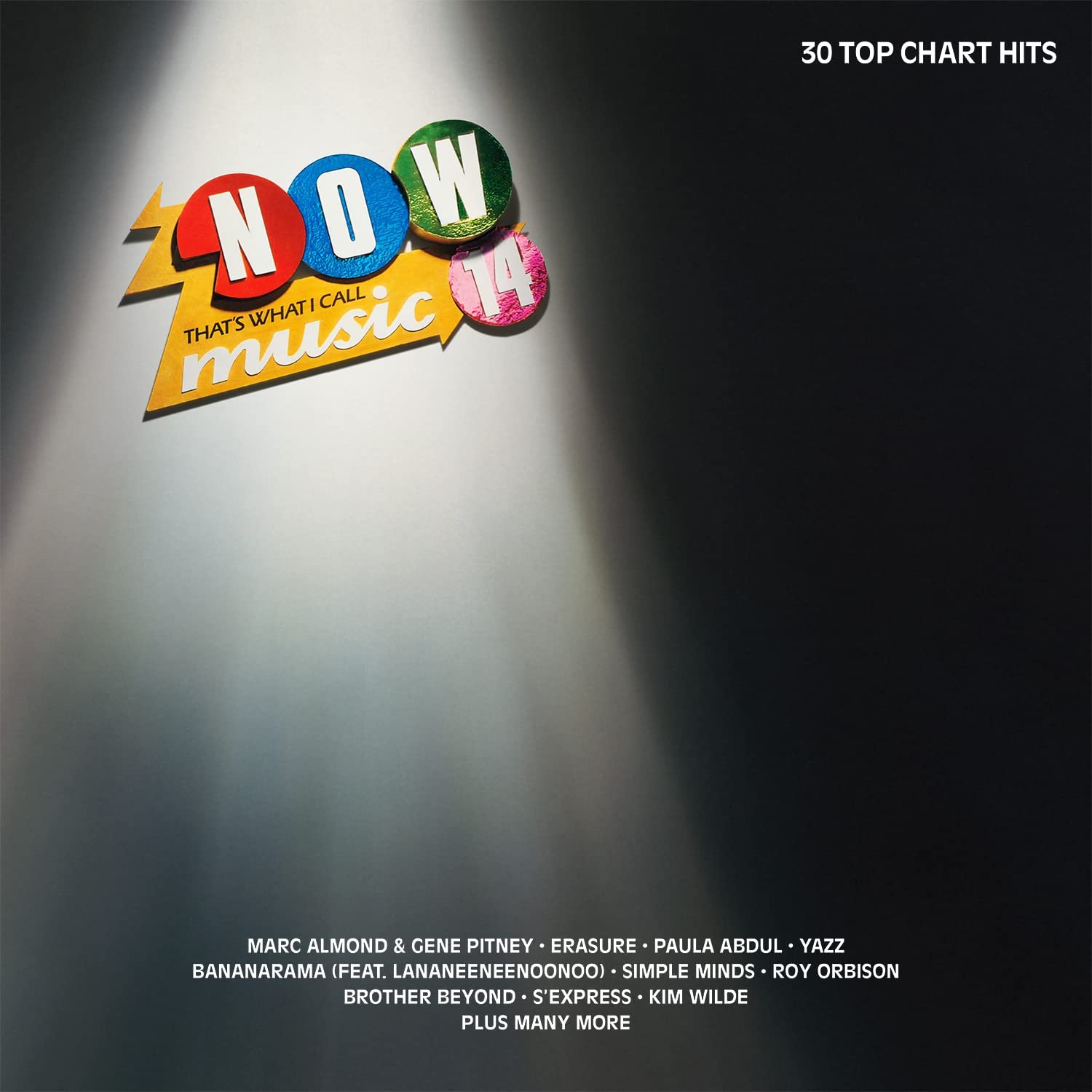 The Now That's What I Call Music team will reissue NOW 14 as a 2CD set next month, around 34 years after the original release.
This March 1989 compilation is something of a mish-mash and documents the changing music scene in the UK in the late 1980s with Yazz, S'Express, Inner City, Tone Loc and Neneh Cherry representing a new wave of artists which could be loosely grouped in the dance/hip-hop/house/acid house genres.
There's still room for old school acts however with Simple Minds' UK number one 'Belfast Child' included along with contributions from Status Quo, Roy Orbison, Gene Pitney (with Marc Almond, of course) and the decidedly unhip Michael Ball singing Andrew Lloyd Webber's 'Love Changes Everything'!
Climie Fisher, Brother Beyond and Level 42 deliver some hits from the second tier while Duran Duran have their last top 10 single of the 1980s with the club-oriented 'All She Wants Is'. Elsewhere, Fine Young Cannibals step up to the big time with 'She Drives Me Crazy' and Sam Brown makes here mark with the excellent 'Stop'.
There are two songs missing from what was originally a 32-track compilation. They are Phil 'no-you-can't-license-my-song' Collins' US number one 'Two Hearts' (from the Buster soundtrack) and another American chart-topper, INXS' 'Need You Tonight', which wasn't a No 2 hit in Britain until it was re-released in November 1988, in case you are wondering about the dates. Yes, incredibly, 'Need You Tonight' was a flop in the UK first time around…
Now That's What I Call Music 14 will be reissued as a 2CD set on 14 April 2023.
Compare prices and pre-order
Various Artists
Now Thats What I Call Music 14 - 2CD set
Tracklisting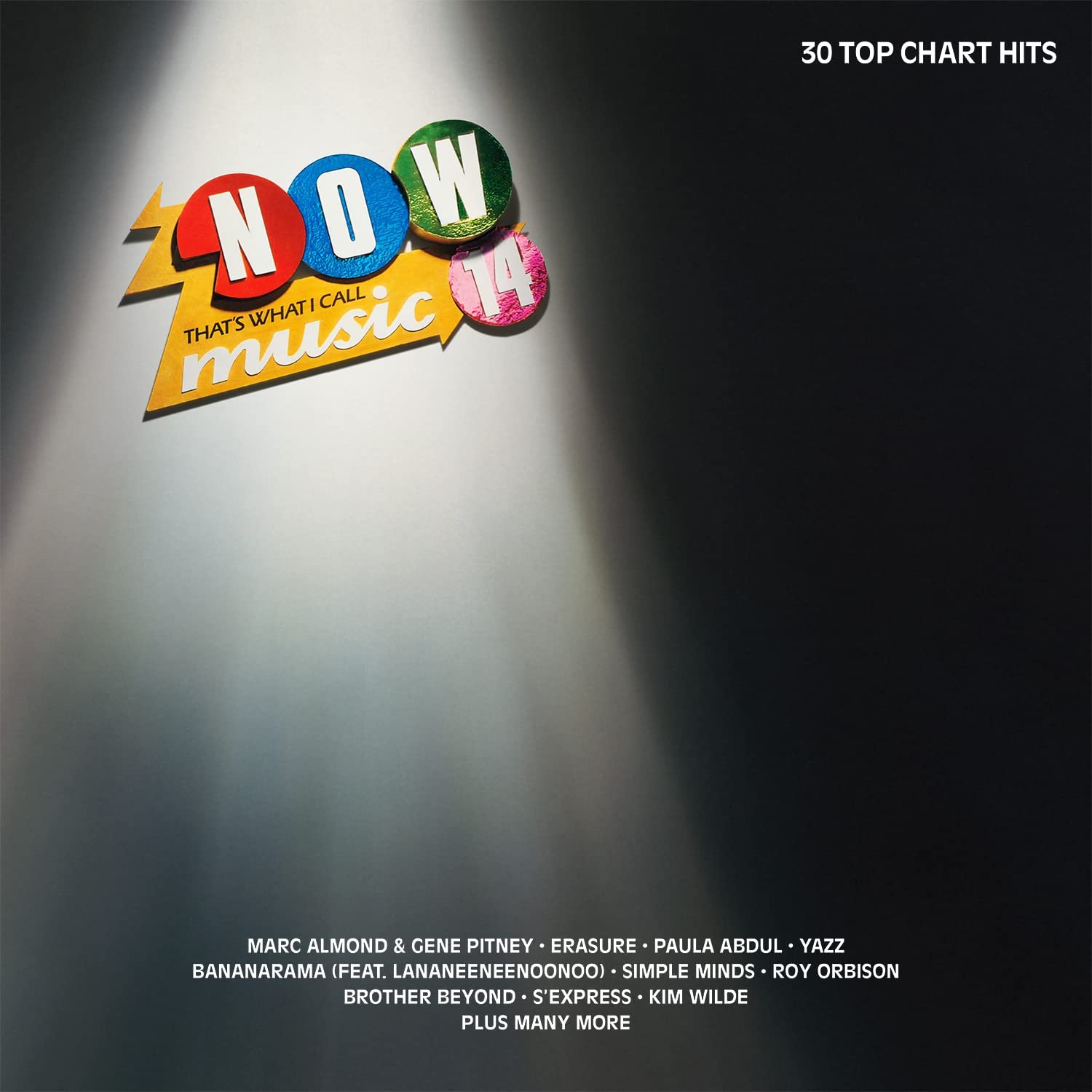 Now That's What I Call Music 14 Various Artists
/
CD 1

Marc Almond & Gene Pitney – Something's Gotten Hold Of My Heart
Erasure – Stop!
Bananarama – Help! (feat. Lananeeneenoonoo)
Hue & Cry – Looking For Linda
Yazz – Fine Time
Kim Wilde – Four Letter Word
Sam Brown – Stop
Roy Orbison – You Got It
Fine Young Cannibals – She Drives Me Crazy
Status Quo – Burning Bridges (On And Off And On Again)
Then Jerico – Big Area
Morrissey – The Last Of The Famous International Playboys
Poison – Every Rose Has Its Thorn
Simple Minds – Belfast Child

CD 2

Neneh Cherry – Buffalo Stance
Inner City – Good Life
S'Express – Hey Music Lover
Living In A Box – Blow The House Down
The Style Council – Promised Land
Adeva – Respect
Tone loc – Wild Thing
Natalie Cole – I Live For Your Love
Robin Beck – First Time
Paula Abdul – Straight Up
Samantha Fox – I Only Wanna Be With You
Brother Beyond – Be My Twin
Climie Fisher – Love Like A River
Duran Duran – All She Wants Is
Level 42 – Tracie
Andrew Lloyd Webber, Michael Ball – Love Changes Everything